Hello guys. Time for my Liga NOS predictions! It'll be an interesting one. I'll try to express my opinions properly, but no doubt there will be a few choices, that won't make final cut.
Hello guys. Time for my Liga NOS predictions! It'll be an interesting one. I'll try to express my opinions properly, but no doubt there will be a few choices, that won't make final cut.

As you know, EA already broke the rule with 6 players from team maximum with Spurs and Feyenoord, so I won't stop from putting more players from 1 team.

Let's start with GKs.

Ederson.

1st choice for me. 19 Clean sheets, good average rating and in terms of FIFA he's not so bad GK to use. Will be a fun card, with high rating.

Casillas is my second pick.

Great season for legend in Porto, same 19 CS, also got, like Ederson 1 assist, which is pretty rare for GK. In terms of FIFA, will be great for hybrids, but his height will be a problem

Now, onto defenders.

Let's start with right backs.

First one is Nelson Semedo. Or Nelsinho.

1 goal, 6 assists, in league-winning side, probably guarantees TOTS. Also he has some recognition by EA, which gave him 2 IFs already. His TOTS card will be deadly. He also has an amazing average rating.

Left back of my choice is Alex Telles.

1 goal, 8 assists. Even higher rated than Nelson, he'll be an amazing card. Really the best LB in Liga NOS, so I can't see him not getting a TOTS.

Central Backs is a bit tough one.

Marcano and Felipe are my choices from Porto.

Even though Porto didn't win a league, their defense was really solid. Felipe scored 2 goals and registered 1 assist, having 84% pass accuracy, and also having 1 MOTM.

Marcano on the other side having 4 goals and 1 assist, 83% pass accuracy, 2 MOTMs and both of them having really high rating, based on different sites.

Next up we have Liverpool Legend. King of overhead kicks. Sebastian Coates. He really shines in Sporting, having another great season. 3 goals, 1 assist, 84% pass accuracy, most important player in Sporting Defense.

Victor Lindelof is Manchester United target. And also my 4th pick for Central back. Scoring only 1 goal, having whooping 90% pass accuracy and overall performing greatly for Benfica surely deserves a TOTS spot. Also hype might help him.

Raul Silva is my last pick for Central back. Even though he only plays for 6th place team, we can't have a full team of Sporting-Porto-Benfica players, can't we? Raul scored 7 goals from Central Back position which is exceptional in my opinion. Overall one of the highest rated players in Liga NOS so he deserves his spot.

Let's move onto midfielders.

First one is easy choice: Danilo Pereira- he already got his TOTS, so I don't need to explain myself.

Also same goes to Gelson Martins, so 2 players are 100% locked. It'll be funny, cause they'll have dynamic images, while others- don't.

Pizzi probably the 2nd best player this whole season in Liga Nos. 10 goals, 8 assists, 85% pass accuracy from CM, he'll be exceptional TOTS and I'm gonna definitely try him out!

Rodrigo Battaglia played over 2 teams this season, but performed amazingly in both squads. 4 goals and 2 assists from CDM doesn't look that impressive, but his stats shows why he's really important for a squads.

Lubomir Fejsa is my 3rd CDM. Already 3 CDMs, but okay. 91% pass accuracy, having an amazing season, his stats might not show that, but he's really important for Benfica in their title-winning season.

Oliver Torres from Porto having also a great season. Playing central position, scoring 2 goals and giving 3 assists, with 85% passing accuracy. Overall a really solid season, for a really young and talented player!

Wilson Eduardo is a tough one. He's having an amazing season with 6 goals and 8 assists, but overall played not so many games, but in the end I've decided to include him. Too hard to pass on his stats.

Another year, another great season for Iuri Medeiros. 7 goals, 8 assists, 100% TOTS. Not much to talk about really here.

Fabio Martins is a choice from a club called "Chaves". Having great 6 goals and 2 assists season, he'll be an interesting one. If EA decide to include him, it'll be great!

Now let's move on to strikers. Probably most fun part.

1st one is an easiest choice ever. Bas Dost. Big Bas Dost, who scored 34 goals. THIRTY FOUR. Closest one having 19 goals in total. Bas Dost will be probably not so great card, but I'll try him out for fun.

Second choice is Konstntinas Mitroglu. 16 goals, 1 assist. Tied for 3rd best goal scorer in the league, so he deserves this spot.

Andre Silva is a massive talent, big future ahead of him. But this season he already score 16 goals and 5 assists, so even better than Mitroglu.

Soares is my 4th choice. In the middle of the season he transferred from Vitoria to Porto and scoring in summary 19 goals he surely deserves this spot.

And the last player in this team is Moussa Marega.

13 goals and 6 assists in Vitoria is impressive. By the way. He'll be actually really good in FIFA, so I suggest you trying him out!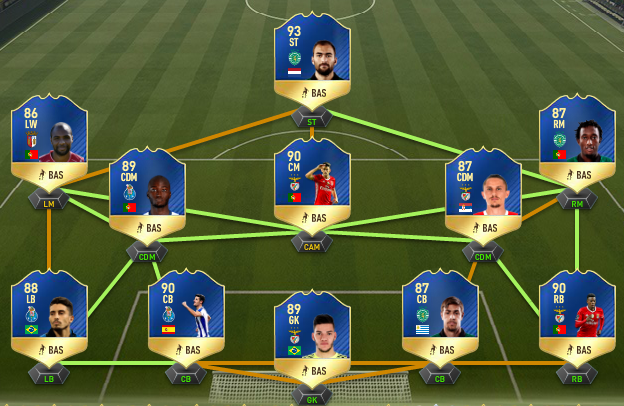 Squad Link :
http://www.futwiz.com/en/custom-squad/41904
Marquee Matchups Predictions - July 24th
<p> <span initial;">Hey there guys. It's Tillian, it's so called "Marquee Matchups" in the summer. Let's get some packs for FUTTIES.</span>

22/07/2018 05:04pm | TOTW
Marquee Matchups Predictions - June 12th
<p> <span initial;">Hey guys, it's Tillian and it's Marquee Matchups predictions!</span>

08/06/2018 06:47pm | TOTW
FIFA 18 Team of the Week Prediction: Week 38
Hey guys, it's Tillian, it's Predictions and it's TOTW time

04/06/2018 07:01pm | TOTW