News
The latest TOTW news
FIFA 23:POTM Predictions for Premier League - November
---
Hello and Welcome to Player of The Month Predictions. This article will be about Premier League and their nominees for November.
I hate months with only 2 matchdays, because it's nearly impossible to find proper nominees. In this month I just decided to do like this. There are some teams that didn't lose this month and I decided to chose players exactly from those clubs. Simple solution, but at least there are people that performed during 2 matchdays, luckily.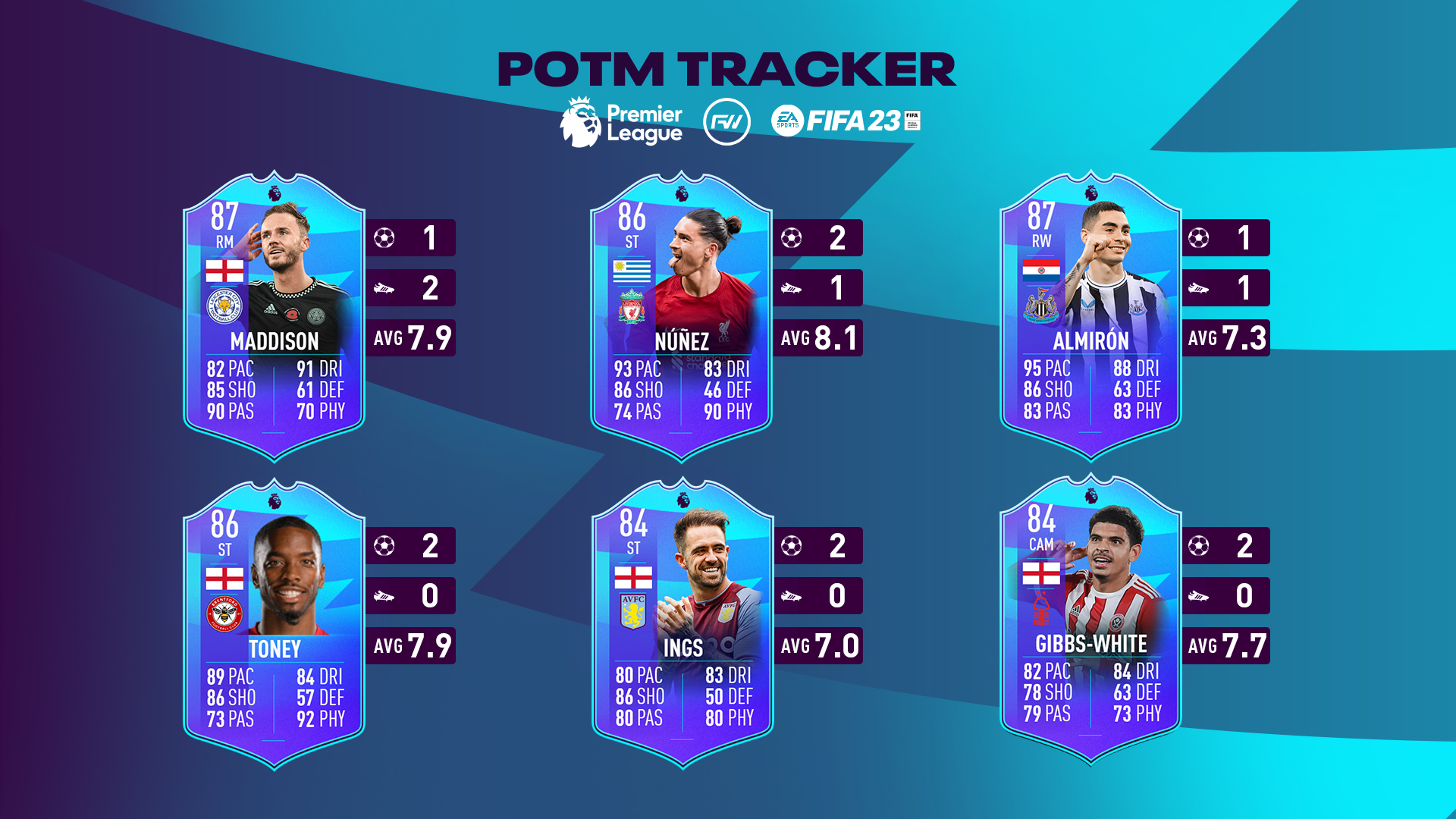 I'll start off with Morgan Gibbs-White. The most expensive signing of Nottingham Forest shined this month. Not only him, but whole Forest managed to get 4 points out of 6 and moved from last place. They won vs Crystal Palace and drew with Brentford. MGW scored in both games and was MOTM in both games. People (and myself) doubted this transfer a lot, as it was seen as overpaying, but he delivered (at least in November). His base card is gold, so he might actually get some decent POTM with 84 or even higher rating for cheap. I'd assume he'd be worth around 50k, due to Premier League Tax. Still might be decent!
Next up – Danny Ings from Aston Villa. Since they've changed the manager – they did look a little bit better and that's proven by 2 wins in 2 games, one of which was vs Manchester United. Other game was vs Brighton and also nice 2-1 win. Ings scored 2 goals in a game vs Brighton and was alright vs United, so imo him or Jacob Ramsey should get nominated. Ings didn't get an IF recently and it's a bummer, because otherwise POTM could be even better. Still I expect cheap 84 or a bit higher POTM with some decent stats. He wouldn't be that useable, as there are tons of strikers who similar or much better for the same pricing tho. I expect 30-45k for him.
After Ings I should mention other English striker – Ivan Toney who scored 2 goals in 1 game: 2 goals vs Manchester City in 2-1 magic win at Etihad. Yeah, he didn't play 2 times this month, but this result alone should be enough for his nomination. Problem with him: recent betting rules allegations that might black list him from every public activity for now, until investigation completed. Still if he wins – he'd get 84\86 rated card and it'd be nice, but somewhat similar to his RuleBreaker (did EA knew something?) that was released few weeks ago. So yeah, if he wins (which I doubt) – he'd be cheap and not worth it, when his RB is on the market.
Only 3 players left and I'm moving to higher rated teams, one of which is Liverpool (that apparently back on track with recent wins (apart from those 2 loses that we don't speak about). Darwin Nunez - the man, the myth, the legend, the man who got mem'd on, Darwizzy. He had 2 great games for Liverpool and managed to get 2 goals and 1 assist. 2 goals in 3-1 win over Soton and 1 assist vs Spurs (which could've been more). He's playing provocative, fast, and now not missing as many chances as before. His OTW card is already nice in FUT and I dunno what rating his POTM would get, I assume 86 too. If he wins of course, which is doubtful. Still – it'd be rather expensive card (somewhere around 150k, imo).
Should I nominate Miggy Almiron once again? 1 goal and 1 assist in 2 wins for Newcastle. Newcastle are on fire, 5 wins in prem in a row and overall they are looking amazing! Miggy got a goal in 4-1 win vs Soton and managed a winning assist vs Chelsea in 1-0 win. Miggy is love, Miggy is life, so if he wins – his POTM would be either 86 or 87 (or even higher), as he just got POTM too. Last one was a bit overpriced, in my opinion, so I expect the 2nd one to be around the same value as first.
And the last, but not least. We're moving back to 2nd part of the table: James Maddison. Madders managed a madness in recent games. He got 1 goal vs West Ham United in 2-0 win and 2 assists in 2-0 win over Everton. 3 contributions this month + amazing performances overall, plus overall he's pretty popular player making him my favorite for a award. He should be 87 rated card, but maybe lower due to his recent IFs – I Just don't know what rating to give to him. He'd be cheap and fun card too!

Also I'm missing Arsenal Player - I dunno who. Probably Gabriel for his goal vs Chelsea and 2 clean sheets. His POTM would be 84-86 and would be nicely priced too. Or even Odegaard with 2 goals vs Wolves and nice (87-88) card, which would be quite expensive IMO.
My favorite is Maddison – but feels like, especially this month< anyone can win an award and it'll be deserved!