News
The latest TOTW news
FIFA 23: Team of The Week Predictions - Week 20
---
Hello and welcome to Team of the Week predictions for another week in our FUT 23 journey! This weekend was interesting and there were some good performances and we should have some nice IFs. Let's talk about them.
First of all – Openda broke record and scored fastest Hat-trick in Ligue 1 history. This should be his 3rd IF and it should be very good card. Other notable good performances in Ligue 1: Aholou scored 2 goals in 2 minutes vs Marseille to save a point for Strasbourg, David scored 3 goals in 3-3 draw vs Lyon and should get his 3rd IF too, Ndayishimiye should get 2nd IF for his 8 rating and a goal in 2-2 draw. Solid list from Ligue 1 this week.
Another notable performance was from Benjamin Pavard – he scored 2 goals and got Player of the week in Bundesliga for his performance in 5-3 win over Augsburg. There's a chance for Cancelo or Sane who got 1g and 1a in the same game, but went with Pavard as he got POTW.
In Premier League Trossard performed fantastically for Arsenal in 3-0 win over Fulham with 3 assists in first half. Harry Kane scored 2 crucial goals in 3-1 win over Nottingham Forest, Walker-Peters was good for Southampton in a draw vs 10 men Manchester United. Neto was my choice for GK for his performance and clean sheet against Liverpool.
In Serie A we've got Rabiot with 2 goals for Juve in 4-2 win, Berardi with 1 goal and 1 assist vs Roma (Lauriente can't get it, due to his FUT Fantasy card, so we should get Berardi), Dragowski for great performance vs Inter and Mandragora for 1 goal and 1 assist in 2-0 win.
Last big one is La Liga – I went with Eder Militao for a goal in 3-1 win over Espanyol (debatable pick and I'm not really sure if we'll get it, but I needed some marquee player and defender – so went with him). Iago Aspas scored 2 goals for Celta and that's what he does. There's a chance for Marc-Andre Ter Stegen for another clean sheet vs Athletic Bilbao, but feels like other GKs were even more important for their teams than MATS. He'll get one of the better TOTS anyway!
There are some options from MLS, Eredivisie and Liga Portugal, won't be surprised if we'll see some good cards from MLS as they returned to football schedule and EA loves giving MLS good cards due to partnership.
We'll see how it goes, this should be a decent week, especially Openda, David and featured cards that we'll get. Hard to predict, as there are a lot of options, but Trossard would be one of them.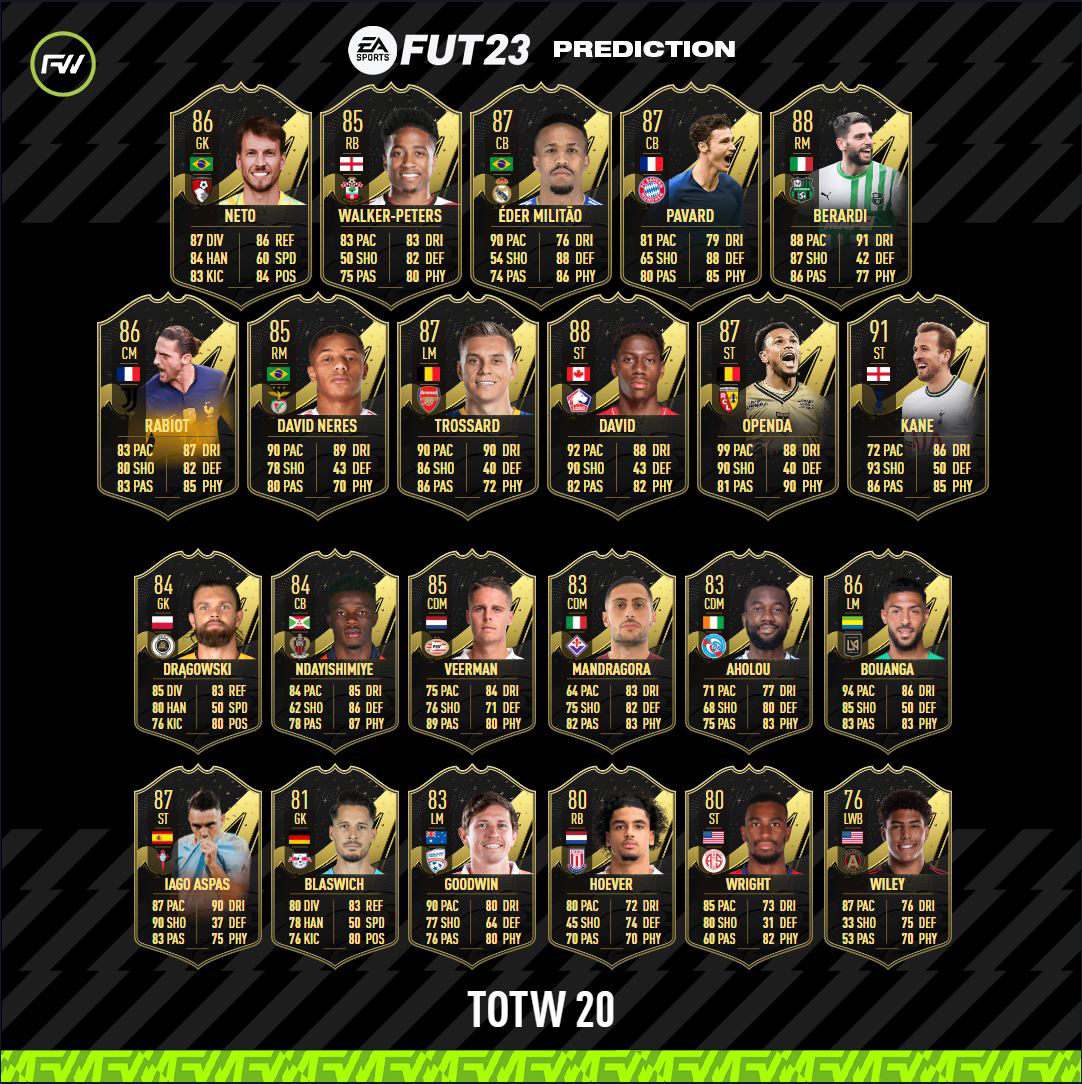 tarting 11:
GK: Neto (Bournemouth) – 5 saves in 1-0 win (SAT)
CB: Eder Militao (Real Madrid) – 1 goal in 3-1 win (SAT)
CB: Benjamin Pavard (Bayern) – 2 goals in 5-3 win (SAT)
RB: Kyle Walker-Peters (Southampton) – CS in 0-0 draw (SUN)
CF: Leonardo Trossard (Arsenal) – 3 assists in 3-0 win (SUN)
RM: David Neres (Benfica) – 1 goals in 3-0 win (SUN)
CM: Adrien Rabiot (Juventus) – 2 goals in 4-2 win (SUN)
RM: Domenico Berardi (Sassuolo) – 1 goal and 1 assist in 4-3 win (SAT)
ST: Jonathan David (Lille) – 3 goals in 3-3 draw (FRI)
ST: Harry Kane (Spurs) – 2 goals in 3-1 win (SAT)
ST: Lois Openda (Lens) – 3 goals and 1 assist in 4-1 win (SUN)
Subs:
GK: Bartolomei Dragowski (Spezia) – 8 saves and pen save in 2-1 win (FRI)
CB: Youssouf Ndayishmiye (Nice) – 1 goal in 2-2 draw (SUN)
CM: Joey Veerman (PSV) – 3 assists in 5-2 win (SUN)
CDM: Jean-Eudes Aholou (Strasbourg) – 2 goals in 2-2 draw (SUN)
CDM: Rolando Mandgragora (Fiorentina) – 1 goal and 1 assist in 2-0 win (SUN)
ST: Iago Aspas (Celta) – 2 goals in 3-0 win (SAT)
LM: Denis Bouanga (LAFC) – 2 goals and 1 assist in 4-0 win (MON)
Reserves:
GK: Janis Blaswich (RB Leipzig) – CS and 3 saves in 3-0 win (SAT)
RB: Ki-Jana Hoever (Stoke City) – 2 goals in 3-2 win (FRI)
ST: Haji Wright (Antalyaspor) – 2 goals and 1 assist in 4-0 win (SAT)
LWB: Caleb Wiley (Atlanta) – 2 goals and 1 assist in 3-0 win (SAT)
LM: Craig Goodwin (Adelaide United) – 1 goal and 2 assists in 4-2 win (SAT)