News
The latest TOTW news
FIFA 21 Team of The Week Predictions: Week 22
A tough week of predictions this week!
---
Hello and welcome to week 22 of our TOTW Predictions powered by Score More With Xbox!
Last week I got 14, another mediocre week and I really want to change this. So let's do it right
This week is kinda hard again, because there were not many standout perfromances, so it's hard to choose some players from certain games.
For example - Borussien derby. Both Haland and Sancho got 1.5 on Kicker and I dunno who to choose. I went with Sancho, as I think Haland might get later UCL MOTM for his performance vs Sevilla, so it's kinda safer to choose Sancho.
Same goes with Bruno - I excluded him because of possible MOTM, but dunno if we'll get MOTMs at all.
Then... who are standouts... Inter player must be in: It's either Lautaro, Perisic or Handanovic. I went with Samir, as he had impressive game in derby, Lautaro recently was in TOTW and I doubt he'll get Fourth IF so soon. Handanovic made some amazing saves, so he should be in.
Real Madrid player might be in, as Flashback Toni Kroos still in Gulag - I went with Casemiro: winning goal and 3 stars on Marca, along side Courtois, but doubt that Courtois will get SIF for that game.
I went with Mahrez because of 2 combined games. He had nice performance vs Arsenal and also he had a nice midweek game against Everton too. Everton player also will get in - Keane or Pickford in my eyes. Went with Keane, as had enough GKs this week.
Tadic vs Haller is another 50\50. 3 assists from Tadic were more important in my eyes, both got 8 rating, so dunno who'll get it too. Atalanta player should get in. Muriel can't - so went with Zapata, his perfect link, who got 1G and 1A, over Romero who scored 4th goal, but conceded 2.
Apart from that – not much to Highlight. There are some good performances on the bench, but not many players would get into people's team.
Good luck in you reds too!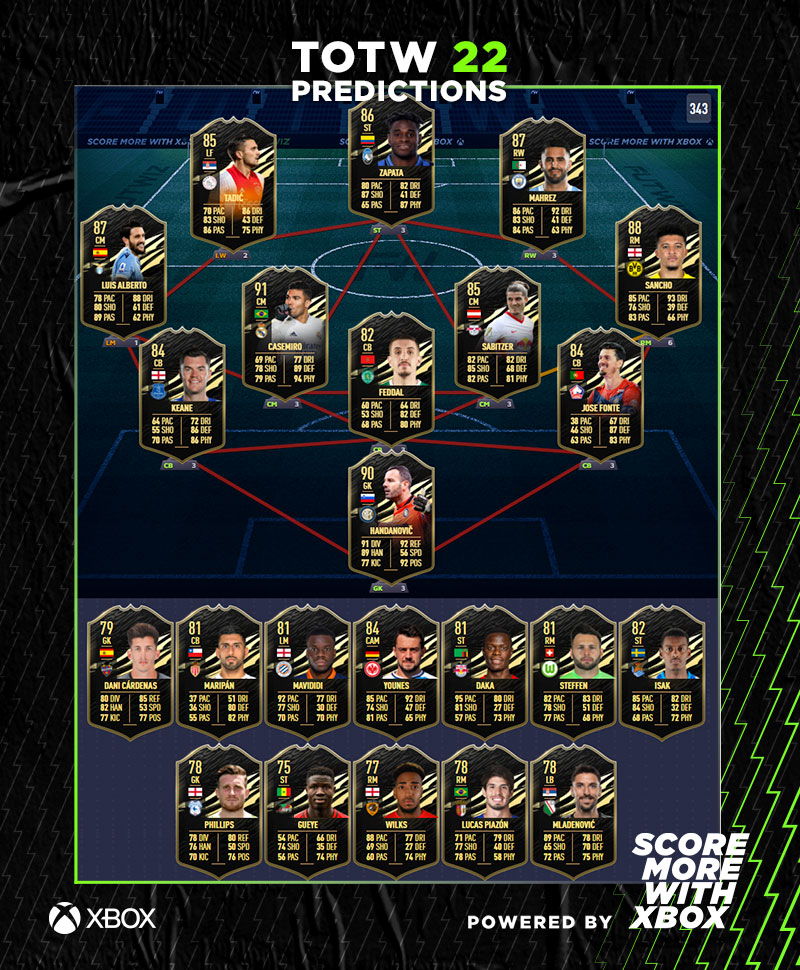 Starting 11:
GK: Samir Handanovic (Inter) – 88>>90– 8 saves in 3-0 win (SUN)
CB: Zouhair Feddal (Sporting) – 78>82 - goal in 2-0 win (SUN)
CB: Michael Keane (Everton) – 79>>84 – CS in 2-0 win (SAT)
CB: Jose Fonte (Lille) – 78>>84 – 1 goal in 4-1 win (SUN)
CM: Casemiro (Real Madrid) – 89>>90 – 1 goal and CS in 1-0 win (SAT)
CM: Luis Alberto (Lazio) – 85>>87 – 1 goal and MOTM in 1-0 win (SAT)
CM: Marcel Sabitzer (RB Leipzig) – 83>85 – 1 goals in 3-0 win (SUN)
RM: Riyad Mahrez (Man City) – 85>>87– 1 goal and 1 assists in 2 wins
LF: Dusan Tadic (Ajax) – 83>95 – 3 assists in 4-2 win (SUN)
RM: Jadon Sancho (BVB) – 87>88 – 1 goal and 2 assists in 4-0 win (SAT)
ST: Duvan Zapata (Atalanta) – 83>>86 - 1 goal and 1 assist in 4-2 win (SUN)
Subs:
GK: Dani Cardenas (Levante) – 63>>79 - 10 saves in 2-0 win (SAT)
CB: Guilerme Maripan (Monaco) - 75>81- 1 goal and CS in 2-0 win (SUN)
LM: Stephy Mavididi (Montpellier) - 75>81 – 2 goals in 2-1 win (SUN)
CAM: Amin Younes (Eintracht) – 77>>84 - 1 goal in 2-1 win (SAT)
ST: Patson Daka (RB Salzburg) – 75>81 - 3 goals in 4-2 win (SUN)
RM: Renato Steffen (Wolfsburg) - 78>82 2 goals in 3-0 win (FRI)
ST: Alexandr Isak (Real Sociedad) – 79>82 – 3 goals in 4-0 win (SUN)
Reserves:
ST: Dillon Phillips (Cardiff)–71>78 – 5 saves and 2 pen saves in 4-0 win (SAT)
ST: Makhtar Gueye (Ostende) – 65>75 –2 goals and 1 assist in 3-1 win (WED)
ST: Mallik Wilks (Hull) – 67>77- 3 goals in 5-0 win (WED)
RW: Lucas Piazon (Braga) – 71>78 – 2 goals and 2 assist in 4-1 win (SUN)
LB: Filip Mladenovic (Legia) – 71>78 – 2 goals and 1 assist in 5-2 win (SAT)