News
The latest TOTW news
FIFA 21 Team of The Week Predictions: Week 15
A 94 rated SIF Ronaldo & 93 rated De Bruyne headline this TOTW prediction
---
Hello and welcome to week 15 of our TOTW Predictions powered by Score More With Xbox!
Last week we got 15\23, I'm getting consistent 15\16 picks which is more than enough for me, considering some random rules and inclusions from Tuesday games. I was really surprised with Lautaro last week, especially when Skriniar was right there to choose. But now we can't get Lautaro thi week, when he scored 3 goals. But whatever. Let's move to some good candidates.
This week, including mid-week games should be a good for red IFs. From Serie A strikers performed wonderfully: apart from Lautaro, his team-mate in form - Lukaku got another goal and assist in their 6-2 win, Ronaldo scored 2 and assisted 1, Zapata got 2 goals too and 1 assist. Serie A overall were headliners of the week, with amount of goals scored, for example Zielinski scored 2 goals for Napoli. But Donnarumma managed to help Milan to get 3 points while playing with 10 men.
In Premier League - Spurs played well vs Leeds and got 3-0 win. Anyone from Kane, Son or Alderweirld can get TOTW, but I've gone with Son, who got 1 goal and 1 assist. Tierney got 1 goal (amazing one) and assist for Arsenal, so he should get an IF too. I've gone with KDB instead of Foden or Gundogan from City, but all 3 can get IF, it depends on who EA will choose.
In La Liga - Real Madrid won and Lucas Vazques got 1 goal and 1 assist, but Nacho can get in, or Asensio. All 3 had good games. Frenkie De Jong got winning goal for Barca and I thought that it's enough for his IF. Maybe not, but he already missed on 1 IF when he scored a goal. We'll see.
Kimmich lead comeback for Bayern vs Mainz with 1 goal and 1 assist and overall he's back from injury and very impressive on the pitch too.
That's all from main players. Some lower rated cards are there, but nothing really specific.
Let's hope it'll be better than I predict and good luck in you reds too!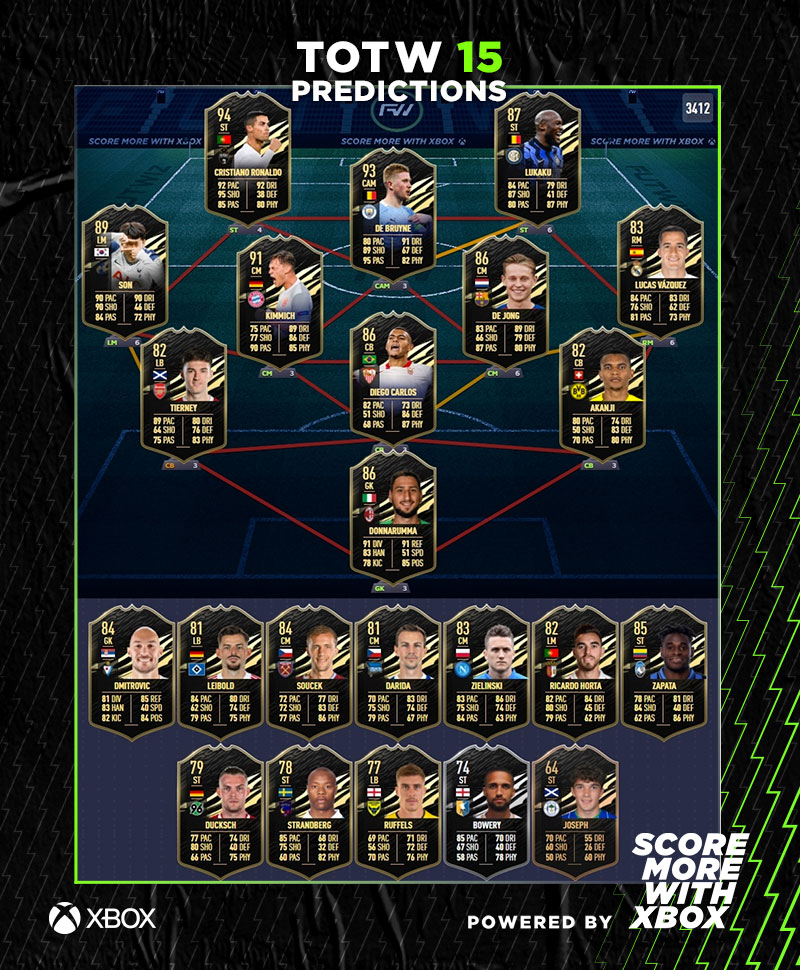 Starting 11:
GK: Gianluigi Donnarumma (Milan) – 85>86– 6 saves in 2-0 win (SUN)
CB: Diego Carlos (Sevilla) – 83>>86–CS and MOTM in 2-0 win (TUE)
CB: Manuel Akanji (BVB) – 78>82– 1 goal in 2-0 win (SUN)
LB: Kieran Tierney (Arsenal) – 78>82 – 1 assist and 1 goal in 4-0 win (SAT)
LM: Heugn Min-Son (Spurs) – 87>>89 – 1 goal and 1 assist in 3-0 win (SAT)
CDM: Joshua Kimmich (Bayern) – 88>>91– 1 goal and 1 asssist in 5-2 win (SUN)
CM: Frenkie De Jong (Barcelona) – 85>86 – 1 goal in 1-0 win (SUN)
RM: Lucas Vazquez (Real Madrid) – 80>83- 1 goal and 1 assist in 2-0 win (SAT)
CAM: Kevin De Bruyne (Man City) – 91>>93 – 1 goals and 1 assist in 3-1 win (SUN)
ST: Romelu Lukaku (Inter) – 85>>87 – 1 assist and 1 goal in 6-2 win (SUN)
ST: Cristiano Ronaldo (Juventus) – 92>>94 - 2 goals and 1 assist in 4-1 win (SUN)
Subs:
GK: Marko Dmitrovic (Eibar) – 81>84 – 3 saves 2-0 win (SUN)
LB: Tim Leibold (HSV) - 76>81- 2 assists in 3-1 win (SUN)
CDM: Tomas Soucek (West Ham)- 81>84 – 1 goal and MOTM in 1-0 win (FRI)
CM: Vladimir Darida (Hertha) – 77>81 - 2 assists in 3-0 win (SAT)
CM: Piotr Zielinski (Napoli) – 80>83 - 2 goals in 4-1 win (SUN)
LW: Ricardo Horta (Braga) – 79>82- 2 goals in 4-2 win (TUE)
ST: Duvan Zapata (Atalanta) – 83>85 – 2 goals and 1 assists in 5-1 win (SUN)
Reserves:
ST: Marvin Dukcsch (Hannover)– 72>79 - 2 goals and 1 assist in 4-0 win (SUN)
ST: Carlos Strandberg (Abha) – 70>78 – 3 goals in 4-2 win (FRI)
LB: Josh Ruffels (Oxford) – 68>77- 2 goals and 1 assist in 5-1 win (SAT)
ST: Jordan Bowery (Mansfield) – 62>74 – 3 goals in 4-0 win (SAT)
ST: Kyle Joseph (Wigan) – 52>64 – 3 goals in 4-3 win (TUE)