News
The latest TOTW news
FIFA 21 Team of the Week Prediction: Week 28
A few 88 rateds in this weeks TOTW Predictions!
---
Hello and welcome to week 28 of our TOTW Predictions.
Somehow got good result during International week, even tho there were some insane inclusions, but that's international week for you.

Time for club football. We had some surprising results, like WBA vs Chelsea 5-2 win, so I'm including Matheus Pereira from that game.

Apart from that – let's cover everyone. Strikers were hard to choose, so I included nearly everyone: Danny Ings with 1G and 1A in great comeback for Southampton (anyone remembers that he has Headliners card?), Muriel with 1 goal and 1 assist, Moreno with 3 goals, Aspas with 2 goals and 1 assist – everyone gets inform in my world.

From midfield I include Filip Kostic who had good performance vs BVB in very important tie for future Champions league spot, Fabinho was MOTM for Liverpool vs City, Andre was MOTM for Lille vs PSG in very important tie for the first place in Ligue 1. Marcus Thuram lead comeback for Monchengladbach.

Defenders were hard to choose. Really hard. I included Ben Mendy for a goal for City vs Leicester, Jesus Navas for assist vs Atletico Madrid (anyone noticed how Atletico dropped 10 points gap between 1st and 2nd in few months time?), and Bastoni for a solid game for Inter.

Goalkeepers were even harder to choose. Man, this week was painful. Went with Lecomte for clean sheet for Monaco. 7 on L'equipe too, so maybe.

I'll be honest with you – this week was hard to predict. I know that many of you don't care about TOTWs anymore, but I'm trying to get better score every week. Don't know how this will go, but I tried my best.

Good luck in you reds too!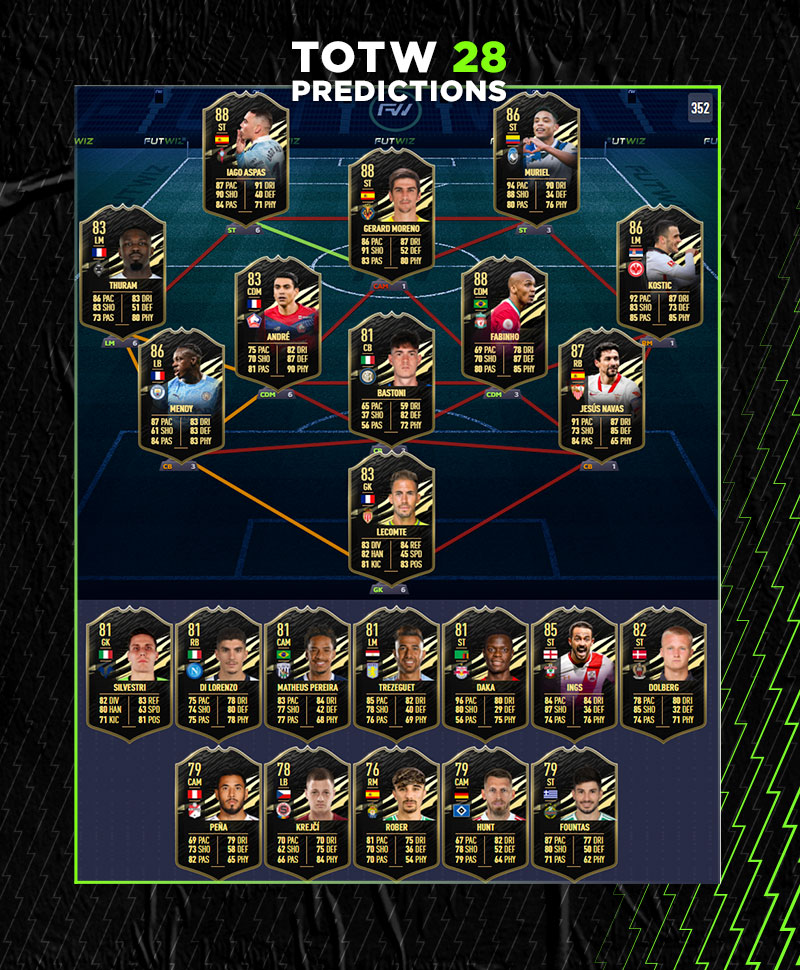 Starting 11:

GK: Benjamin Lecomte (Monaco) – 80>83– CS and 4 saves in 4-0 win (SAT)
RB: Jesus Navas (Sevilla) – 84>>87– 1 assist and cs in 1-0 win (SUN)
CB: Andrea Bastoni (Inter) – 76>81 –CS and MOTM in 1-0 win (SAT)
LB: Benjamin Mendy (Man City) – 81>>85 – 1 goal and cs in 2-0 win (SAT)
LM: Marcus Thuram (Borussia M'gladbach) – 80>83 – 2 goals in 2-1 win (SAT)
CDM: Fabinho (Liverpool) – 87>>88 – MOTM in 3-0 win (SAT)
CDM: Benjamin Andre (Lille) – 80>>85 – MOTM in 1-0 win (SAT)
LM: Filip Kostic (Eintracht) – 83>>86 – 1 assist in 2-1 win (SAT)
ST: Luis Muriel (Atalanta) – 81>>86– 2 goals in 3-2 win (SUN)
ST: Gerard Moreno (Villarreal) – 83>>88 – 3 goals in 3-0 win (SUN)
ST: Iago Aspas (Celta Vigo) – 84>>88 - 1 goal and 2 assists in 3-1 win (SUN)

Subs:

GK: Marco Silvestri (Hellas) – 77>81 – 5 saves in 2-0 win (SAT)
RB: Giovanni Di Lorenzo (Napoli) – 75>81- 1 goal and 1 assist in 4-3 win (SUN)
CAM: Matheus Pereira (West Bromwich) - 76>81 – 2 goals and 2 assists in 5-2 win (SAT)
LW: Trezeguet (Aston Villa) – 77>81 – 2 goals in 3-1 win (SUN)
ST: Patson Daka (RB Salzburg) – 76>81 - 3 goals in 3-1 win (SUN)
ST: Danny Ings (Southampton) – 80>>85 - 1 goal and 1 assist in 3-2 win (SUN)
ST: Kasper Dolberg (Nice) – 79>82 – 2 goals in 2-1 win (SAT)

Reserves:
CAM: Aaron Hunt (HSV) – 72>>79 – 3 goals in 3-3 draw (SUN)
CDM: Ladislav Krejci (Sparta) – 71>78 – 3 goals in 7-2 win (SUN)
RM: Roberto Byron (Las Palmas) – 67>76- 3 goals in 6-1 win (THU)
CAM: Sergio Pena (Emmen) – 71>78 – 1 goal and 1 assist in 3-1 win (SAT)
ST: Taxiarchis Fountas (SK Rapid Wien) – 72>79 – 3 goals in 8-1 win (SUN)