News
The latest TOTW news
FIFA 21 Team of the Week Prediction: Week 16
No Premier League this week, so enjoy some extra players from other leagues!
---
Hello and welcome to week 16 of our TOTW Predictions powered by Score More With Xbox!
Last few weeks we're doing good in terms of Predictions, so let's continue trend this week too. It's going to be hard week to predict, as there were no PL games and FA Cup games don't count towards TOTW.

This week will be full of Bundesliga/Serie A/La Liga/ Ligue 1 players. So let's go league by league and highlight some players:

Griezmann or Messi is the biggest question of the week for me. I went for Griez as he got 2 goals and 2 assists in 2 games, while Messi got 4 goals in total. With TOTY being so close – I went with Griezmann, he seemed like a better choice. Parejo as usual saves midfield position with 1 goal and 1 assist. Gaya got 1 winning assist in crucial Valencia fixture.

I went with Navas from PSG, even tho Marquinhos can get it too. It's because I needed starting GK and Navas got 8 for L'equipe game. So yeah, main picks from Ligue 1 are: Depay and Volland. Both had 2 very strong games, both should get nice SIFs.

In Bundesliga – 3 players from BVB can get IF: Reus, Sancho or Haland. All 3 had very good versus Leipzig and all of them have a chance for an Inform. I went with Reus, due to him having great game and not being highlighted as much as others.

In Serie A: 3 players from Juve and I went with Danilo. Sczcesny and Chiesa can get it for a game vs Milan, but Danilo was sensational vs Sassuolo. Gosens is my choice from Atalanta due to Muriel, Zapata and Ilicic not eligible for IF yet.

Overall – this is it. Maybe I missed someone, but I hope Predictions will be close enough to what I predict.

Good luck in you reds too!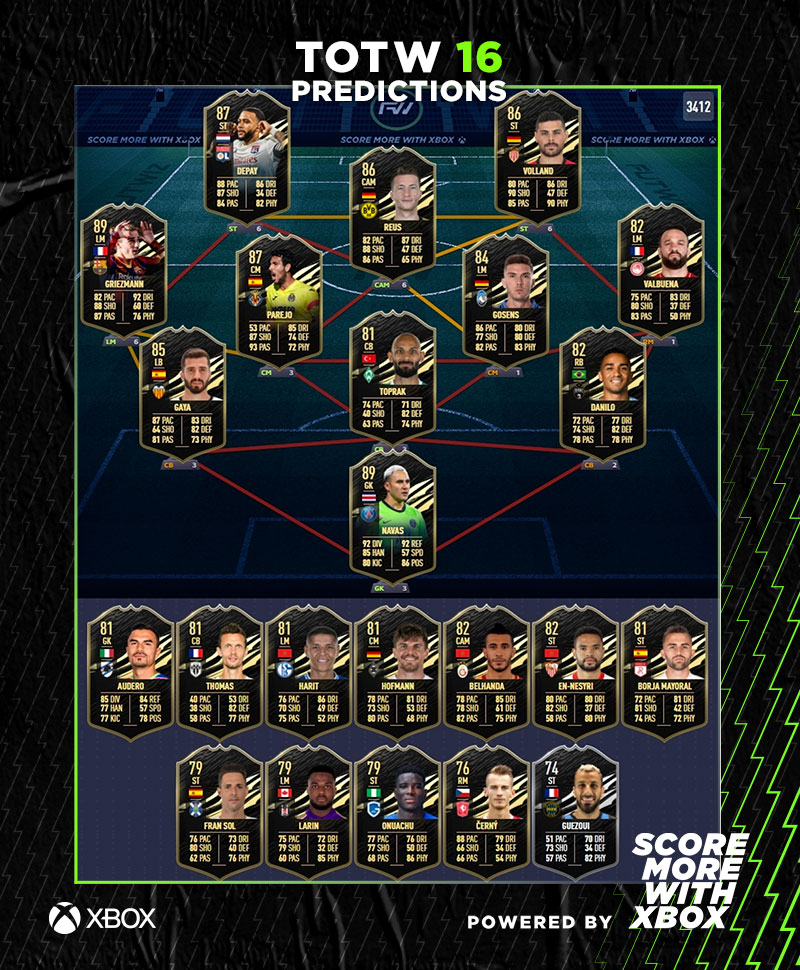 Starting 11:

GK: Keylor Navas (PSG) – 87>>89– 6 saves and 8 on L'equipe in 1-1 draw (WED)
CB: Omer Toprak (Werder) – 76>81–1 goal in 1-1 draw (THU)
LB: Jose Gaya (Valencia) – 83>85 – 1 assist and cs in 1-0 win (SUN)
RB: Danilo (Juventus) – 79>82 – 1 goal and 1 assist and MOTM in 3-1 win (SUN)
LM: Antoine Griezmann (Barcelona) – 87>>89 – 2 goals and 2 assists in 2 wins
CM: Dani Parejo (Valencia) – 85>>87– 1 goal and 1 assist in 4-0 win (THU)
LM: Robin Gosens (Atalanta) – 82>84 – 1 goal and 1 assist in 3-0 win (WED)
LM: Mathieu Valbuena (Olympiakos) – 79>82- 3 assists in 2 wins
CAM: Marco Reus (BVB) – 85>86 – 2 assists in 3-1 win (SAT)
ST: Memphis Depay (Lyon) – 75>>86 – 3 goals and 1 assist in 2 games
ST: Kevin Volland (Monaco) – 81>>86 - 2 goals and 3 assists in 2 wins

Subs:

GK: Emil Audero (Sampdoria) – 77>81 – 6 saves and pen save in 2-1 win (WED)
CB: Romain Thomas (Angers) - 76>81- 2 goals in 2-1 win (WED)
LM: Amine Harit (Schalke)- 76>81 – 1 goal and 3 assists in 4-0 win (SAT)
CM: Jonas Hofmann (Borussia M'gladbach) – 77>81 - 2 goals and 1 assist in 3-2 win (SAT)
CAM: Younes Belhanda (Galatasaray) – 78>82- 3 goals in 6-0 win (SAT)
ST: Youssef En-Nesyri (Sevilla) – 78>82- 3 goals in 3-2 win (SAT)
ST: Borja Mayoral (Roma) – 76>81 – 2 goals in 3-1 win (WED)

Reserves:
LM: Cyle Larin (Besiktas)– 72>79 - 4 goals and 1 assist in 6-0 win (WED)
ST: Fran Sol (Tenerfie) – 72>79 – 2 goals and 1 assist in 3-0 win (SAT)
ST: Paul Onuachu (Genk) – 72>79- 3 goals in 4-1 win (THU)
RW: Vaclav Cerny (Twente) – 66>76 – 2 goals and 1 assist in 4-1 win (SAT)
ST: Medhy Guezoui (FC Chambly Oise) – 63>74 – 2 goals and 1 assist in 3-1 win (FRI)