News
The latest TOTW news
FIFA 21 Summer Stars: Team 2 Predictions
Hello and welcome to Summer Stars Team 2 Predictions.
---
Hello and welcome to Summer Stars Team 2 Predictions.
Oh, how I missed writing articles like this, since TOTWs ended – this is my first one, so let's try to make it good one.

I mostly focused on Play-offs of EURO and Copa America, so maybe I forgot someone from group stage.

Of course – main focus will be on finalists of both tournaments. I feel like both England and Italy didn't get enough players in first team, so we're on our way to fix it. From Italy – my choices should be pretty obvious: Chiesa with important goals and Jorginho for performing amazingly over the tournament. Barella is an option too.

As for England – I could choose 5-7 players that deserved some sort of a card: Pickford, Maguire, Stones, Walker, Shaw, Sterling, Kane. All of them had a very good tournament, but I decided to choose Sterling and Shaw (maybe we'll see another one to add to those).

Next up, I tried to give Denmark a bit of a justice, in my eyes Hojbjerg and Maehle both deserved cards. Both were exceptional and were main reason of Denmark success. 2 more wins after last Promo team can give them more options and possibilities to be included in a team.

Spain, in my eyes, deserves special Pedri card – he was very important for them. Played every game from start to finish and was praised by many. I think Alba possibly deserves a card too, but LB\LWB position is too stacked, in my opinion.

Swiss deserves some card. For me – Akanji was really their best player (some may argue that it's Sommer). Akanji, despite conceding few goals, was really clutch and consistent for them. I think he deserves a mention and his potential card could be very good.

Oh and 1 more card for Belgium – Lukaku was their 2nd best player in my opinion and deserves even better card.

Now, moving on to Copa: Brazil needs a lot of players. For me – Neymar is an obvious choice. Thiago Silva was a rock at the back too. Paqueta is an option for SBC\Objective.

Argentina in the same boat, after Messi got card last week – De Paul is an option for Team 2 and Emi Martinez, to me, was the 2nd best their player and came up clutch in penalty shoot-out, so for me – he deserves a card.
So yeah, let's see what we'll get, but I hope I'll get a lot of players right.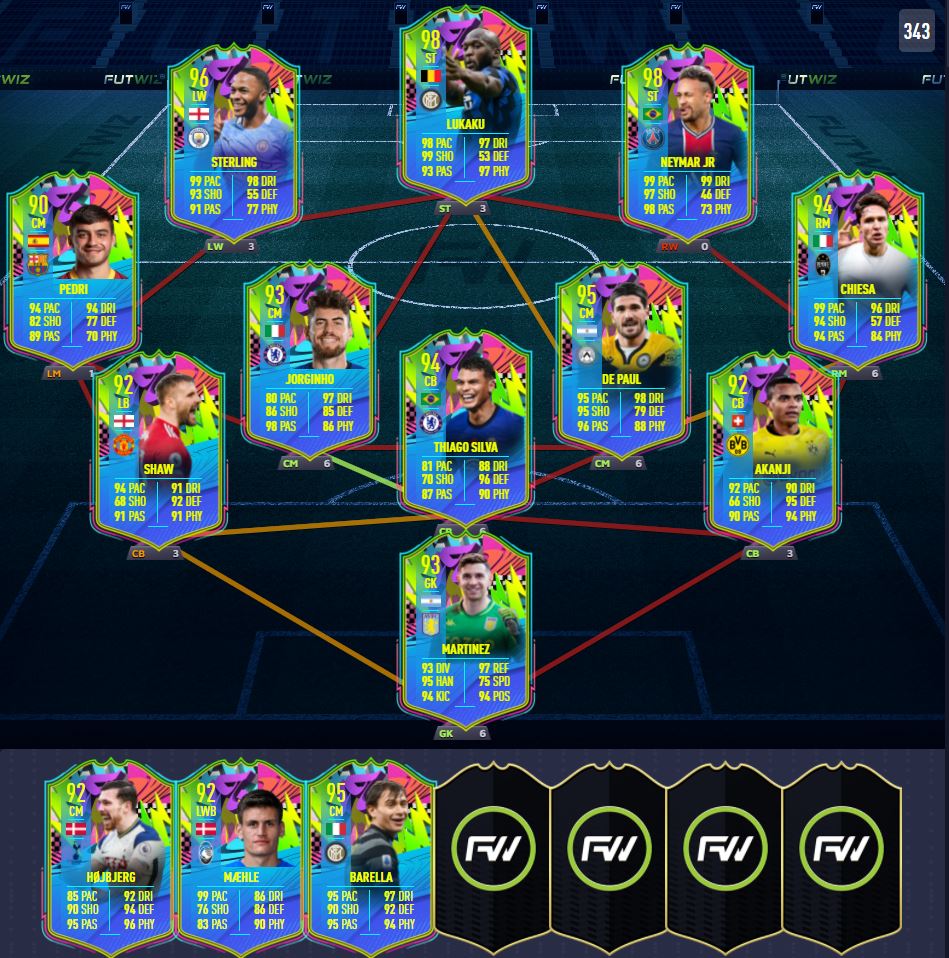 Starting 11:

GK: Emi Martinez (Aston Villa) – 78>>93– Only 3 goals conceded in 9 games, penalty shoot-out hero
LB: Luke Shaw (Manchester United)– 81>>92– 5 cs and 3 assists in 6 games
CB: Thiago Silva (Chelsea) – 85>>94– 2 goals conceded in 9 games
CB: Manuel Akanji (BVB) – 79>92 – Consistent performer
CM: Pedri (Barcelona) – 72>>90– Young star of Spain team
CM: Jorginho (Chelsea) – 83>>93– Leader and contender for POTT
CM: Rodrigo De Paul (Udinese\Atletico Madrid) –77>>95 –1 goal and consistent performances
RM: Federico Chiesa (Juventus) – 80>>94 – 2 goals in 6 games
ST: Neymar (PSG) – 91>>98 – 2 goals and 2 assists in 6 games
ST: Raheem Sterling (Man City) – 88>>96- 3 goals and 1 assist in 6 games
ST: Romelu Lukaku (Inter) – 85>>98 - 4 goals in 5 games

Subs:

CM: Pierre-Emile Hojbjerg (Spurs) – 80>>92 –3 assists in 6 games
LWB: Joakim Maehle (Atalanta) – 76>>92 – 2 goals and 1 assist in 6 games
CM: Nicolo Barella (Inter)- 80>>95 – 1 goal and 2 assists in 6 games
CM: Lucas Paqueta (Lyon) – 76>>93– 2 goals in 5 games
RW: Andriy Yarmolenko (West Ham United) – 77>>90- 2 goals and 2 assists in 5 games