News
The latest TOTW news
FIFA 21 Ligue 1 TOTS Predictions
Hello and Welcome to TOTS Ligue 1 Predictions
---
Hello and Welcome to TOTS Ligue 1 Predictions.

This is probably the hardest article out of all Top-5 leagues for me to write. Just because final team that EA release often goes with mostly hype, compared to what fans want.

That's why I'm trying to mix things up this year and predict mostly deserved players + some hyped up ones to combine 2 things in 1 Prediction.

Let's discuss the league overall, before we start. Most interesting Ligue 1 season up to date so far in past few years. 4 teams aiming at title: Lille, Lyon, PSG and Monaco. All still have their chances, even tho it looks like PSG will narrowly win it. Lille played most of the season well, but in March struggled a bit and lost a lot of points. Lyon sometimes playing too good, sometimes too bad (insert Gattuso meme), but still their system this year giving them good results, even tho past few weeks people covering their main asset (Depay) a bit too much that's why they are struggling sometimes. PSG changed Thomas Tuchel to Pochettino mid season, I understand why they did it, it probably will bring them a title and a decent chance at UCL too. PSG played well versus most of their main opponents, but sometimes randomly struggling versus average at best sides. Monaco under Kovac is very fun to watch. Overall team is pretty young but Kovac doing amazing job. His transformed Monaco into leaders of French football and a lot of people thought it wouldn't work out for them after Kovac's spell in Bayern.

After 4 big teams there's a huge gap. Currently 5th place taken by Lens. Team that just got promoted and team that deserves a lot of praise. Lens are fantastic, they are scoring on the level of Lille and conceding on the level of bottom 6 teams. Fun squad. After them – Marseille. What a wild season for Marseille and their fans. I can write an article on Marseille season and it'll be probably longer than TOTS Predictions, but it's not worth it. Let's just say – Andre Villas Boas left, fans invaded their training pitch, Thauvin having argument with Payet, and now they are managed by ex coach of Argentinian national team: Jorge Sampaoli. Overall it's fun to look after Marseille as neutral. Then Rennes, who struggled this year with UCL and Ligue 1, they've changed coach too. Montpellier in the middle of the table too, like last few years. Then we have a lot of teams that are close to each other and gap between 19th and 12th place only 10 points.

Only Dijon 99% relegated, while battle for survival will be interesting to watch, as nearly every year in Ligue 1.

So yeah, Ligue 1 as always pretty interesting to watch, but at least this year we have a title race. Now let's move to players.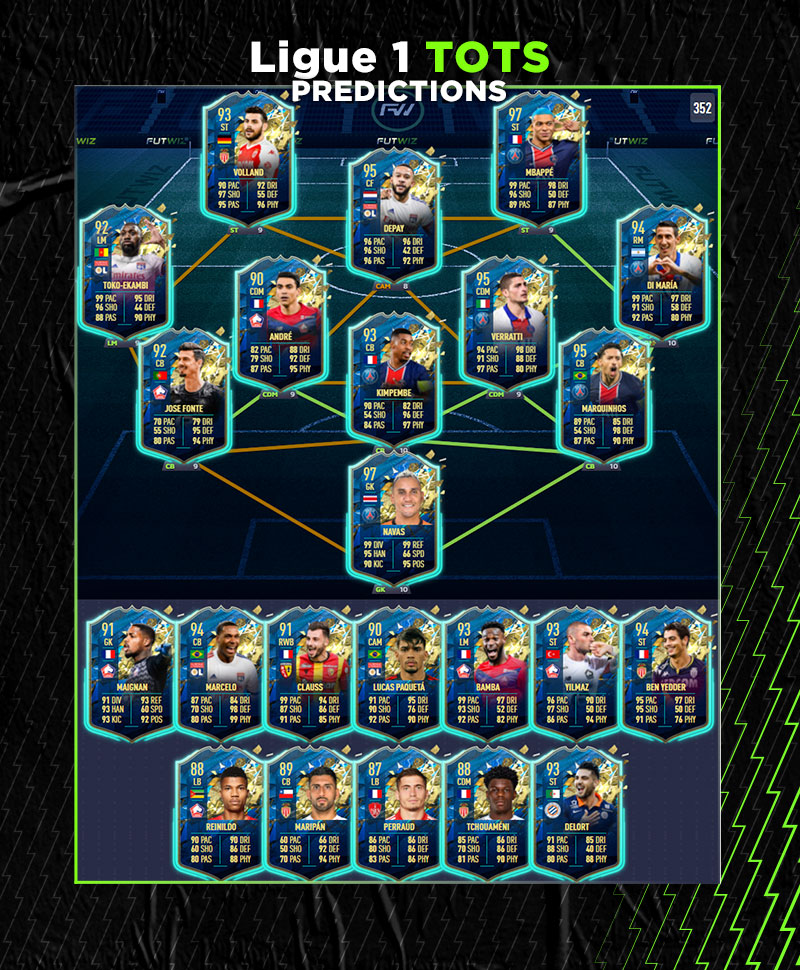 Let's start as per usual with goalkeepers.

Starting GK for me is Keylor Navas, while 2nd choice is Mike Maignan from Lille. There were few other options, like Anthony Lopes from Lyon, but I decided for this duo and I'll try to explain why.

At first – Maignan. In my opinion it's pretty easy choice, as Lille conceded lowest amount of goals, and Maignan got into multiple Team of The weeks by L'equipe and got amazing ratings. I think there will be no doubt that he gets in (watch this phrase backfire hard).

2nd choice is Keylor Navas. Influential for PSG and for Nani SBC. 2nd season for him in Paris going even better than first one and he's been amazing for PSG. He had 12 clean sheets and PSG conceded only 2 more goals than Lille. But still, Navas makes insane saves nearly every game and he's, what more importantly, playing consistently for PSG. They've been missing GK like this for a long time, so it's a blessing for them.
Other choice, as I mentioned – Antony Lopes from Lyon. I think he was really good. Especially before 2021. But overall, Lyon concede a lot of goals and it's hard to compare Lyon vs Lille or PSG: 30 conceded goals vs 21 and 19 goals conceded by them. I can see him making TOTS, but instead of Navas, not Maignan.

Moving on to defenders and I'm starting with center backs:

First option is Jose Fonte from Lille. Main man of defense, player with whom new young talented defenders grow fast. Last year it was Gabriel, this year it's Botman. But main reason of Lille's good defense is Jose Fonte. He even scored 3 goals, got a very high average rating and multiple appearances in L'equipe TOTWs. He's a lock in my eyes.

Then I have 2 defenders from PSG: Marquinhos and Kimpembe. People said that after Thiago Silva left PSG would struggle in defense but those 2 players proved people wrong. Marquinhos became leader of defense and became captain, while Kimpembe improved his game massively. Can't see any of them missing on TOTS. Marquinhos kept 11 cs and scored 1 goal and got 1 assist, while Kimpembe played less games – he got few noticeable performances to his name and should receive nice TOTS.

Next CB that I have in my team – Marcelo from Lyon. I was debating between him and Denayer, but in the end I went with Marcelo. I think it's really close, but feel like Marcelo was more consistent. Overall I think high "highs" of Denayer were better, but low "lows" way worse. So yeah, it's hard, but in the end I won't be surprised if we'll see either\neither\both of them.

Last CB that I have is Guillermo Maripan. 5 goals as central defender is impressive. Also it's impressive that he scored them during 1 month. But overall he's been the best Monaco CB this season and without him team performed worse at the start of the season. After he came to the team – team progressed massively. Sadly can't say that his FUT card will be useful, unless they'll give him enormous boost.

Good thing that comparing to CBs – I only have 2 fullbacks in this predictions. Let me explain.

It was nearly impossible to find fullbacks for this team. Okay – right back is kinda easy. Jonathan Clauss did his best Kenny Lala cosplay from FUT 19. 2 goals and 6 assists, insane performance by him in 2021 especially, overall Lens is a surprise of the season. Team is sitting 5th and unless you're French football follower you'll hardly name more than few players from Lens. I'll tell you that Gael Kakuta (this name might be familiar to you) – plays for Lens. But Jonathan Clauss is MVP of their 2nd part of the season with is assists and overall will be a cool TOTS. Fun and balanced stats.

Left back is hard. It was nearly insane to find LB for this Prediction. Most of the team either rotate their team massively or play with 3 at the back. I found two options that fits my Predictions and one of them is Romain Perraud from Stade Brest. I think he's nice pack filler and overall a decent option for TOTS. He scored 3 goals and got 5 assists and overall his average rating was high enough. Problem that Brest is near relegation (14th place atm) and they conceded way more than 1 goal per game, but I think Perraud still has a chance for TOTS.

Other option is Reinildo from Lille. At first I was hesitant about him being in TOTS, but 2nd part of the season proved his worth and statistically and not only statistically he's the best LB from Ligue 1. He should get a nice TOTS with some large boosts. He hasn't scored or assisted, but he was nearly perfect as defender.

I don't even have alternatives, as those players to me look like only candidates for Full Back positions. Okay, I lied. Leo Dubois from Lyon is another real candidate. He played both LB and RB this season and been consistently good, so he had a call up to national team. He got 2 goals and 3 assists over the season and overall worked well with Lyon defense, which I mentioned before, was solid. Would be a great TOTS too (but for most of people it'd be fodder).

In Midfield it's much more interesting in my opinion.

I'll start with LM. I excluded Jonathan Bamba in the last moment, but I feel like I'll regret it. His number are still great: 6 goals and 9 assists, but his 2021 doesn't feel as good as his 2020 part of the season. Just for an example: He got only 1 goal and 2 assists after NY and I feel like because of this – it's fair to exclude him. Yes, he got a headliner, but other person that I'm including – has it too. Karl Toko-Ekambi from Lyon to me feels like a better candidate. He got 12 goals and 5 assists in Lyon's attack alongside Tino Kadewere and Memphis Depay and his good performances over the season are one of the main reasons of Lyon's great season. He, for sure, will get TOTS and it should be a nice one too.

Right Winger to me is clear choice too: Angel Di Maria having another great season for PSG with 4 goals and 8 assists. Maybe not as impressive as last year or before that, but still on average he's very good performer. He missed few games this year for PSG due to injuries, but he's not getting younger, so it's fair to ignore them in Predictions. I feel like he for sure will get TOTS and it'll be nice one too!

Tino Kadewere is an option for Silver Stars for this TOTS. He was playing mostly Right-Winger and he had same problems as Bamba in 2021. Feels like he wasn't that good in 2nd part of the season. He had 10 goals and 3 assists this season, but only 3 goals in 2021. Still a fair pick for TOTS and Silver Stars option.

In the middle of pitch it's kinda overload, as per usual:

I'll start with my wild guess: Alexander Golovin. Yes, I'm bit biased. But I feel like he's been one of the leaders of Monaco side this season. Let's be real – he shouldn't be in TOTS. He played only 14 games. And had 6 starts. BUT! He scored 4 goals and got 7 assists for these appearances. There's a bigger chance of his Moments card, like last year, to be honest and I'll be fine with that too. But overall, for those who watched Monaco – Golovin did really great, especially in some selected games too.

Then I have Benjamin Andre from Lille. Yes, not Renato Sanches, but Benjamin Andre. He's been very impressive for Lille this season, he played consistently well and he's been an option for CDM for this team. He got only 1 assist, but as far as I can remember – he got numerous times in L'equipe TOTW and overall he's been a rock in midfield for Lille, as he played in every game and helped to keep their good defensive record.

Another Lille player that I have is Yusuf Yazici. That might be an unpopular choice, as he hasn't played enough games as a starter, but he was often used as Super Sub and his 7 goals and 4 assist sound decent to me. He may not get the TOTS, but he should get Moments card. He played as CF\CAM\Second striker, so I dunno about his position to be completely honest. I placed him at CAM and feels like if he'll get a TOTS – it'll be CAM.

Then I have Teji Savanier. He got last 2 years very nice TOTS as he accumulated multiple IFs over the season. But this year, he doesn't have an IF yet, but that doesn't stop me from not including in TOTS. He scored 5 goals and got 5 assists for decent Montpellier side and overall he's been really good for them. I'm nearly sure that he'll get another TOTS this year and it'll be another good central card.

At first I had Boualaya, but he already got TOTS Moments card, so I'm changing it up last minute. Lucas Paqueta should take his place. Paqueta had an insane 2nd part of the season, he nearly had a contribution in every game, he got 9 goals and 5 assists and was crucial for Lyon in 2nd part of the season when they changed to 4-2-3-1. Even in 4-3-3 he was good. I'm really happy for Lucas Paqueta. He had struggles in Milan, but he's showing his true value in Lyon.

I left Marco Verratti to last, but obviously he should be one of the first in this section. Verratti been as per usual insane for PSG, even tho he played only 18 games (he was injured 3 times this season), but still he got 2 assists and overall, doesn't matter how many assists he'll get – he'll always get TOTS. It's Verratti.

There are few more options that can get in: Aurelien Tchouameni from Monaco played a good season in Ligue 1. He's still young and promising, but he played every game this season, got 2 goals and 2 assists and got a lot of praise from experts about his performances. Anchor in the middle of the pitch, he played both defensive midfielder and central midfielder positions throughout the season and might get a really good TOTS.
Boubacar Kamara only player from Marseille that actually has a chance for TOTS. He's still young. But he's been the leader of struggling Marseille team. Overall he was consistent, got 1 assist and was much better than his teammates. Wouldn't be surprised if we'll actually get his TOTS.

Rafinha from PSG had a decent season, I wouldn't name his performances over the season anything game changing, but he got 4 assists and he got Headliners card (for some reason, honestly dunno why), but let's just say – I wouldn't be surprised that he'll get TOTS (he played only 16 games too). Also Lucas Paqueta from Lyon had a nice season for Lyon. He was average in Milan, but his game transformed in Lyon 4-3-3 set up. He got 4 goals and 2 assists and some sort of SBC surely possible for him.

I think that's all for midfielders. From what I've seen – that's all. Of course there's a chance that there will be some surprises, but I tried to cover everyone.

Let's move to strikers.

3 options that are clear to me that will get TOTS: Volland, Depay and Mbappe. I excluded Ben Yedder at first, but thinking later that he can get in. He got 13 goals and got 4 assists. Ben Yedder had a massive 2nd part of the season and he got few nominees for POTM and overall he performed really well. It's not a Ligue 1 TOTS without Ben Yoda, right?

Let's just say: Volland got 13 goals (same as Ben Yedder, but he's not penalty taker, Ben Yedder scored 7 pens, compared to 0 pens by Volland) and he got also 7 assists. To me he's clearly getting TOTS and it's going to be a really nice one.

Depay got 14 goals and 9 assists this season in Ligue 1. One of the better players this season, he should get amazing TOTS too and I think he'll have a chance to win Player of the year. It's fairytale story, as he's leaving Lyon at the end of the season, so it'll be nice to see him performing amazingly and leading Lyon to title.

Mbappe – he's Mbappe. 25 games, 20 goals and 6 assists. No point in explaining him, he for sure will get TOTS.


Burak Yilmaz had a massive season for Lille: 16 goals and 5 assists, a lot of them in crucial part of the season, most of them were winning Lille games and it's amazing story: Yilmaz left Turkish Championship closer to the end of his career and won the league in his first Top Club. Incredible business by Lille and should be one fun TOTS.

Andy Delort from Montpellier scored 10 goals and got 8 assists to his name so he should get TOTS too. He and Gaetan Laborde from Montpellier scored a lot of goals together (Laborde got 10 goals and 7 assists). But I decided on Delort as he's been more consistent and impressive to me, also he won 1 POTM, and that should give him a small boost in my eyes.

Next option, is my surprise of 2021. Amine Gouiri from Nice. 12 goals and 6 assists and a lot of them in 2021. He's having a wonderful season in random (in terms of results) Nice side. He's been a leader of their attack and he found some amazing form lately too. Overall I wouldn't be surprised to see him as an option for Silver Stars, as he, somehow didn't get an IF yet.

Boulaye Dia is my last option for this team. He had some great 2020. He got 13 goals and got 1 assist, but only 5 of them were in 2021 (it's not as awful as it sounded in my head). Reims didn't guarantee their survival, but he's the same as Ajorque – if they'll survive – Dia will be a main reason for that. At first, honestly, I forgot about him. But then followers reminded me of him.

I don't think there are many more candidates, but as you've seen - there's no Neymar. He played only 12 games, but he got 6 goals and 7 assists in those games. I can see him being included, but I highly doubt that we'll see him this year, sadly. Too many injuries and not so many games. But EA are free to do anything they want – so if they'll include him, I'll understand.

This was a hard article to write overall, as it seemed that there are a lot of 50\50 choices for TOTS, compared to other leagues. I hope you won't flame me too hard, but as always constructive criticism is welcomed.

That's a wrap for Ligue 1 TOTS predictions and I hope I'll get a close to reality TOTS and we'll enjoy some hidden gems like in previous editions.