News
The latest TOTW news
FIFA 20: Team Of The Week Predictions 3
TOTW 3 predictions are here! Is there going to be a Vardy Party?
---
Hey guys, it's Tillian here, back with our Team of the Week 3 predictions powered by "Score More With Xbox"!
We've had 2 different TOTWs. First one was great and 2nd one was a bit worse, the third one will be somewhere in between.

Strikers continue to mostly underperform but Jamie Vardy continues scoring, picking up 2 goals in a rampant win over Newcastle. Even though many players from Leicester performed well, we think that Vardy has the better chance of getting the In Form.

A lot of midweek games should be taken in consideration, because there were some top-level performances, for example: Quincy Promes scored 3 goals in a 5-0 win. Promes is very favorable by FUT users, so this upgrade might be exactly what people wanted.

Monaco won 2 games in a row, that sounds strange! Golovin performed amazingly well in midweek win with 2 goals and 1 assists, while Slimani scored once and assisted 3 times on the weekend.

Kai Havertz had a strong performance in a 3-0 win but he played on the wing, so if he'll get an Inform it will likely be as a right winger.. It might be tricky to put him in the squad, but there are a lot of formations where he can be placed to be position switched in game later.

Sergej Milinkovic-Savic had very good game in 4-0 win over Genoa. 1 goal and 1 assist to his name and should be getting an upgrade. Alejandro Gomez from Atalanta scored 2 goals and should be getting a good shooting upgrade too.

Overall, TOTW looking ain't bad at all. It could possibly contain some awesome players like Virgil Van Dijk, but I think it's too early for his In Form and it was a game against Sheffield United.

Good luck and have fun!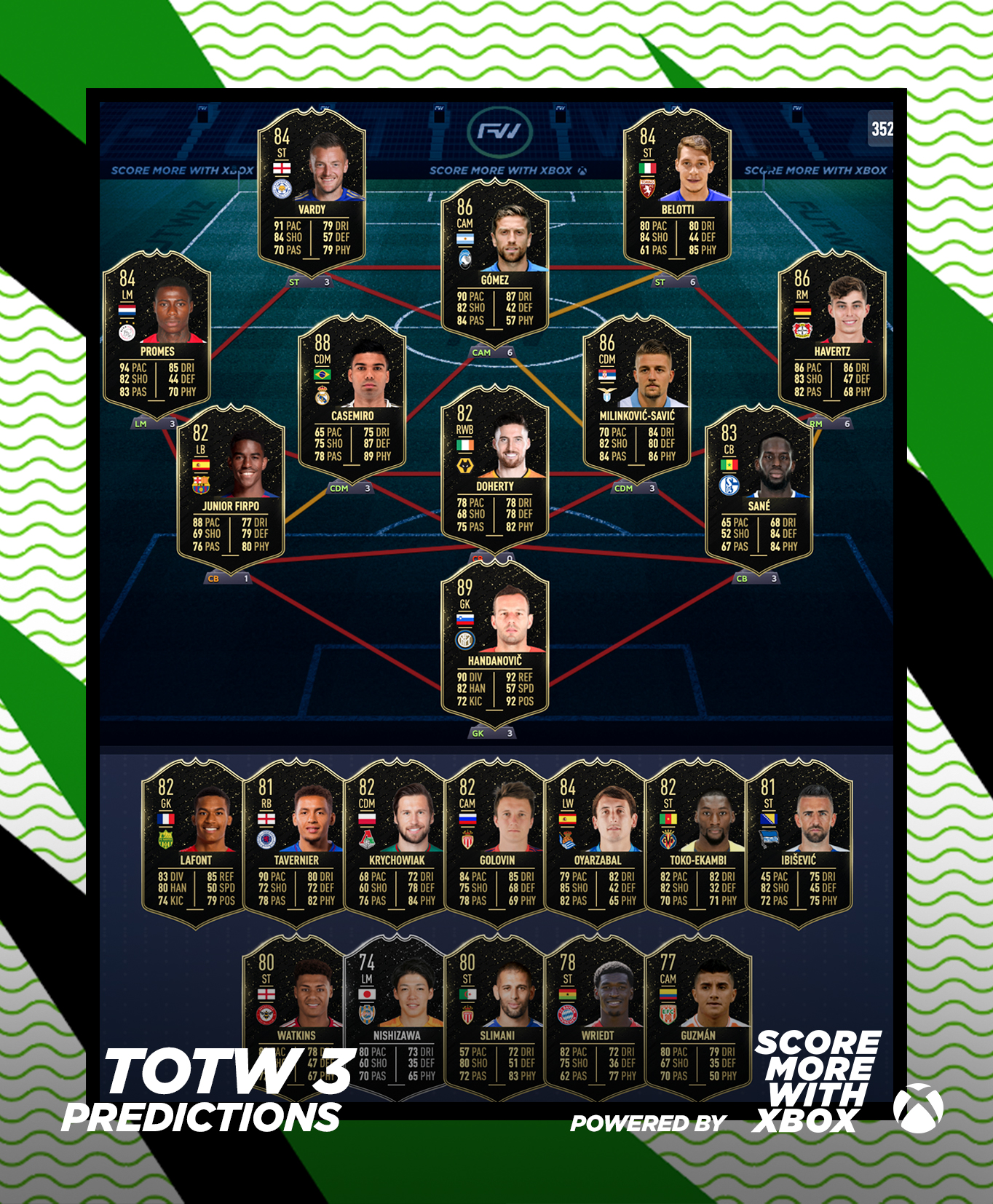 Starting 11:

GK:Samir Handanovic (Inter) – 88>89– 5 saves and MOTM in 1-0 win(WED)
RWB:Matt Doherty (Wolves)– 78>82– 1 goal and cs in 2-0 win(SAT)
CB:Salif Sane (Schalke) – 80>83 – Player of the week in 3-1 win(SAT)
LB: Junior Firpo(Barcelona)-78>82- 1 goal in 2-0 win (SAT)
CDM: Casemiro (Real Madrid) – 87>88- 2 good performances and 2 cs
LW: Quincy Promes(Ajax) – 82>84- 3 goals in 5-0 win(WED)
CM:Sergej Milinkovic-Savic (Lazio) – 85>86-1 goal and 1 assist in 4-0 win(SUN)
RM:Kai Havertz (Bayer) – 84>86–1 goal and 1 assist in 3-0 win (SAT)
CAM: Alejandro Gomez (Atalanta)- 85>86 - 2 goals 4-1 win (SAT)
ST: Andrea Belotti (Torino) – 82>84 - 2 goals in 2-1 win (THU)
ST: Jamie Vardy (Leicester) – 82>84- 2 goals in 5-0 win (SUN)

Subs:
GK:Alban Lafont (Nant) – 78>82– 8 saves in 1-0 win (SAT)
CB: James Tavernier (Rangers)- 75>81- 2 goals and cs in 5-0 win (SAT)
CDM: Grzegorz Krychowiak (Loko)- 78>82 –1 goal in 1-0 win (SAT)
CAM: Alexandr Golovin (AS Monaco) – 79>82– 2 goals and 1 assist in 3-1 win (WED)
LW: Mikel Oyarzabal (Real Sociedad) – 82>84– 2 goals and 1 assist in 3-1 win(THU)
ST:Karl Toko-Ekambi (Villarreal) – 78>82- 2 goals in 5-1 win (FRI)
ST: Vedad Ibisevic (Hertha) – 77>81- 2 goals in 4-0 win (SUN)

Reserves:
ST: Ollie Watkins (Brendtford)– 74>80–3 goals in 3-1 win (SUN)
ST: Islam Slimani (AS Monaco) – 74>80 - 1 goal and 3 assists in 4-1 win (SAT)
CAM: Yeison Guzman (Envigado) – 67>78- 3 goals in 3-2 win (SAT)
LW: Kenta Nishizawa (Shumizu) –63>74– 2 goals and 2 assists in 6-0 win (SAT)
GK: Kwasi Okyere Wriedt (Bayern II) – 68>77 - 3 goals in 4-1 win (SAT)