News
The latest TOTW news
FIFA 20: Team Of The Week Predictions 17
New Year, new TOTW Predictions.
---

We're back with the first TOTW predictions of 2020, powered by Score More With Xbox!

This week is TOTY week so the emphasis on TOTW is a lot less, but have a look at what possible players will be available during the big TOTY pack openings this week!

This week is really strange. I ended up including PL games from midweek because if I didn't I'd probably struggle to fill 11 players into TOTW.

So... the main highlights are: Varane scoring 2 goals for Real Madrid. The other choice from that game is Courtois but I think Varane would be a better choice especially having scored twice.

We might finally get IF Jesus, after his FUTMAS mysteriously went missing for some reason despite being announced in game.

Ciro Immobile is having a wonderful season and he led a comeback for Lazio vs Brescia, scoring 2 crucial goals. Andrea Belotti might finally get an IF after scoring 2 goals vs Roma in a tough game..

Nico Pepe has finally arrived in England and performed well vs Man United at home. The other choice from that game is David Luiz who was insane defensively and showed a lot of passion!

Wilfred Ndidi and Jordan Henderson are my wildcard picks as both were very good in their wins. Ndidi had an assist, while Jordan got a lot of praise from the media.

Who else...? I think it's gonna be a pretty good TOTW, considering only 3 top leagues played, so yeah...

Good luck and have fun!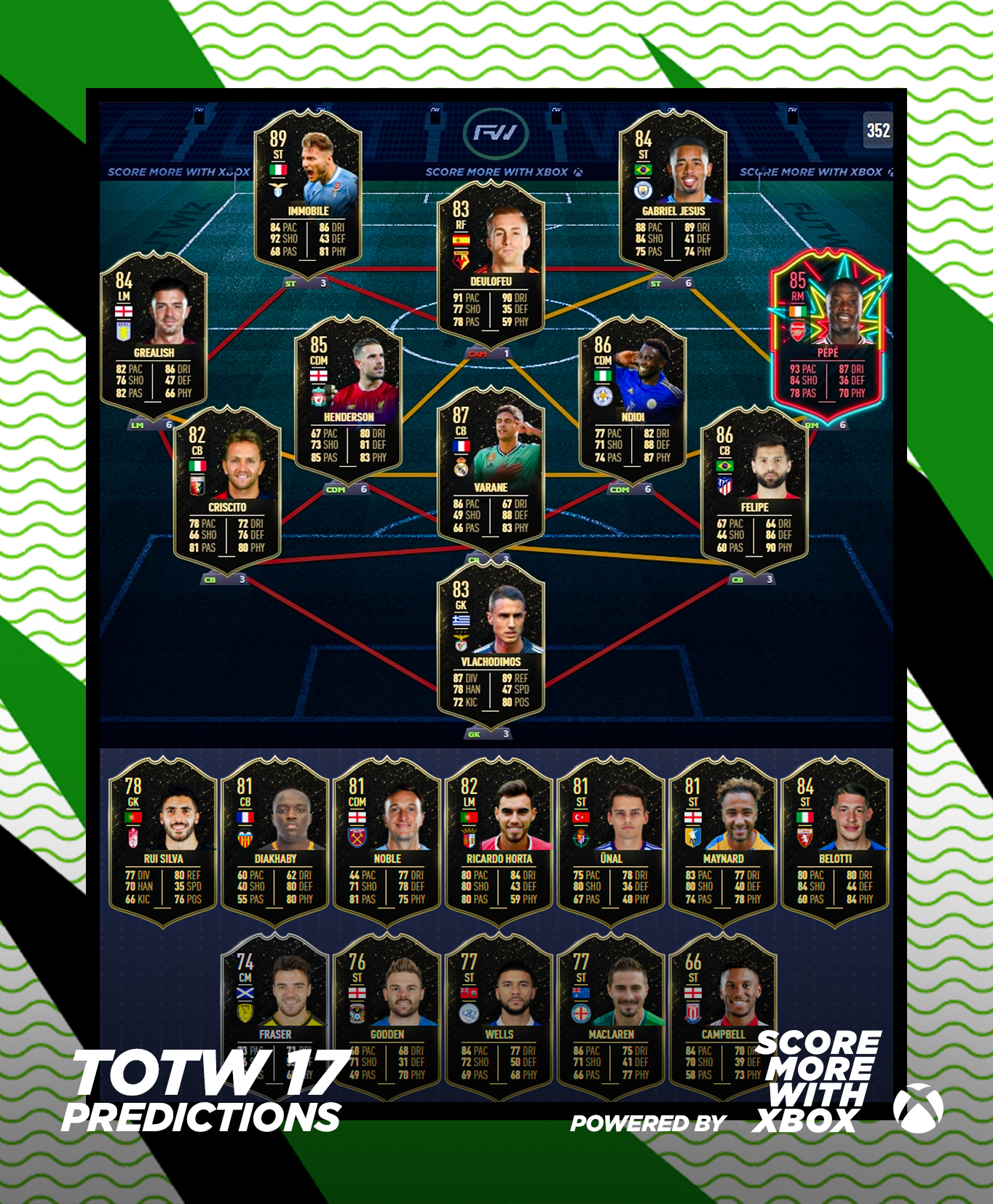 Starting 11:

GK:Odysseas Vlachidimos (Benfica) – 80>83– 6 saves in 1-0 win (SUN)
CB:Domenico Criscito (Genoa)– 79>82– 1 goal in 2-1 win(SUN)
CB: Raphael Varane (Real Madrid) – 85>>87 – 2 goals and cs in 3-0 win (SAT)
CB: Felipe (Atletico)-84>86- 1 goal in 2-1 win (SAT)
LM: Jack Grealish (Aston Villa) – 78>82>84- 1 goal and 1 assist in 2-1 win (WED)
CM: Jordan Henderson (Liverpool) – 83>85- MOTM in 2-0 win(THU)
CM:Wilfred Ndidi (Leicester) – 81>84>86-1 assist and MOTM in 3-0 win(WED)
RM:Nicolas Pepe (Arsenal) – 83>85–1 goals and 1 assist in 2-0 win (WED)
ST: Deulofeu (Watford)- 80>83 -1 goal and 1 assist in 2-1 win (WED)
ST: Ciro Immobile (Lazio) – 86>>89 - 2 goals in 2-1 win (SUN)
ST: Gabriel Jesus (Man City) – 82>84- 2 goals in 2-1 win (WED)

Subs:
GK:Rui Silva (Granada) – 71>78– 6 saves in 1-0 win (SAT)
CB: Moukthar Diakhaby (Valencia)- 76>81- MOTM and CS in 1-0 win (SAT)
CDM: Mark Noble (West Ham)- 77>81 –2 goals in 4-0 win (SAT)
LW: Ricardo Horta (Braga) – 79>82– 2 goals and 1 assist in 7-1 win (SAT)
ST: Enes Unal (Valladolid) – 77>81– 2 goals in 2-2 draw(SAT)
ST:Nicky Maynard (Mansfield) – 66>>81- 3 goals in 3-2 win (WED)
ST: Andrea Belotti (Torino) – 82>84- 2 goals in 2-0 win (SUN)

Reserves:
ST: Nahki Wells (QPR) 71>78–3 goals and 1 assist in 6-1 win (WED)
CM:Scott Fraser (Burton)– 64>74–3 assists in 4-3 win (WED)
ST: Tyrese Campbell (Stoke) – 66>76- 2 goals and 1 assist in 5-2 win (WED)
ST: Matt Godden (Coventry) – 66>76 – 3 goals in 4-1 win (WED)
ST: Jamie Maclaren (Melbourne) – 68>77-2 goals in 3-2 win (SUN)