News
The latest TOTW news
FIFA 20: Premier League POTM Predictions - February
Let's discuss POTM for February in Premier League.
---
Let's discuss POTM for February in Premier League.

Not a lot of games, due to different cups, etc. A lot of mixed results, even Liverpool finally lost. Not many people performed outstandingly during whole month, but some players had decent runs.

So, Manchester United had a really good month, new signing Bruno Fernandes proved him well.

And Arsenal played well too. And few other teams did.

Let's start.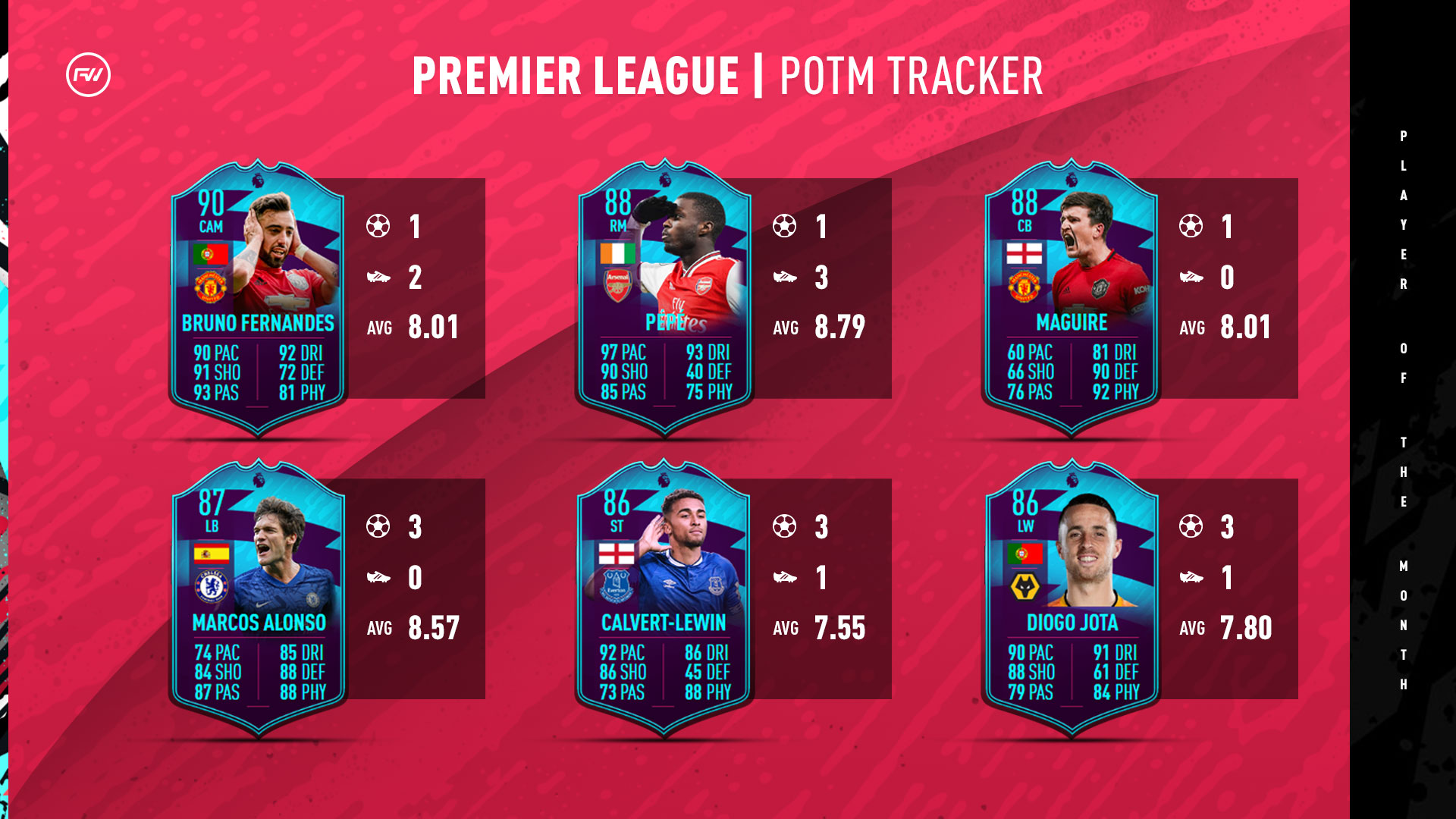 Bruno Fernandes. My main choice for POTM just because he impacted United game massively. He scored 1 penalty and got 2(or 3) assists. And he had overall really strong month. If he'll win – he'll be really good card, but rather expensive, if we'll look at his prices of TIF\WR cards.

Chances of POTM: 40%

Tips for investing:
His TIF is worth around 340k (depending on a platform), but his Winter Refresh card is worth 2x of that amount. So… I think, for cards like this – fodders is the best choice. Due to different POTMs, most of which should require them – Fodder should rise even higher.

I expect 85-86-x87 rated squads for him.

Worth investing?Erghh… It's hard to say. If you believe that he'll win – then yeah.

Estimated cost: 600-800k. Depends on how expensive they want to make him. Aguero was really expensive, while I expected him to be 100k cheaper. So let's say, because he'd be 90 rated, he'll be around the price of WR on the market.

Nicolas Pepe
My 2nd candidate for POTM. Player from Arsenal. It's either him or Auba should be nominated. I think Pepe will be at least nominated, as he seemed to find his form. Played 2 games, scored 1 goal and got 3 assists. Sounds decent enough to me

Chances of POTM: 20%

Tips for investing:

His SBC would be decently valued, because he's not really popular in FUT and there're a lot of better options at RW in PL. But Still: I expect: 84+85+86 rated squads for him.

Worth investing? I doubt that this SBC will impact market at all.

Estimated Cost: 120-150k. His SIF is worth 50k, his POTM card would be… 88 rated, so should be 2x-3x value of SIF.


Dominic Calvert – Lewin is another choice for POTM. He had a strong showing for Everton, scoring 3 goals and assisting 1 time. Should be a decent FUT card if he'd win.

Chances of POTM: 10%

Tips for investing:
Very cheap card. Doubt that you should invest in it.

Estimated cost: 30-50k. Good 86 rated card, but that's all.


Marcos Alonso, Harry Maguire and Diogo Jota are my 3 other nominees. All of them had decent showings this month, but I don't expect any of them winning it.

Chances of winning: 10%

Overall I think it's gonna be Bruno Fernandes. He had the most impact this month and was crucial for his club's good results.