News
The latest TOTW news
FIFA 20: La Liga POTM Predictions - July
The last FIFA 20 POTM for La Liga!
---
Let's discuss La Liga POTM for July.
Last POTM for La Liga too. La Liga finished a bit earlier than Premier League, but they had nearly the same amount of games. Real Madrid became champions, Barcelona 2nd, Atletico 3rd, Sevilla 4th. Quite expected picture, especially top 3 places.

But we need to recognize players who helped their teams in the last month to get to those places.

A lot of players who performed well over the last month, but I needed to choose only 3 picks and 1 of them is pretty obvious to all people, no surprises. So let's discuss first 2, then move to Messi.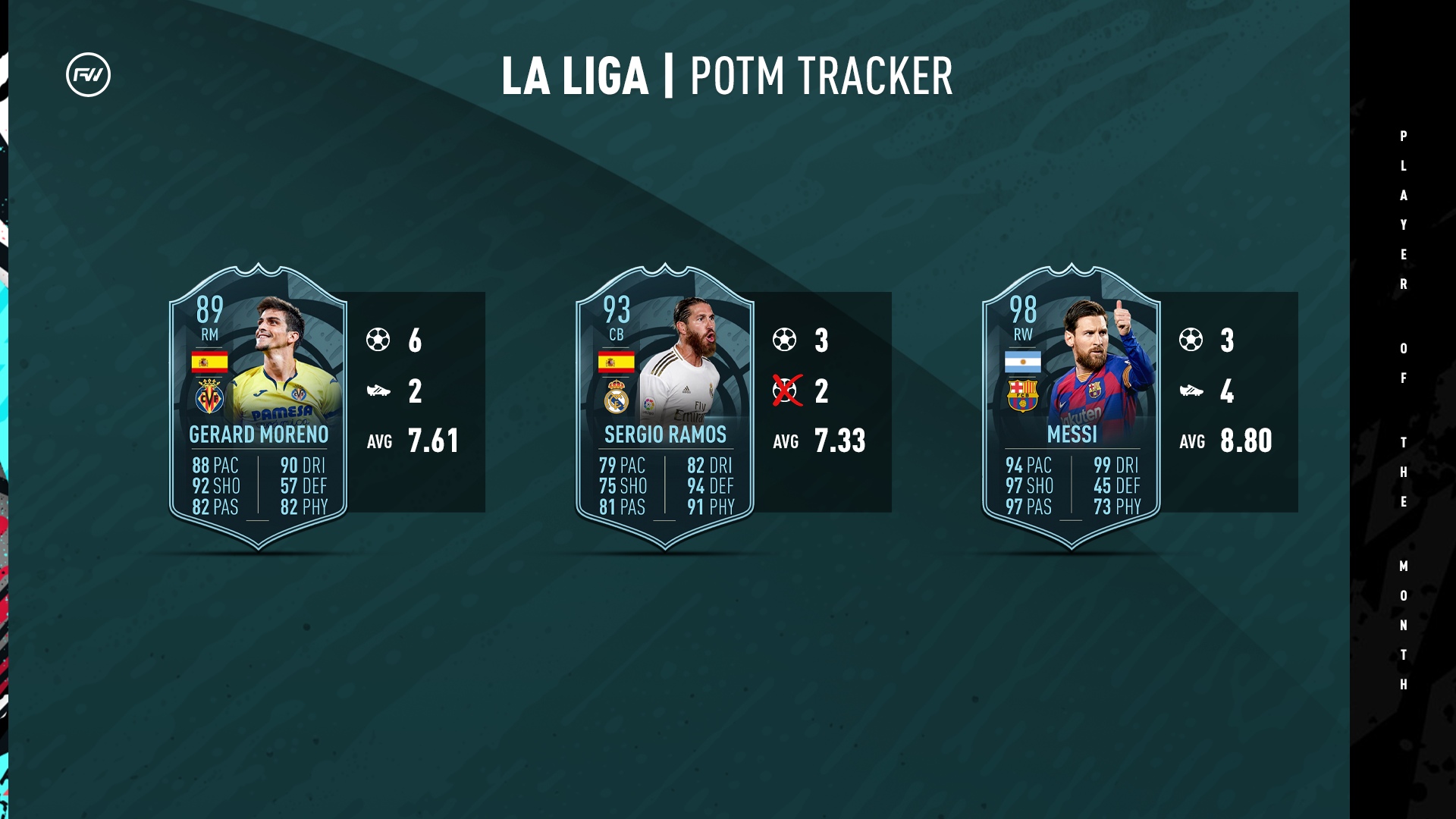 First candidate this month is Gerard Moreno. 6 goals and 2 assists in 6 games over this month. Him and Santi Cazorla together carried Villarreal to Europa League spot and I think it's well deserved nomination for Gerard Moreno. Overall he had a very nice full season in La Liga, playing mostly on the right wing. Best games from his this month were vs Eibar, vs Betis, where he scored 2 goals in each of those games.

Estimated price: Around 40k. Only 89 rated card and I barely seen anyone using his cards, even his TOTS is fodder.

No Investing tips for card like this.

Next candidate is Sergio Ramos. I simply can't ignore him. I've rarely seen CB scoring so many goals in terms over 2 month. 3 more goals this month and 2 CS. Fun fact - Sergio Ramos scored more goals this season in La Liga than he got yellow cards. 11 vs 10.

Estimated price: He'd be 93 rated, same as his Moments SBC, but he'd be CB. Don't know what to expect in August, so I'd expect around 200k max. He'd still be end-game card, but price shouldn't be too much.

Investing tips: Any fodder.

And the last, but not least - Leo Messi. As usual - very good month for Leo, but I doubt that he'll win it. I still think that he should be recognized, even tho Barca didn't win a title. He got 3 goals and 4 assists (only) this month and his average rating was quite higher than anyone, but that's typical for him.

Estimated price: He'd be 98 rated card, so I expect at least a million, even in August. It's hard to price him at this stage of the game, but I guess quite few people would complete this card with all of their fodder.

Investing tips: High rated fodder.

In conclusion: Moreno should win it. Smaller team, better result and good final push. La Liga seems to recognize players who are doing well and under radar - so Moreno is perfect for this