News
The latest TOTW news
FIFA 20: Bundesliga POTM Predictions - October
Let's discuss Bundesliga POTM for October
---
Let's discuss Bundesliga POTM for October.

Oh man. Bundesliga POTM is a rough one. No, I think it's nearly impossible to predict. Every team performed mediocre, not even 1 player performed that strong, but let's try to do this.

Main highlights are: Hoffenheim, Borussia M'gladbah and Lewandowski. Only Hoffenheim won 3 games out of 3, while others crumbled a lot.

Lewa scored 3 goals in 3 games, as he usually does. Man is machine, broken another record and probably will get another POTM. Won't be surprised by that.

Other highlights: Hummels had great month with BVB, maybe they are finally back on track, Zakaria had good month for Gladbah with 2 goals and Kramaric came back from injury and scored 2 goals in 2 wins


Let's start.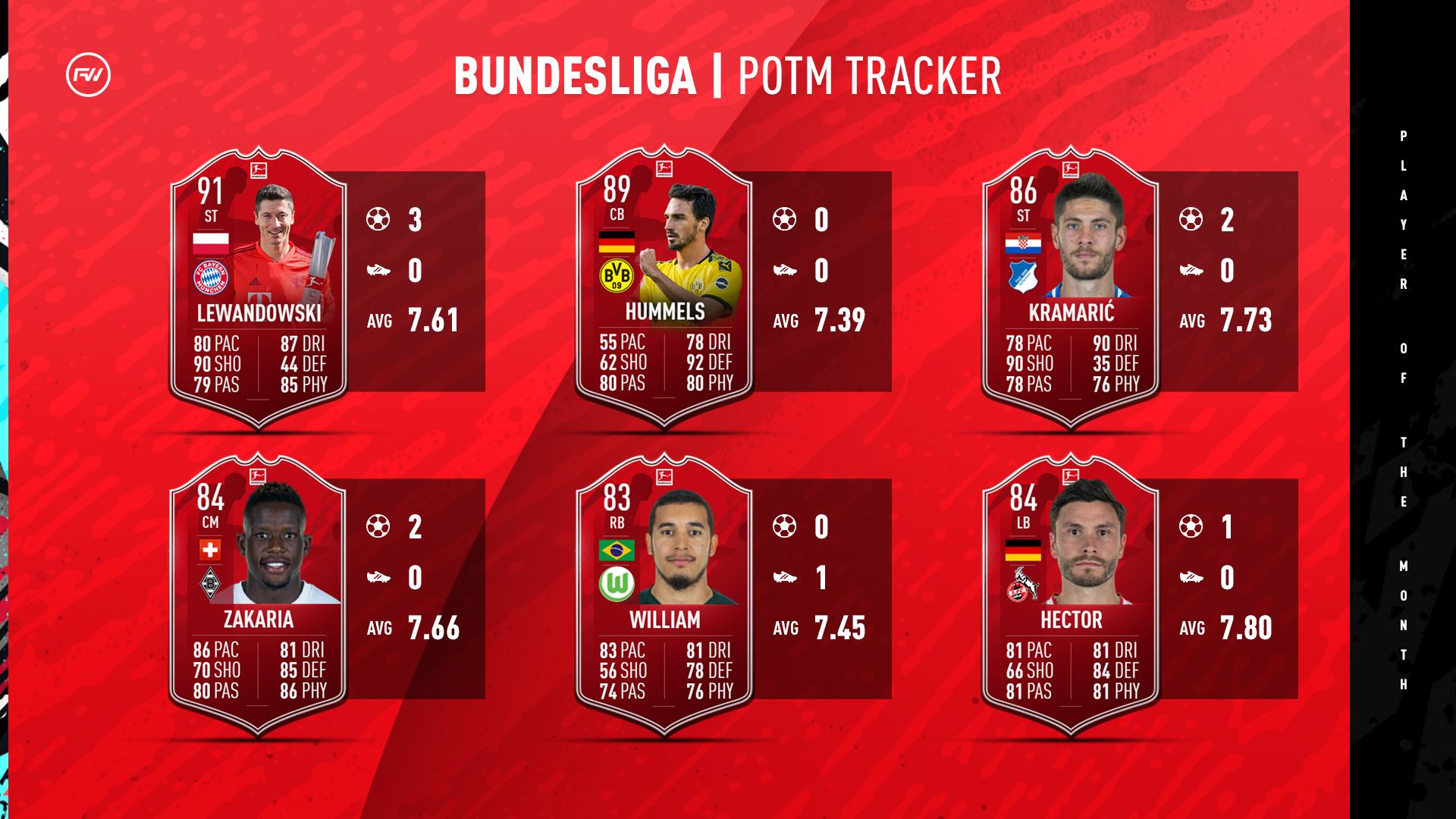 Robert Lewandowski. My POTM candidate, my POTM winner. He scored more goals than anyone and hard-carrying Bayern. Yeah, another POTM SBC of Lewa, which won't get boosted highly, but at least he's getting more usable as time goes. Even tho his first POTM is really good card and I enjoy it a lot

Chances of POTM: 60%


Highest rated Polish squad without him
Bundesliga 86 rated squad
86 rated squad with couple IFs + 2 Bundesliga players
Another 85 rated squad


Worth investing?Just buy to be safe.

Estimated cost: 250-300k. Can't see it being more expensive. If we compare it to first SBC – it shouldn't be more expensive than that, so yeah. Sadly we won't be able to upgrade previous POTM for next one. That would be cool option to have.


Mats Hummels
My 2nd candidate for POTM. Mats had an amazing few games for BVB. Lead the defense and named MOTM several times. Really low chance that he'll win fan-vote, because his card in FUT is really meh.


Chances of POTM: 10%

Tips for investing:

Wouldn't invest in him, as he'd be really cheap

Estimated Cost: 100k. Not much more, not really usable, really meh.


Andrej Kramaric is my third candidate from Bundesliga. Came back from Injury and lead his team by example. As I said – Hoffie got 3 wins out of 3, only team in Bundesliga in October that managed that. So I think he's the only candidate that should be nominated


Chances of POTM: 10%

Tips for investing:
Another Harit-style card. Very cheap, that wouldn't need any investments.

Worth investing? No

Estimated cost: 70k or less. Fun card to have in your club and cheap to complete.

Denis Zakaria, William and Jonas Hector
I think this trio will be nominated, but, maybe expect for Zakaria has 0% chance of winning.


Overall I think it's gonna be Lewandowski. Once again. But also I'd be happy if Zakaria would get nominated and win it. Amazing card in FUT.