News
The latest TOTW news
FIFA 20: Bundesliga POTM Predictions - December
Let's discuss Bundesliga POTM for December.
---
Let's discuss Bundesliga POTM for December.

December is hard. Wouldn't be surprised if we'll see remake of November POTM.

What are the main highlights of November. Leipzig. Leipzig continues the conquer of Bundesliga with 3 games and 1 draw in 4 games. Bayern also performed pretty well with 3 wins and 1 loss, even though they play really well under new manager.

Who else: Dortmund started month pretty well this month, but dropped few points in recent games, unfortunately for them.

Hertha under the management of Jurgen Klinsmann, also Koln rose from the last place with 3 wins in 4 games and Phillip Max had an Insane month to his name.

It's gonna be hard to choose, but let's do this.

Let's start.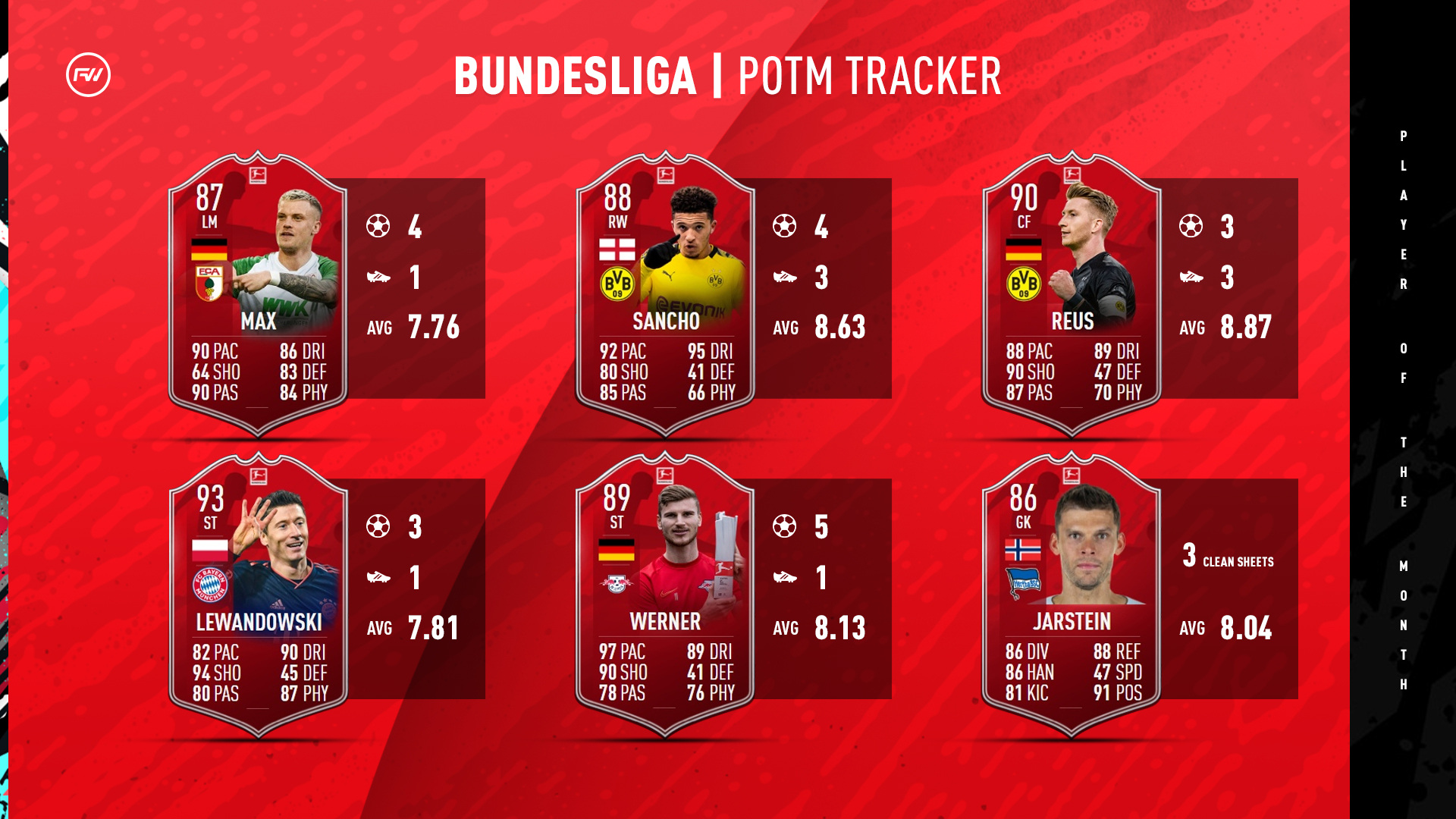 Timo Werner
My 1st candidate for POTM. Another crazy month for Werner. 5 goals and 1 assist in 4 games, crazy. He nearly caught up with Lewandowski in goal scoring table, so that's really impressive. Already with 18 goals.

Another POTM would be really crazy. Last week we got his 87, this one would be 89, if I'm not mistaken.

Chances of POTM: 30%

Tips for investing:

Pretty similar to last POTM, similar value or even a bit less, due to fodders being a bit cheaper
You can track requirements of POTM Werner and I think it's gonna be nearly the same. Same happened with Reus last year, so yeah, I don't think there will be much changes


Estimated Cost: 350k. I predicted last POTM to be 400k and he was 400k but then he dropped to around 320k. Next one should be around the same.

Robert Lewandowski. Another decent month for Lewa, but doubt that he'll win. If only he would've scored a bit more goals. Still 3 goals and 1 assist. Decent match ratings and overall playing well.

Doubt that he'll win, but I'd love him to win it. 93 POTM Lewa? Sign me up!

Chances of POTM: 20%


Highest rated Polish squad without him
Bundesliga 86 rated squad
86 rated squad with couple IFs + 2 Bundesliga players
Another 85 rated squad

Estimated cost: 250-300k. A bit cheaper than Werner, because he's not as fast as him, duh. FUT Logic.


Jadon Sancho is my third candidate from Bundesliga. 4 goals, 3 assists. Goal and Assist in each game apart from game vs Hoffenheim. Insane month for Sancho and insane form. Should win, if we count fan vote and people love Sancho


Chances of POTM: 35%

Tips for investing:

Let's see… English squad, German squad, Bundesliga squad, BVB squad. 4 Squads with 84-86 rating. Shouldn't be more. Probably even cheaper, honestly.


Worth investing? Probably investing in fodders is the best option, because I can't see any special requirements for those SBCs. Informs from Bundesliga should work as per usual

Estimated cost: 100k or a bit more. His IF worth around 40k. His POTM would be 88. Should it be worth than 100k? Don't think so. Will he? Probably will.

Marco Reus is my 4th candidate. 3 goals and 2 assists. Not as good as Sancho, but still few good games to his name. Stepped up a lot in December, but missed a game vs Hoffenheim. Will he win? Don't think so. Would I like him to win it? Yes

Chances of POTM: 5%

Estimated cost: 350k or so. Similar price to Werner. Really meta this year and 90 rated POTM would make a lot of people complete it

Rune Jarstein and Phillip Max should be nominated too.

Jarstein kept 3 clean sheets in 3 games for Hertha and been crucial for them.

Max scored 4 goals and made 1 assist in 3 games and it's pretty crazy for Augsburg player.

Don't think any of them will win, sadly, but just to mention them.
My prediction: Sancho or Werner. Both deserve it and can't see anyone else winning it.