News
The latest TOTW news
FIFA 20 TOTS Predictions: Liga NOS
It's Liga NOS time! Here are our predictions, powered by Score More With Xbox!
---
Liga NOS has just been announced as the next Team of the Season So Far so here are our predictions, powered by Score More With Xbox!

Some things change in the world but the pecking order in Liga NOS in recent years has stayed very similar - 2 clubs leading the way at the top of the table, battling for the championship whilst the others are left to fight for the EL spots and survival.

This season is the same with one exception, a club promoted from the second division, Famalicao started this season amazingly but then ended up dropping off to the mid-table. It does mean we've had a little bit of variety in the league this year though!

Of course this TOTS will be heavily favored to the top two dominant clubs, but that's to be expected. I tried to mix players from different clubs into it and you can tell me how I did!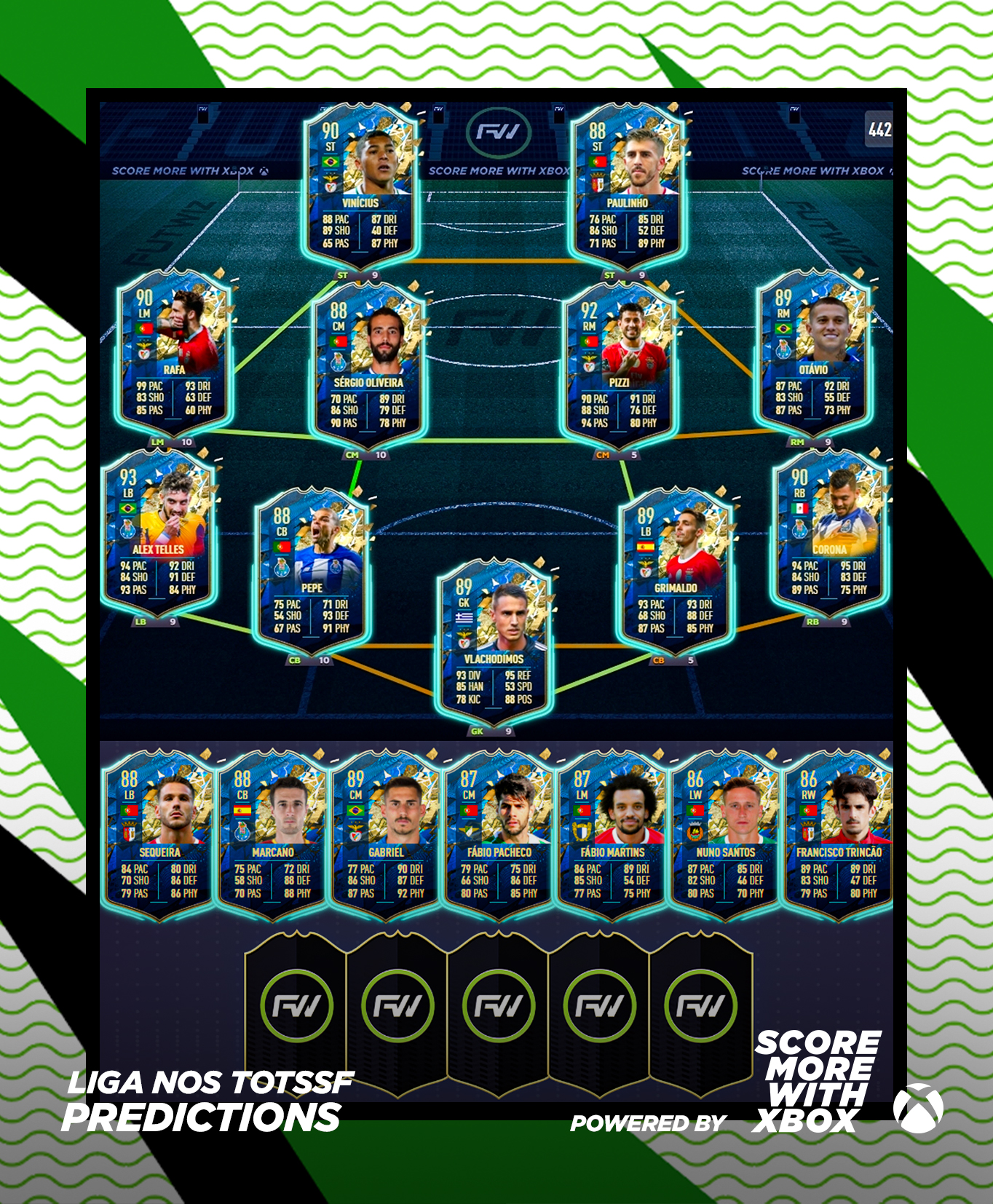 Let's start.

Goalkeeper: There's only one choice, a man with one epic name. Odisseas Vlachodimos from Benfica, the bst goalkeeper in the league and he should get a nice high rated TOTS. There can't be any questions about him in my opinion.

Defenders:

I included 2 players from Community TOTSSF - Pepe and Grimaldo as they really deserve it, so it's a re-release, this hasn't happened yet but this is potentially because the other Community players haven't been able to make the main League TOTSSF on merit, Pepe and Grimaldo certainly have been good enough this season.
Next up we have 3 players from Porto: Alex Telles, Jesus Corona and Ivan Marcano. Porto haven't conceded less goals than Benfica but their defenders have really stood out. Telles had a lot of goals and assists to his name, just like Jesus Corona who has played RB most of the season. Telles is currently on 8 goals and 5 assists, while Corona has 2 goals and 7 assists.

Ivan Marcano scored 5 goals and overall was a solid defender for the full season so he should also be getting TOTSSF.

Last defender in my list is Nuno Sequeira from Braga. 3rd Left-back in my predictions but this one can go to Objectives or SBCs, he was really solid over the course of the season and statistically he was sound.

There is also a possibility that we'll get Ruben Dias from Benfica as he's been pretty hyped lately. He's young and and full of potential, Benfica conceded less goals than anyone in the league.

Moving on to midfielders: Gabriel from Benfica is a bit of a controversial pick because he played only 11 games, but nevertheless he was good in those games. We saw Haaland make the Bundesliga TOTSSF with less games so there's every chance we could see Gabriel, but there's also a chance he may not make it .

Sergio Oliveira from Porto is another hard choice in my predictions as he played only 13 games in the season but it's hard to choose midfielders, because really not many of them stood out. Sergio Oliveira scored 2 goals and registered 3 assists in those games that he played in.

Fabio Pacheco from Moreirense is my last choice in midfield. He's the best player on their team and played in 21 games, registering 1 goal, 2 assists and for a team not scoring a goal of goals in general (only 1.4 per game). They are placed 8th in the table and if the league is resumed it's probably a position they'll hold.

Moving on to Wingers:

A lot of choices, a lot of great performers and we start with the Benfica duo: Pizzi and Rafa. Pizzi is probably the MVP of the league, his stats are insane especially for a winger playing in a 4-4-2: 14 goals and 8 assists, that says quite a lot! Rafa has weaker stats with only 5 goals and 3 assists in 13 games, but nevertheless he should get into the TOTSSF.

A winger from Porto that should be included is Otavio, although he's only had a single goal and 5 assists in the league he's statistically been the best player in Porto and up there with the top 3 players in the league. Yes, he's that good.

Fabio Martins from Famalicao is my next choice: 7 goals and 4 assists will probably guarantee him a TOTSSF. He started season nicely, but as I said - they dropped off hard lately.

Nunu Santos from Rio Ave is my last winger, he may not have the most insane stats but from what I've seen and talked about he's been pretty good, Rio Ave deserve at least 1 player in the TOTSSF. If he will be excluded - then maybe Filipe Augusto from Rio Ave will be in.

Forwards:

Vinicius from Benfica had a great season. He scored 15 goals and registered 4 assists, guaranteeing him TOTSSF for Liga NOS.

Last but not least: 2 players from Braga: Trincao and Paulinho.

Paulinho scored 10 goals and got 4 assists which should be enough to get him in. Good stats, good player, unfortunately not the most exciting one for FUT though.

Trincao with his performances secured the summer move to Barcelona, playing more as right-forward\winger but I still included him in this category. 6 goals and 3 assists are decent numbers and hype around him should secure him a TOTSSF.


Hopefully you'll enjoy this article and overall the TOTSSF for Liga NOS as it has some nice and interesting players.