News
The latest TOTW news
FIFA 20 Team of the Week Prediction: Week 27
Team of the Week is back! We're celebrating the return of the big leagues with week 27 of our predictions
---
Hello and welcome to week 27 of our TOTW Predictions powered by Score More With Xbox!
Oh boy, football is well and truly back. Most of the leagues are back including almost every top league (excluding Ligue 1 which has finished) so our predictions are back!

TOTSSF has finished but somes cards will still be interesting to some players especially when top players performing well IRL.

Most noticeable performances these week were from Lewandowski and De Bruyne. Both got MOTMs, both played well. KDB again performed amazingly vs Arsenal and Lewa scored 2 goals and got 1 assist.

Apart from those 2 players: Azipilicueta got 2 assists vs Aston Villa and played well overall. Benzema scored 2 goals and one of them was a proper wonder goal. Duvan Zapata scored 2 goals, Eriksen got a nice assist and rating vs Sampdoria.

Other noticeable performances: Hummels vs Leipzig, Guedes with a wonder goal and Dunk vs Arsenal (2 performances vs Arsenal this week).

Hopefully we'll get a nice TOTW for a return of TOTWs.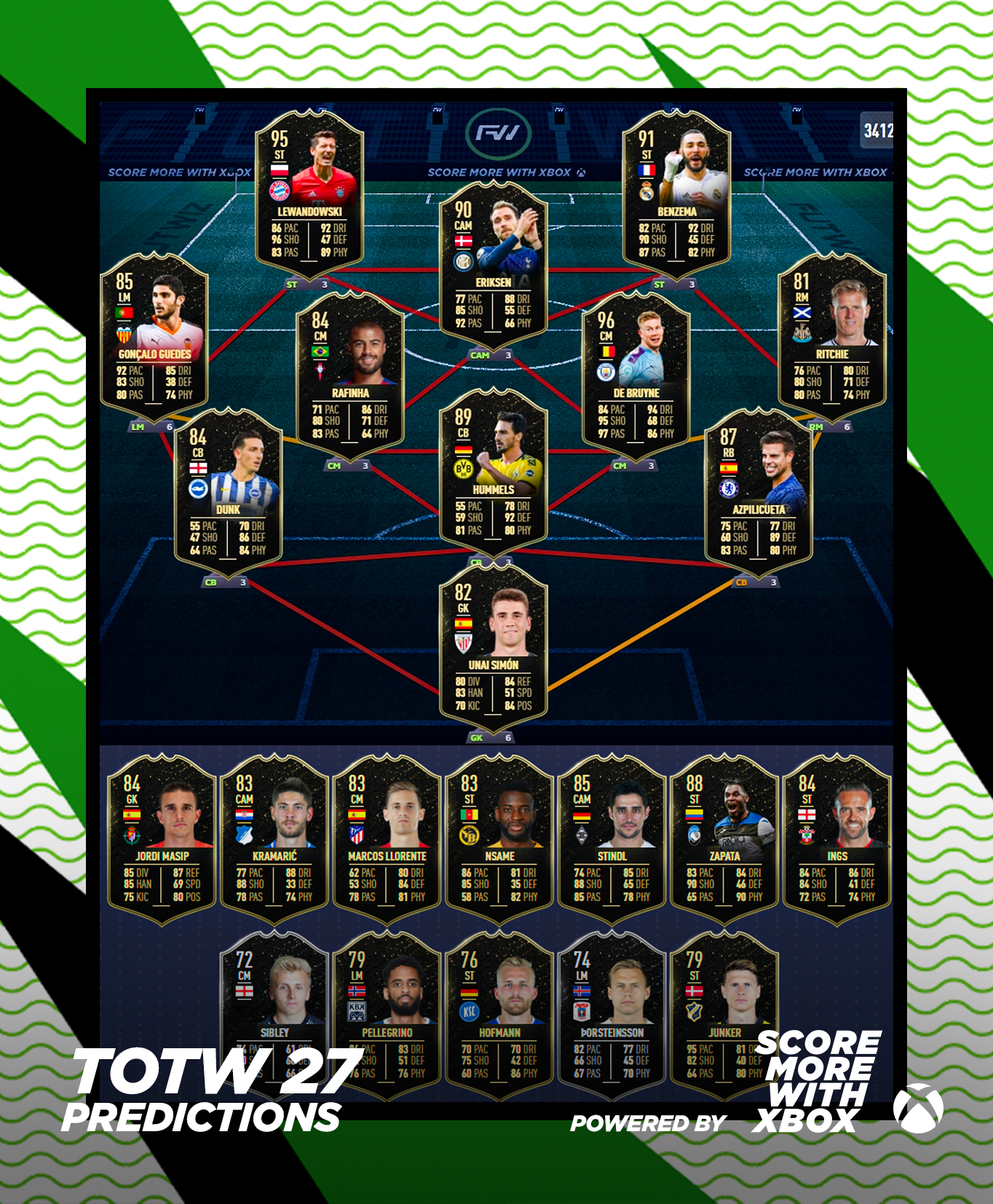 Starting 11:

GK: Jordi Masip (Real Valladolid) – 81>>84– 4 saves and pen save in 0-0 draw (WED)
RB: Cesar Azpilicueta (Chelsea)– 86>>87– 2 assists in 2-1 win (SUN)
CB: Mats Hummels (BVB) – 88>89 –MOTM in 2-0 win (SAT)
CB: Lewis Dunk (Brighton) – 78>>84– 1 goal in 2-1 win (SAT)
LM: Goncalo Guedes (Valencia) – 83>>85– 1 goal in 2-0 win (SUN)
CM: Rafinha (Celta) – 81>>84- 2 goals and 1 assist in 6-0 win (SUN)
CM:Kevin De Bruyne (Man City) – 91>>96 - 1 goal and 1 assist in 3-0 win (WED)
RM: Matt Ritchie (Newcastle) – 75>81– 1 goals and 1 assist in 3-0 win (SUN)
CAM: Christian Eriksen (Inter) – 88>>90– 1 assist in 2-1 win (SUN)
ST: Robert Lewandowski (Bayern) – 89>>95 - 2 goals and 1 assist in 3-1 win (SAT)
ST: Karim Benzema (Real) – 87>>91 - 2 goals in 3-0 win (WED)

Subs:
GK: Unai Simon (Athletic Bilbao) – 78>82 – 5 saves in 1-0 win (SAT)
CDM: Marcos Llorente (Atletico Madrid)- 80>>83- 1 goal and 2 assists in 5-0 win (THU)
CM: Andrej Kramaric (Hoffenheim)- 83>>85 – 1 goal in 4-0 win (SAT)
ST: Jean Pierre Nsame (Young Boys) – 74>>83- 3 goals in 3-2 win (SUN)
ST: Danny Ings (Soton) – 76>>84- 1 goal and 1 assist in 3-0 win (SAT)
CAM: Lars Stindl (M'gladbach) – 80>>85- 2 goals in 3-1 win (SAT)
ST: Christian Zapata (Atalanta) – 82>>88 - 2 goals in 4-1 win (SUN)

Reserves:
LM: Amahl Pellegrino (Kristiansund)– 62>>79–3 goals and 1 assist in 7-2 win (SUN)
LM: Jon Dagur Porsteinsson (AGF) – 64>74 – 3 goals and 1 assist in 4-3 win (SAT)
ST: Phillipp Hofmann (Karlsruhe) – 66>76 3 goals in 3-3 win (SAT)
ST: Kasper Junker (Bodo) – 73>79 – 3 goals in 6-1 win (SAT)
CM: Louie Sibley (Derby County) – 62>72– 3 goals in 3-2 win (SAT)