News
The latest TOTW news
FIFA 20 Team of the Week Prediction: Week 18
Will we get a record breaker in TOTW 18?
---
Hello and welcome to week 18 of our TOTW Predictions, powered by Score More With Xbox!

The first post-TOTY Team of the Week and thankfully it looks to be a strong one. Last week was really good for our predictions, we hit 16! We're going into this week hoping for more of the same, so let's try to make it a good one once again.

The main highlights for this week are Premier League and Ligue 1. La Liga matchday was skipped due to the Super Cup tournament and Bundesliga hasn't started again yet.

From Ligue 1, the 2 main highlights are both massively popular players in FUT, Neymar and Ben Yedder. They played against eachother and both performed well. Both got 8 rating from L'equipe so one of them should be in TOTW. Maybe both..... I predict both.

The same goes to the Manchester City duo who starred this match week, Sergio Aguero and Riyad Mahrez. Both had insane game vs Aston Villa and Mahrez is a lock in my eyes, it was only a couple of weeks ago we saw Aguero in TOTW, so by the rules he should be missing from TOTW.....but he broke 2 records, so I decided to make an exception include him. We all want to see that record breaker item right?

Doucoure had a very good game for Watford against Bournemouth, scoring and picking up an assist, his SIF should be insane.

Apart from that there's not really much to say, a few good fullbacks from Prem, 2 good GKs from Serie A and that's all. Reserves were really hard to fill in because not many of the lower-rated players performed well.

Best of luck in your red picks if you played Weekend League, some really nice items to hit this week so here's hoping you get lucky!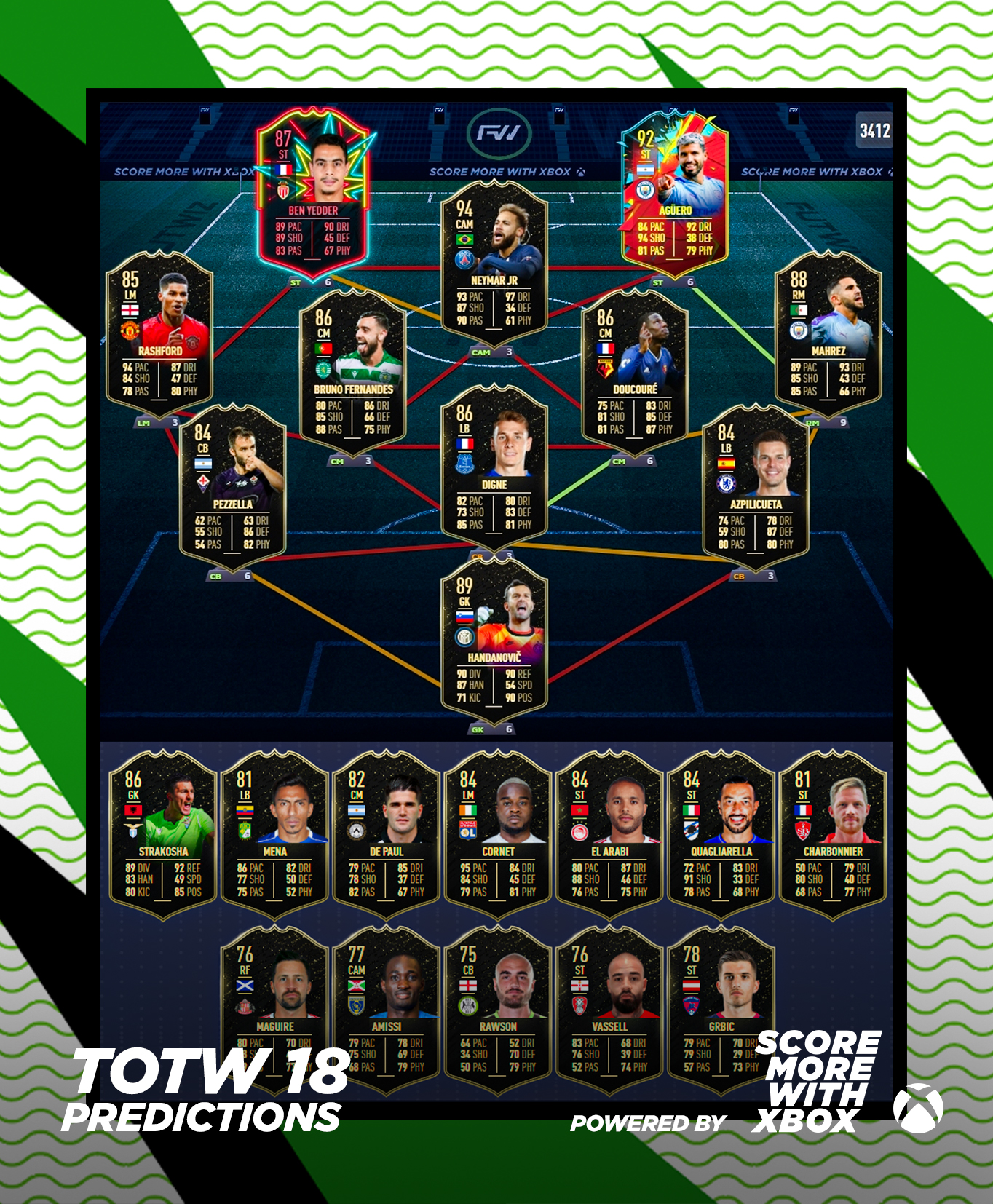 Starting 11:

GK: Samir Handanovic (Inter) – 88>89– 5 saves and pen save in 1-1 draw (SAT)
LB: Cesar Azpilicueta (Chelsea)– 84>86–1 assist and cs in 3-0 win (SAT)
LB:Lucas Digne (Everton) – 83>>86 –1 assist and cs in 1-0 win (SAT)
CB:German Pezzella (Fiorentina) – 78>>84 – 1 goal and cs in 1-0 win (SUN)
RM: Ryad Mahrez (Man City) – 84>>88– 2 goals and 1 assist in 6-1 win (SUN)
CM: Adboulaye Doucoure (Watford) – 81>>86- 1 goal and 1 assist in 3-0 win (SUN)
CM:Bruno Fernandes (Sporting) – 85>86 - 2 goals in 3-1 win (SAT)
LM:Marcus Rashford (Man Utd) – 83>85– 2 goals in 4-0 win (SAT)
CAM: Neymar (PSG) – 92>>94 – 2 goals in 3-3 draw (SUN)
ST: Sergio Aguero (Man City) – 89>>92– 3 goals and 1 assist in 6-1 win (SUN)
ST: Wyssam Ben Yedder (Monaco) – 83>>87- 1 goal and 1 assist in 3-3 draw (SUN)
Subs:

GK: Thomas Strakosha (Lazio) – 82>>86 – 5 saves and cs in 1-0 win (SAT)
LB: Angel Mena (Leon)- 76>81- 2 goals in 3-1 win (SAT)
CDM: Rodrigo De Paul (Udinese)- 78>82 – 1 goal and 1 assists in 3-0 win (SUN)
LW: Maxwell Cornet (Lyon) – 75>>84- 1 goal and 1 assist in 2-1 win (SAT)
ST: Yussuf El Arabi (Olympiakos) – 78>>84– 3 goals in 4-0 win (SAT)
ST: Fabio Quagiarella (Sampdoria) – 82>84- 2 goals in 5-2 win(SUN)
ST: Gaetan Charbonnier (Stade Brest) – 75>81- 2 goals and 1 assist in 5-2 win (SAT)

Reserves:
CB: Farrend Rawson (Forest Green)– 65>75–2 goals in 4-3 win (SAT)
ST: Adrian Grbic (Clermont Foot) – 68>78 - 3 goals in 3-2 win (FRI)
ST: Kyle Vassell (Rotherham) – 66>76- 2 goals and 1 assist in 3-1 win (SAT)
CAM: Cedric Amissi (Al-Taawoon) – 67>76 – 2 goals in 2-1 win (SAT)
RW: Chris Maguire (Sunderland) – 66>76- 2 goals in 4-0 win (SAT)