News
The latest TOTW news
FIFA 19 Team of the Week Prediction: Week 42
The new season is here and TOTW is back!
---

They are baaack after 6 weeks break, FUTTIES is probably over and finally main football is back.

So...as a result, this TOTW will be based mostly on Ligue 1 and Premier League.

I've just chosen the MOTM from each game in the PL apart from a few, but overall TOTW looks decent.

Some bias towards Krychowiak but he scored amazing goal and he's playing wonderful in the RPL

In Ligue 1 there were not a lot of huge performances, so no big names.

In MLS – Vela again performed well, how surprising! Schweinsteiger picked up a goal and an assist.

In Eredivisie – Donny Van de Beek performed better than others, so he should get a nice TOTW item.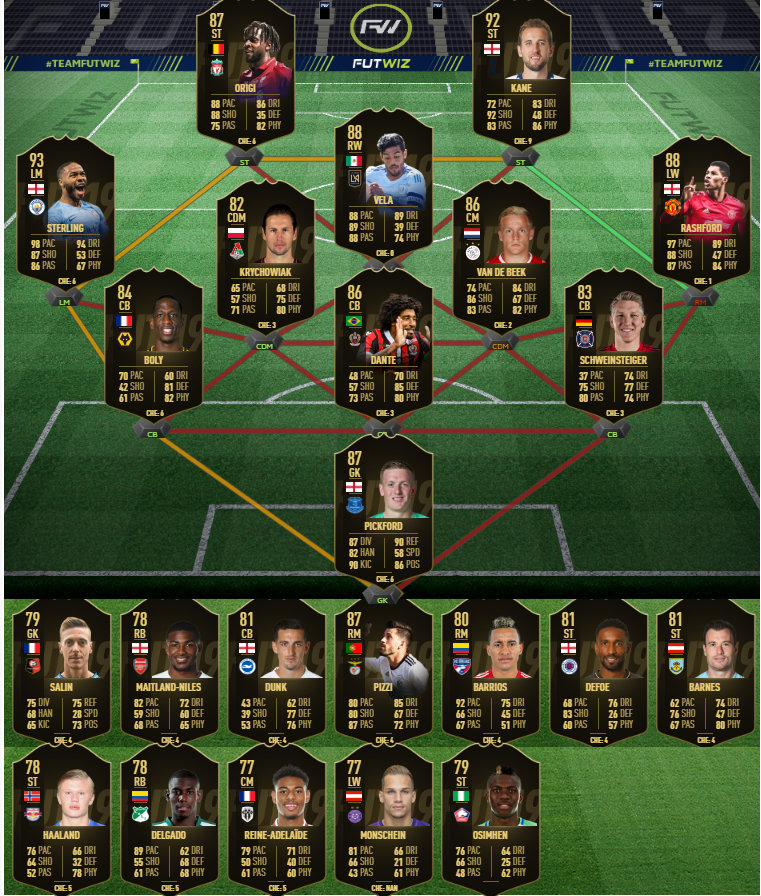 Starting 11:

GK:Jordan Pickford (Everton) – 83>85>86>87 – 8 saves and cs in 0-0 draw (SAT)
CB: Willy Boly (Wolves) – 77>>84 – MOTM and CS in 0-0 win(SUN)
CB: Dante (Nice)- 80>>86 – 1 goal in 2-1 win (SAT)
CB: Bastian Schweinsteiger (Chicago)- 80>83- 1 goal and assist in 3-2 win (SAT)
LM: Raheem Sterling (Man City) – 87>93– 3 goals in 5-0 win (SAT)
CM: Gzegoz Krychowiak (Lokomotiv) – 78>82 –1 goal and motm in 4-0 win (SUN)
LW: Marcus Rashford (Man Utd) – 81>>>88 –2 goals in 4-0 win (SUN)
CM: Donny Van de Beek (Ajax) – 78>>>86 – 1 goal and 1 assist in 5-0 win (SUN)
RW: Carlos Vela (LAFC) –81>>88– 1 goal and 2 assists in 4-2 win (SUN)
ST: Divock Origi (Liverpool)– 78>>87– 1 goal and BBC MOTM in 4-1 win (FRI)
ST: Harry Kane (Spurs) – 89>>92– 2 goals in 3-1 win (MON)

Subs:
GK: Romain Solin (Rennes) –73>79– 5 saves and cs and pen save in 1-0 win (SAT)
RB: Ainsley Maitland-Niles (Arsenal)- 71>78 – 1 assist in 1-0 win (SUN)
CB: Lewis Dunk (Brighton) – 77>81– CS and MOTM in 3-0 win (SAT)
RM: Pizzi (Benfica) – 83>>>87- 2 goals and 1 assist in 5-0 win (SUN)
RM: Michael Barrios (Dallas) – 73>80– 3 assists in 5-3 win (SUN)
ST: Jermain Defoe (Rangers) – 77>81– 3 goals in 6-1 win (SUN)
ST:Ashley Barnes (Burnely)– 77>81– 2 goals in 3-0 win(SAT)

Reserves:

ST:Erling Haaland (Salzburg) – 69>78 – 3 goals in 5-2 win(SAT)
RB:Didier Delgado (Indepediente Medellin) – 67>77 – 3 assists in 4-1 win(SUN)
CM: Jeff Reine-Adelaide (Angers) – 66>77 – 1 goal and 1 assist in 3-1 win (SAT)
LW: Christoph Monschein (Austia Wien) – 66>77 – 3 goals in 5-1 win (SUN)
ST:Victor Osimhen (Lille) – 71>79 – 2 goals in 2-1 win(SAT)