News
The latest TOTW news
FIFA 19 Team of the Week Prediction: Week 34
TOTW 34 predictions are here!
---
Hey guys, it's Tillian and it's TOTW predictions!

TOTW 34.

Back to mediocrity we go. Usually, when season comes to an end – top players starting to perform better, but it seems not the case this year.

A lot of different players performed decently, let's see who'll get in TOTW in the end.

Main highlight is Bayer win over Frankfurt with 6-1 trashing in 37 minutes. Aranguiz should be the main player of the game, but there's a chance of 2nd player from Bayer in TOTW.

Premier League players didn't perform well, top teams actually didn't win their games vs bottom of the table teams.

Gomez assisted 1 time vs Lazio and it might be enough because that win might secure Atalanta 4th place in a season.

Good luck with your rewards and as always try to have some fun!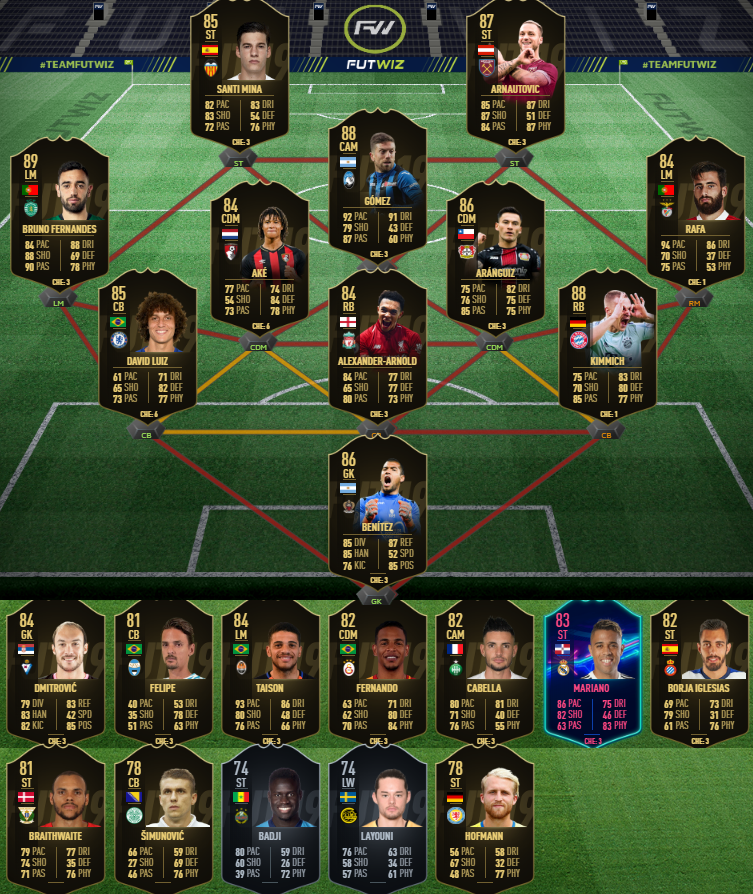 Starting 11:

GK:Walter Benitez (Nice) – 78>>86 – 4 saves and pen save in 1-1 draw(SAT)
RB: Joshua Kimmich (Bayern) – 86>>88– 1 assist in 3-1 win(SAT)
RB: Trent Alexander-Arnold (Liverpool)- 78>82>84 – 2 assists in 3-2 win (SAT)
CB: David Luiz (Chelsea)- 83>85- 1 goal and cs in 3-0 win (SUN)
LM:Bruno Fernandes (Sporting) – 84>>89– 3 goals and 1 assist in 8-1 win (SUN)
CM: Charles Aranguiz (Bayer) – 81>84>86 –2 goals and 1 assist in 6-1 win (SUN)
LM:Rafa (Benfica) – 78>82>84 –2 goals in 5-1 win (SAT)
CM: Nathan Ake (Bournemouth) – 78>82>84 – 1 goal in 1-0 win (SAT)
CAM: Alejnadro Gomez (Atalanta) –84>>88– 1 assist in 3-1 win (SUN)
ST: Santi Mina (Valencia)– 80>>85–2 goals and 2 assists in 6-2 win (SUN)
ST: Marko Arnautovic (West Ham) – 82>>87- 2 goals in 3-1 win(SAT)

Subs:
GK: Marko Dmitrovich (Eibar) –78>82>84– 6 saves and pen save and cs in 1-0 win (SUN)
CB: Felipe (SPAL)- 76>81 – 2 goals in 4-0 win (SAT)
CDM:Fernando (Galatasaray) – 79>82 – 1 goal and 1 assist in 2-0 win (SUN)
LM: Taison (Shakhtar) – 82>84- 3 assists in 5-0 win(SAT)
CAM:Remi Cabella (ASSE) – 78>82– 1 goal and 1 assist in 3-2 win (SUN)
ST: Mariano (Real Madrid) – 80>83– 2 goals in 3-2 win (SUN)
ST: Borja Iglesias (Espanyol)– 78>82– 2 goals in 3-0 win(SAT)

Reserves:
ST: Martin Braithwaite (Leganes) – 76>81- 1 goal and 2 assists in 3-0 win (SAT)
CB: Jozo Simunovic (Celtic) – 71>78 – 1 goal and CS in 3-0 win (SAT)
ST: Aliou Badji (Rapid)-63>74- 2 goals and 1 assist in 4-3 win (SUN)
ST: Philipp Hofmann (Brauschweig) – 68>78- 3 goals in 3-1 win (SUN)
LW:Amor Layouni (BODO\Glimt) – 63>74– 3 goals in 4-0 win (SUN)