News
The latest TOTW news
FIFA 19 Futties Prediction
FUTTIES time! One of the most creative promos of the year, what will be in store for us?
---
Hello, lads. It's Tillian and it's FUTTIES time.

Let's try to predict some things like we always do.

I'll try to use concept of FUT 18 FUTTIES mainly, so bare with me if there will be a lot of changes.

FUTTIES usually based on community votes. I expect something like TOTY voting for Neymar – with loans. I'll go like this: 5 possible picks for each nomination

Also, I'll try not to include players that got TOTS\TOTY version or were in a lot of promos. Of course, there will be some exceptions, because there were a lot of different promos, so it's hard.

And also I'll try to show many leagues, not only Premier League.

Let's start with Goalkeepers.

My main 5 candidates are: Courtois, Handanovic, Neuer, Lloris and probably Kepa.


First 4 candidates are pretty equal to me and Kepa losing to them in my mind, because there's already Spanish GK in PL in a face of De Gea.

To me, winner of this category: Courtois. Too many players like using La Liga combo, Bundesliga CBs aren't good, Handanovic is amazing option but he's not that popular and PL is a bit boring.

Right-backs. This one, without promo players, is hard. So, let's make few exceptions.

Main candidates to me: Kyle Walker, Carvajal, Meunier, Florenzi and Semedo.


There're a lot of good and quality right-backs in TOTS, so this one is tough. I can see Kyle Walker winning it easily due to PL, but Meunier would be the most interesting. Walker is probably the best candidate, as he was only in promo once.

Central-back. Last year there was only 1 winner – Manolas. This year we can expect same, but hopefully there will be few winners.

Main candidates for me: Davinson Sanchez, Varane, Boateng, Skriniar and Kimpembe. Special mention goes to Manolas, because he was used a lot and still fan-favorite card. With possible Florenzi card, even tho they had premium SBCs – he also looks like a good choice.


Varane takes it pretty easily, but he might be excluded due to TOTS and Umtiti being in voting. Skriniar really good in game and missed on a deserved TOTS, Boateng would be a nice throwback, but maybe Flashback instead of FUTTIES? Sanchez always good, but his RTTF card is already so high and other candidates from PL not so good looking to me, apart from Sokratis and Bailly.


Now, left-backs. A lot of different players got their TOTS\TOTY cards, so choice is pretty hard.

Main candidates for me: Alaba, Benjamin Mendy, Shaw, Wendell, Kurzawa.



To be honest, this one is really hard. It was a struggle to pick 5 main candidates, so for me – the choice is Alaba. Mendy looks good, but do people really need him? Bundesliga lacking LB options, so Alaba would be perfect.

Now, Central Mids. Last year we only had Bakayoko, but hopefully this year we'll have a separate options for CDM, CM and CAM.

Let's start with CDM. Options are: Partey, Matuidi, Fabinho, Ndidi and Luiz Gustavo. I'm trying to find different options from different leagues so it'll be more interesting to look at.


Winner is Fabinho, even tho he has an RTTF card, which is exceptionally good, he's still the most used CDM in game by far. His FUTTIES version would be so good that I can't even imagine. Matuidi and Partey are good options too. Ndidi and Gustavo to me losing it hard.

Central Mids: Fred, Kondogbia, Tolisso, Milinkovic Savic and Saul.


A lot of good options, but I feel like – SMS is the best option. Many people still use his Birthday card and he's fan favorite, as he missed on TOTS. Fred is a great option too, but a bit boring, ain't it?

Central Attacking Midfielders: Talisca, James, Dybala, Isco and Mkhitaryan.


All of them are really good. Talisca would be my choice, but I can see Dybala taking it, as he's pretty good this year and he'll have a good links to Ronaldo, right? The more I look at this category – the more I hate the fact there will a choice and we'll miss on some great cards.

Now, moving onto attacking players.

Starting with Right Midfielder.


5 main choices: Willian, Bernardeschi, Lucas, Lozano and Bellarabi. To me – best choice would be Willian, but we know that Lozano is taking it. Community will vote for Lozano. Also, he'll have a nice link to TOTS Dumfries.

Left Midfielders are harder. More better base cards and wider choice:


Coman, Douglas Costa, Martial, Felipe Anderson, Promes. And a lot more choices. To me – main choice would be Coman, but he's not a really popular players, so it's hard. I've seen a lot of players using Anderson and many people think he missed on TOTS undeservingly. So he probably takes it.

And now, we have Striker. Talk about hard-choices, right?

Rashford, Rodrigo, Jesus, Poulsen, Lautaro.


Why I went with these choices? Rashford popular, fun card to use. Rodrigo – option from Spain. Still used a lot and had few MOTMs, so his FUTTIES would be strong. Jesus – basically Jesus, nothing more or less to say about. Poulsen – fan favorite this year due to a lot of cards and missing TOTS. Would be OP as hell card. And last choice is Lautaro Martinez. Was going to put Belotti in it, but Lautaro seems like a better option. Fun card, a lot of strong stats and boost would be huge. To me the winner is Rashford. Better option than anyone else in my eyes.

Now, there's also a position switch category. This one is pretty hard, due to FUT Birthday Promo and us getting a lot of position switches. I don't want to hype things up unnecessary, so I prefer not to make one.

I feel like I missed someone. Someone special. Someone who missed every TOTS and still has a lot of IFs and one of the most popular players in game…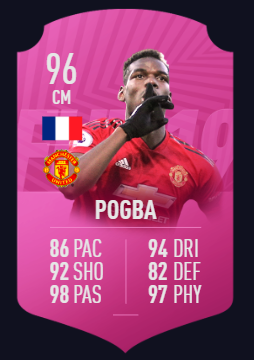 Paul Pogba should be in separate category. I dunno, if I'd place him at CM – it's pretty unfair to other choices, because he smashes everyone. What's it gonna be? I don't know, but hopefully he'll get one great card to finish off FIFA 19 with a bang.