Hey, guys, it's me back again with average TOTWs.

So this time few headliners from MLS and Argentian League.

From MLS we can actually get gold Ike Opara, which will be amazing!
Also few good silvers are possible and Federico Higuain performed well this weekend

In Argentian League we'll see some really good gold players like Rigoni and Benedetto, but other than that? Average players.

Overall, FUT 17 is coming to its end, so TOTWs won't get better for a long time.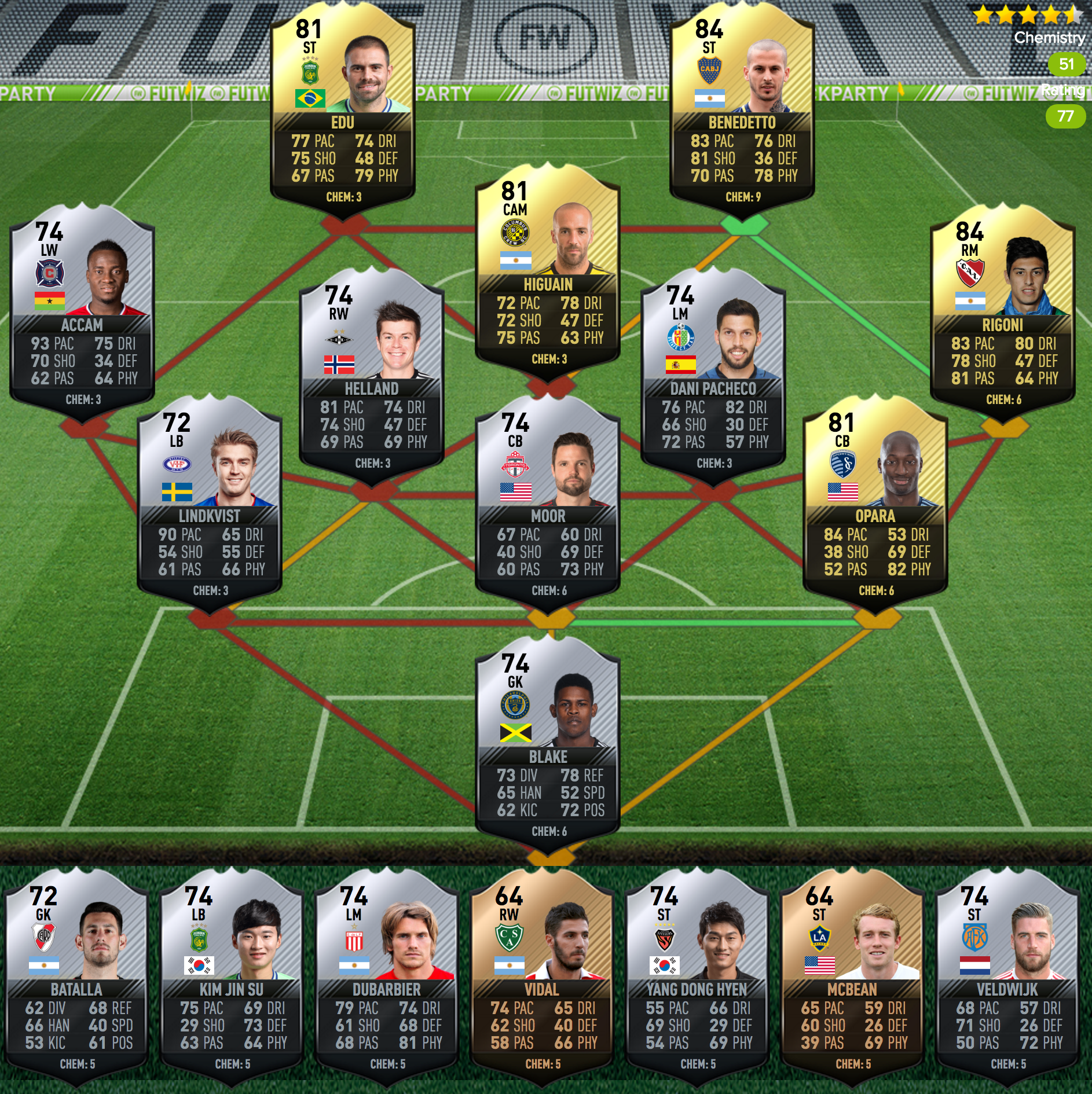 Starting 11:

GK:Andre Blake (Philadelphia Union) – 72>74– 6 saves and pen save and Cs in 1-0 win (SUN)
CB:Ike Opara (Sporting KC) – 72>74(scream)>81– 1 goal in 2-1 win (SAT)
CB:Drew Moor(Toronto F.C.) – 71>74– 1 goal and cs in 2-0 win (SAT)
LB:Rasmus Lindkvist(Valerenga) - 65>74- 2 goals in 3-1 win (SAT)
LM:David Accam(Chicago) – 73>74– 3 goals and 1 assist in 4-0 win (SUN)
RW:Pal Andre Helland(Rosenborg) –73>74– 3 assists in 3-0 win (SUN)
LM:Dani Pacheco(Getafe) – 74>74- 2 goals in 3-1 win (SAT)
RM:Emiliano Rigoni(Independiente) – 76>81(IF)>84- 2 goal and 1 assist in 3-0 win (FRI)
CAM:Federico Higuain(Columbus Crew) – 77>81- 2 goals in 4-1 win (SUN)
ST:Dario Benedetto(Boca Juniors) – 76>81(IF)>84- 2 goals in 2-1 win (SUN)
ST:Edu (Jeonbuk) – 76>81- 3 goals across 2 games

Subs:

GK:Augusto Batalla(River Plate) – 66>74– 6 saves and CS in 1-0 win (FRI)
LB:Kim Jin Su(Jeonbuk) - 74>74– 1 goal and 1 assist in 4-1 win (FRI)
LM:Sebastian Dubarbier(Estudiantes)– 74>74– 1 goal and cs in 2-0 win(FRI)
RM:Patricio Vidal(Club Atletico Sarmiento) – 64>64– 2 goals and 1 assist in 3-2 win(SUN)
ST:Yang-Dong Hyen (Pohang Steelers) – 70>74– 2 goals and assist in 3-0 win (WED)
ST:Jack McBean (L.A. Galaxy) –62>64- 2 goals in 3-1 win (THU)
ST:Lars Veldwik(Aalesunds) – 70>74- 3 goals in 5-1 win (SUN)
Marquee Matchups Predictions - June 12th
<p> <span initial;">Hey guys, it's Tillian and it's Marquee Matchups predictions!</span>

08/06/2018 06:47pm | TOTW
FIFA 18 Team of the Week Prediction: Week 38
Hey guys, it's Tillian, it's Predictions and it's TOTW time

04/06/2018 07:01pm | TOTW
Marquee Matchups Predictions - June 5th
<p> <span initial;">Hey guys, it's Tillian and it's Marquee Matchups predictions!</span>

04/06/2018 06:53pm | TOTW