News
The latest Ultimate Team news
10 Things you need to know about FC 24

18/07/2023 05:00pm by kimpembro | Ultimate Team
---
When is EAFC 24 released?
The release date for EAFC 24 is 29th September 2023, however those who purchase the Ultimate edition will get access to the game 7 days early, meaning access to the game will be on 22nd September 2023.
How much will EAFC24 cost?
Standard – (Xbox/PS) £69.99 / $69.99 (PC) £59.99 / $59.99

Ultimate - (Xbox/PS) £99.99 / $99.99 (PC) £89.99 / $89.99
What do you get in the Ultimate edition of EAFC24?
7 days early access (September 22, 2023)

4,600 FC Points

UEFA Champions League Hero (pre-order by August 22)

Access to Nike Ultimate Team Campaign

Nike Ultimate Team campaign loan player item

Nike x EA Sports FC Ultimate Team kit

Team of the Week 1 Ultimate Team player item
Will EAFC 24 use Hypermotion Technology?
Yes it will use Hypermotion technology, however this year it will use Hypermotion V, the V stands for Volumetric Technology or Volumetric Capture.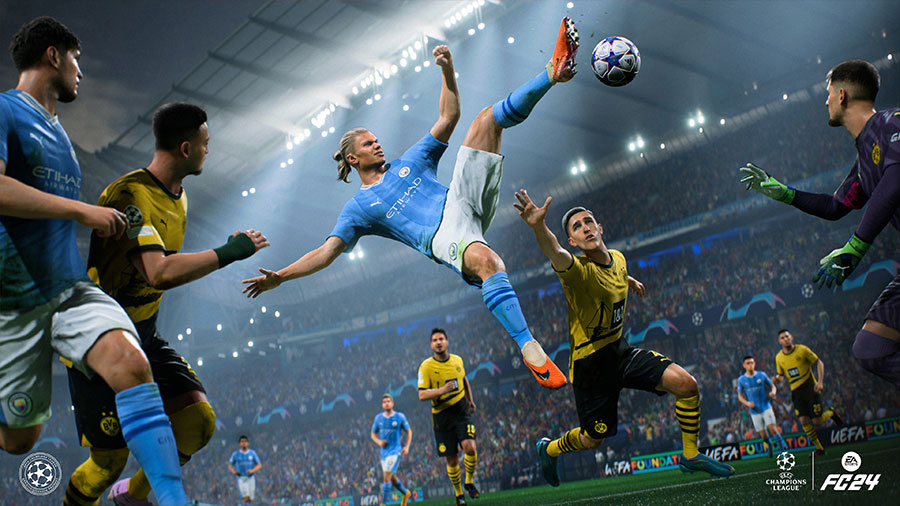 To elaborate on this a little, last year in FIFA 23 we were using Hypermotion, and in order for animations to be included in the game this required the use of motion capture suits, so this essentially means for any animation to be added to the game a real life person was required to wear a motion capture suit, complete the animation and this could then be added to the game.
This year with Hypermotion V, the use of motion capture suits is no longer required, EA have the ability to take animations from video and implement them into the game, which essentially means that if there was an event or an animation that occurs during a game at the weekend then EA will have the ability to analyse that video and turn that into an in game animation.
This opens the doors to a lot of possibilities and we may see new animations being added to the game during the year.
Will AcceleRATE be in EAFC 24?
Yes, AcceleRATE is going to be included in the game, however this year we will see AcceleRATE 2.0.
So what does this mean? In FIFA 23 we saw AcceleRATE 1.0, and with this we saw 3 different acceleration Architypes, these were Lengthy, Controlled and Explosive, however with AcceleRATE 2.0 we will see 7 different acceleration Architypes and these are:
Lengthy

Mostly Lengthy

Controlled Lengthy

Controlled

Controlled Explosive

Mostly Explosive

Explosive
By increasing the amount of architypes this will allow for greater accuracy when assigning an acceleration style to a player and also allow you as the player for flexibility when customising your players.
What are Playstyles in EAFC 24?
Playstyles is a brand new addition coming to EAFC 24, for this EA have partnered with OPTA in order to get statistical analysis of players in order to identify the type of 'playstyle' that a player is associated with.
So to put it simply, each player will be allocated a Playstyle dependant on how they play in real life and this is supported by OPTA statistics.
There will be 34 Playstyles in total, and these are split into 5 categories, Passing, Shooting, Defending, Ball Control and Goalkeeper.
A player will have either:
No Playstyle

Playstyle

Playstyle+
A Playstyle+ is simply an improved version of a Playstyle.
What is a Playstyle and how does it affect players in game?
A Playstyle is a way in which a player will receive enhanced performance or abilities dependant on the Playstyles they have, an example of a few Playstyles and how they affect players are:
Trickster – This player will have unique flicks and tricks

Dead ball – The arc from set pieces will be larger for greater accuracy

Power Header – Headers are more powerful than those without this playstyle

Power Shot – Power shots are more powerful than those without this playstyle

Speed Dribbler – This player can dribble quicker with the ball than those without this playstyle
These are just an example of a few, however you start to see the impact of how playstyles will affect the players in game, as mentioned above there are 34 different Playstyles in game.
What is the difference between an Playstyle and a Playstyle+?
A Playstyle+ is simply an enhanced version of a Playstyle, this means that for example if a player has the Power Shot Playstyle+ they will simply shoot the ball harder than those who only have the Power Shot Playstyle.
This is just a very high level of how Playstyles will work in EAFC 24.
What is Precision Passing in EAFC 24?
Precision Passing is a brand new in game mechanic coming to EAFC 24, precision passing is essentially a manual pass where you not only have control of the power of the pass but you have complete control of the direction of the pass.
When executing the pass you will see a circle on the ground indicating where the ball is going to go, and you have full control as to where that circle moves to therefore making the pass completely manual.
There are three types of precision passes:
Presidion Pass – R1-Through Ball

Precision Lob – R1-Lob Pass

Swerved Precision Pass – L2+R1-Through Ball
Will there be any new skill moves in EAFC 24?
Yes, there will be 4 new skill moves coming to EAFC 24, one of which requires your player to have 5* skill moves and 3 which require you player to have 4* skill moves or above:
5* Skill Moves
4* Skill Moves
Flair Nutmeg

Ball Roll Drag

Drag Back Turn
Will EAFC24 still be using the Frostbite Engine?
Yes, however this year the Frostbite engine has been significantly enhanced to bring you many more improved visuals, the Frostbite engine has evolved to include:
EA Sports Sapien Technology – For improved visuals

GPU Cloth – This will add more realism to kits and how they interact with the environment

Feature Lighting- This will improve the lighting and player visuals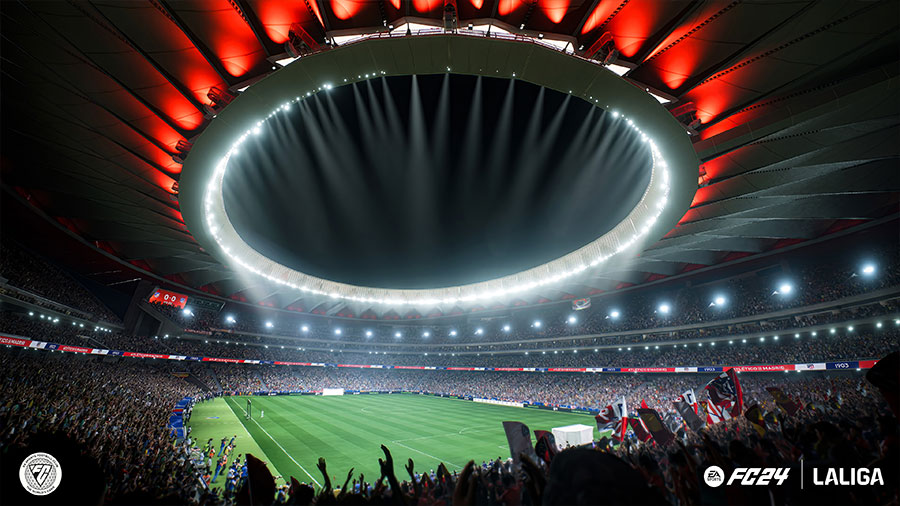 A large part of the enhanced Frostbite engine is it will now bring an improvement to visuals and insights to pre-game and during the game, these will include:
Elevated Match Day Experience

Dynamic Match Intros

Half Time cinematics including visuals from the pitch and changing room

New in game insight Overlays

Last 5 Shots

Win Probability

Shots on Target

Possession

Most Fatigued

Improved Existing Insights

Offside Insights

Save Insights

Free Kick Insights
Will there be a new menu system in EAFC 24?
Yes, there is a brand new menu system coming to EAFC 24, this new menu system will replace the old square block style menu with a new sleek up and down style menu, making it far easier to navigate.
The new menu system will bring in the option to create shortcuts in your favourite game modes making it easier to navigate to those areas you frequently visit.
Is Chemistry going to be in Ultimate Team in EAFC 24?
Yes it has been confirmed that chemistry will still be in ultimate team.
Are Playstyles replacing chemistry styles?
No, Playstyles will accompany chemistry styles so you will be able to apply a Chemistry Style and a Playstyle to a player.
Are Playstyles replacing traits?
At this moment in time there has not been any confirmation if Playstyles will be replacing Traits or if Traits are still in the game, once we have more information on this we will update the article.
Will there be any changes to Icon Chemistry in Ultimate Team?
Yes, Icons will now grant a +1 notch for every league that is represented in that squad, as well as the standard +2 nation notches
Will position modifiers be in Ultimate Team?
No, position modifiers have been removed, a player will get chemistry for their primary and secondary positions providing they are placed into that starting position in the squad
Will women be available to use in Ultimate Team in EAFC 24?
Yes, you will now be able to play with a wide selection of the most famous women footballers in Ultimate Team.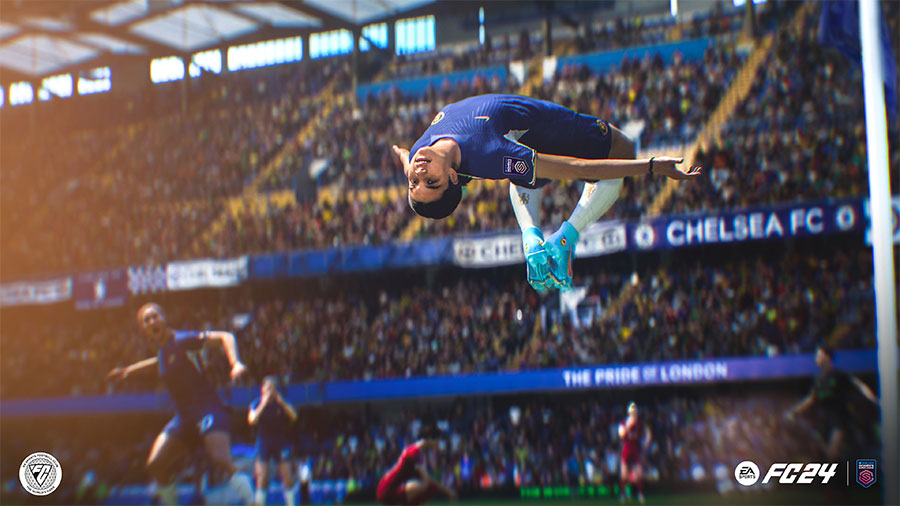 A few things to note regarding this:
Women and Men will be able to play in the same team

Women and Men will be in the same packs, meaning you will be able to pack both men and women from the same pack

Chemistry is the same, however men and women will also get a link if they play for the same club

Women will be rated based on the completion they play in, in the real world
What is Evolutions in Ultimate Team in EAFC 24?
Evolutions is a brand new feature coming to Ultimate Team in EAFC 24, here is a brief overview of what you can expect.
To simply put, you will be able to take a player who meets the required selection criteria, complete in game challenges and earn them permanent in game upgrades. These upgrades can vary from attributes, overall, skill moves, weak foot and more.
The process will look a little like this:
There are pre-defined evolutions criteria that a player must fit, for example an evolution could be available for: "A silver ST from the Bundesliga"

You will then chose a player to put into an "evolution pad"

You then will complete in game challenges with that player

To complete the evolution there are likely going to be multiple levels, each level has a set amount of in game objectives to complete

For example, level 1 could be:

Score 2 goals with this player

Play 2 games with this players
Upon completing a level you will receive the Level Rewards
For example, Level 1 Rewards could be:

Dribbling +10

Pace +10

Skill moves +1

OVR +7
Once you have completed Level 1, you will unlock Level 2 objectives
Once you have completed one level, your selected card will visibly change from their Bronze/Silver card to a green evolutions card
Once your player completes all levels, they will be upgraded and they will be at maximum evolution
Here is a few things to note about Evolutions:
When a new season arises there may be another opportunity for you to evolve your player that is at maximum evolution

There will be multiple evolutions available at one time

You will have a set amount of days to complete the evolution, the examples shown were 60-70 days, however this will likely vary

Evolution players will become untradeable

There will be cosmetic upgrades for evolved cards, these cosmetics will be things like card style/type and could even have animated backgrounds.

Evolutions is not just for bronze and silver cards
And finally, to elaborate on the last bullet point, you are going to be able to evolve different types of cards, for example you will be able to evolve your TOTW players, this will come in the form of a TOTW Upgrade Evolution.
TOTW Upgrade Evolution

Costs 10,000 coins (price will likely change)

Complete objectives to get a +1 OVR to your TOTW player

Adds a Playstyle+
As well as a standard evolution style there is going to be different types of evolutions, for example there is going to be a 'WHAT IF' evolution, this is where you will be able to change the position of your cards, In an example we saw they chose Gold Rare Van Dijk and they changed him from a CB to a CDM.
WHAT IF Upgrade Evolution

Costs 15,000 coins (price will likely change)

Complete objectives to get a +1 OVR to your player

Adds a Playstyle+

Change his base position from CB to CDM for example
There is still so much we do not know about the evolutions feature, however as you can see there is a lot of potential to see different evolutions, but what we do know is that there is going to be a wide variety of ways in which we can evolve our players.