News
The latest Ultimate Team news
Triple Threat Ledley King - Spend or Swerve

17/11/2023 06:00pm by kimpembro | Ultimate Team
---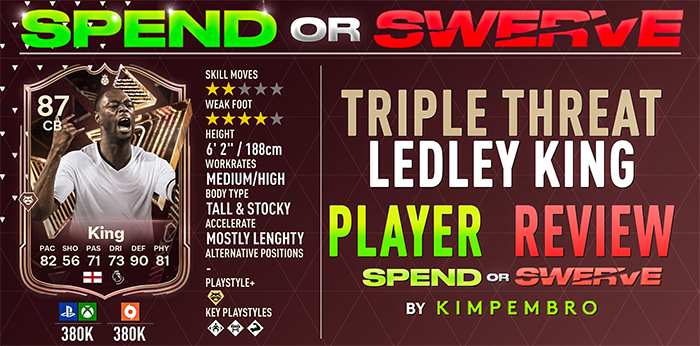 POSITIVES & NEGATIVES
Positives
King has the Anticipate PlayStyle+, this is the most desirable PlayStyle for defenders and it is really noticeable when going into tackles as his ball retention is superb.

A combination of his PlayStyle+ and his high defending attributes makes his defending superb, he is dominant in the tackles.

He has great pace which is really beneficial for those who choose to play a high line. 71 Depth is very meta this year so King is an ideal choice of a CB for this type of depth.

Two key PlayStyles he has is Jockey and Block.

He also has good Reactions (86) and composure (88), which are two key attributes for defenders.

He also has Hero Chemistry, which means not only does he get full chemistry in any team when he is in at center back, he also provides two league links to team chemistry.
Negatives
This is an expensive SBC, coming in at about 380K coins and when you consider the price of tradeable options and even the price of some other SBCs out it could be considered too much.

As expected, he feels heavy on the ball due to his low dribbling attributes and body type

He also has quite low stamina (71), this isn't a massive issues however it could definitely be considered a negative.
---
TEAM AND IN GAME POSITION
Team Used
In Game Formation – 3-4-2-1
Position Played: Center Back
Chemistry Style Used: Shadow
Recommended Position: Center Back
Recommended Chemistry Style: Shadow
---
PLAYER COMPARISIONS
Rare Gold Virgil Van Dijk – 155K
Icon Laurent Blanc – 410K
Centurions Icon Nemanja Vidic – 510K
Centurions Thiago Silva – 135K
---
VERDICT
Ledley King is a dominant defender, when close to attackers he manages to come out with the ball more often than not, a lot of that is due to the Anticipate PlayStyle+.
He has good pace which helps when defending with a high line and also having good passing and a 4* weak foot makes him very reliable on the ball. As you would expect he still feels heavy on the ball, but that is the case with most defenders.
The SBC costs approximately 380K, which is quite pricey when you consider Van Dijk is 155K and even the Thiago Silva SBC is 135K, however you do get the added bonus of Hero Chemistry. I can understand if people would prefer to take the cheaper alternatives/
For me, he performed exceptionally and has become a main starter in my first team, so for that reason it is going to be a SPEND!
SPEND OR SWERVE