News
The latest Reviews news
TOTS Moments Reus - Spend or Swerve
---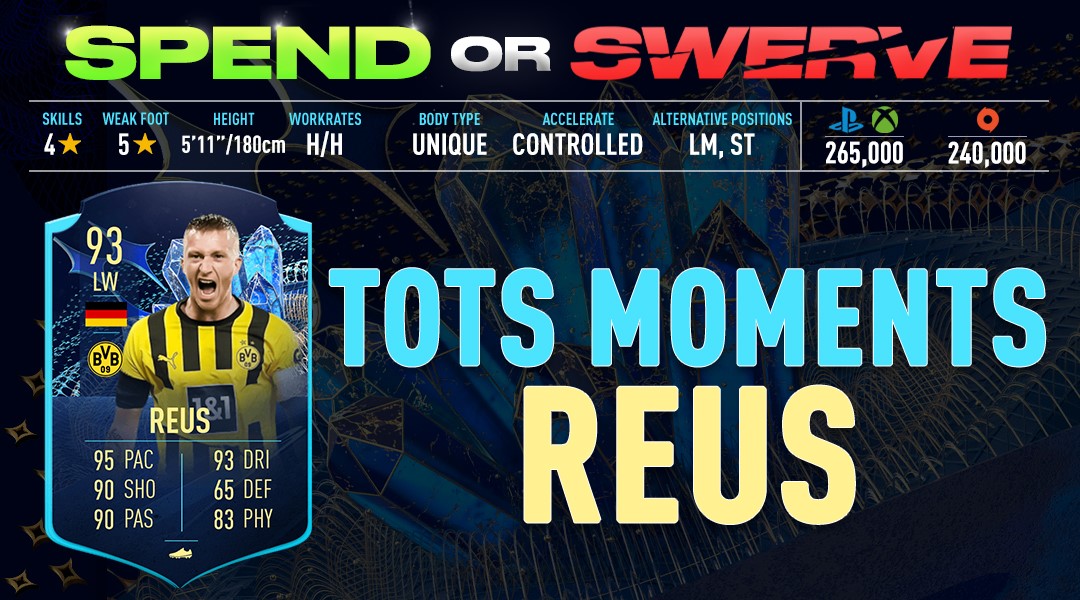 POSITIVES & NEGATIVES
Positives
Reus possesses electrifying pace, allowing him to burst past defenders and leave them in his wake. He has 96 pace which makes him a true speedster on the pitch, constantly posing a threat on the counter-attack and creating space for himself and his teammates.

Reus showcases a commendable range of passing skills that adds an extra dimension to his game. His ability to deliver accurate and incisive passes across different distances and angles is truly impressive. whether it's a crisp short pass to retain possession or a perfectly weighted long ball to unlock the defence.

Reus exhibits highly responsive dribbling skills, making him a joy to control on the pitch. His agile footwork and close ball control allow him to navigate through tight spaces and evade opponents with finesse.

Reus possesses exceptional shooting prowess, making him a true threat in front of goal. His accuracy, power, and technique combine to produce stunning strikes that often find the back of the net.

Reus has both of the desirable shooting traits, there are the Outside Foot and Finesse Shot Traits.

One of Reus's most notable strengths is his exceptional weak foot ability, having 5* weak foot allows you to shoot and pass with either foot without any punishment, it adds a different dynamic to your attacking plays. Aerially
Negatives
One area where Reus falls short is in terms of physical strength. Opponents who are physically imposing may find it easier to outmuscle him in challenges for the ball.

Reus's aerial ability is an aspect of his game that falls below his other impressive attributes. Due to his height and build, he may struggle in aerial duels against taller and more physically dominant opponents.
---
TEAM AND IN GAME POSITION
Team Used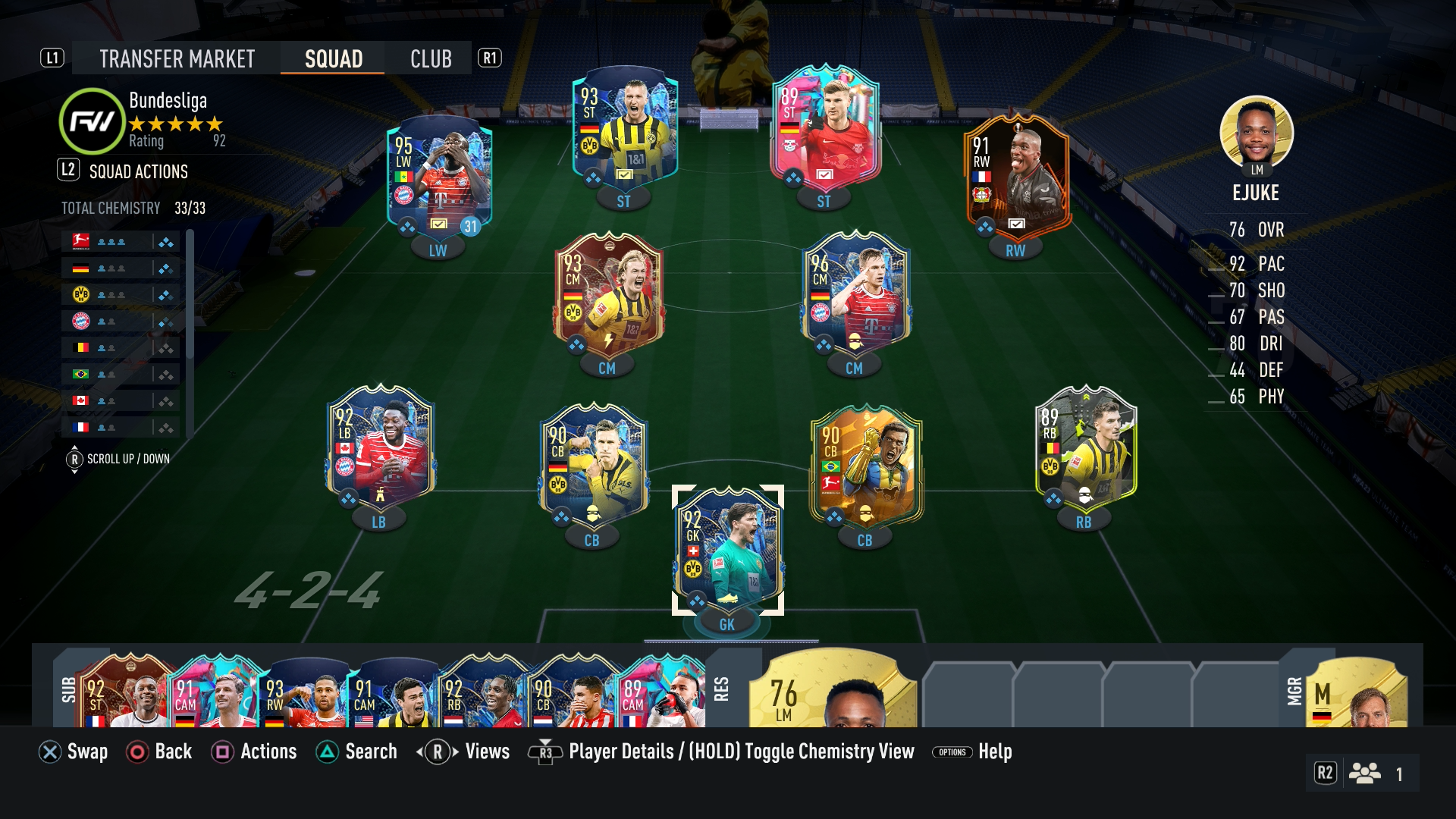 In Game Formation – 4-2-2-2 & 3-4-2-1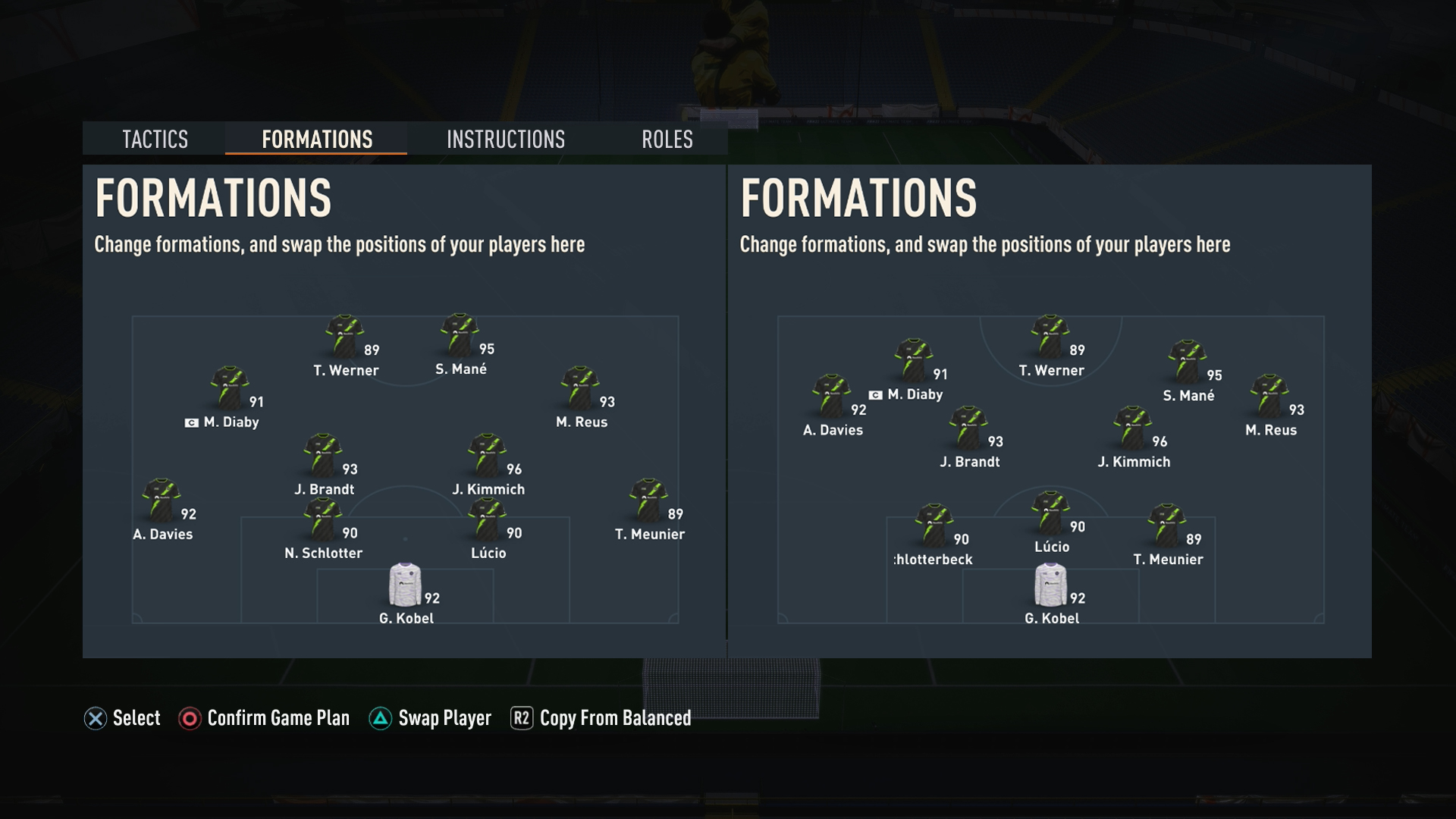 Position Played: Right Attacking Midfielder
Chemistry Style Used: Finisher
Recommended Position: Right Attacking Midfielder/Striker
Recommended Chemistry Style: Hawk
---
PLAYER COMPARISONS - 5* Weak Foot Wingers
TOTS Moments Son – 385K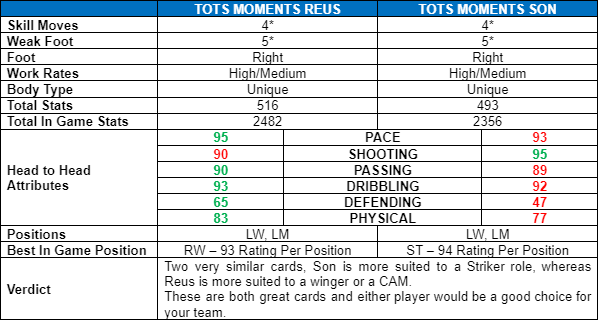 TOTS Saka – 426K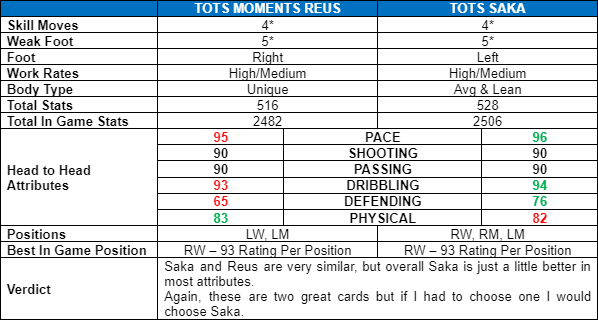 FUT Birthday Icon Rivaldo – 657K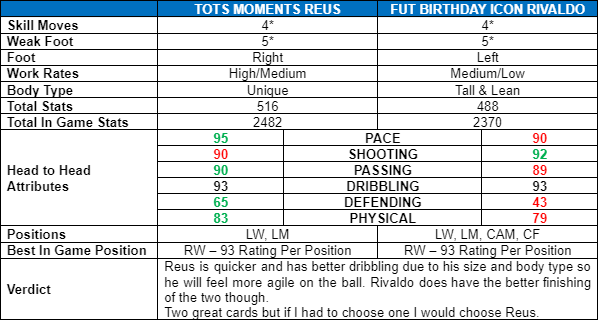 FUT Birthday Vinicius – 2.07m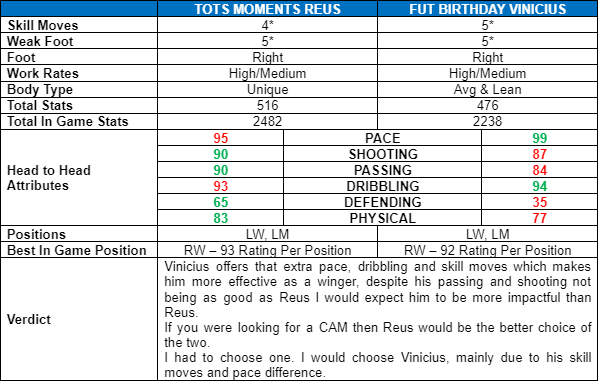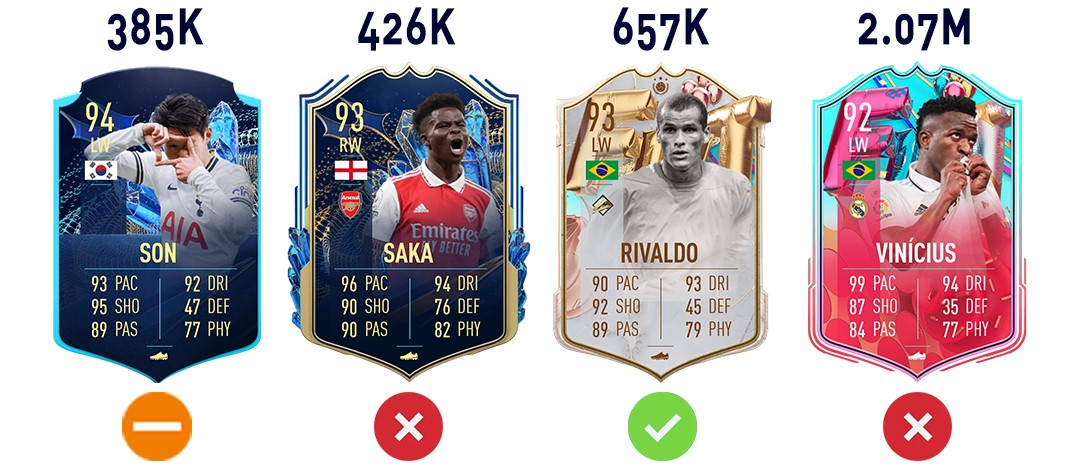 ---
RATINGS

---
VERDICT
Reus has electrifying pace, exceptional passing range, and responsive dribbling skills, Reus brings a multitude of strengths to the game. His ability to burst past defenders, create space for himself and his teammates, and deliver accurate and incisive passes adds a new dimension to your team's attacking prowess. Additionally, his agile footwork and close ball control make him a joy to control on the pitch.
Reus's shooting ability is another standout aspect of his game. With exceptional accuracy, power, and technique, he poses a true threat in front of goal. His 5-star weak foot further enhances his attacking capabilities, allowing him to shoot and pass with equal effectiveness from either foot. This versatility adds unpredictability to his play and makes him a constant danger to opposing defences.
While Reus may have limitations in terms of physical strength and aerial ability, these weaknesses are outweighed by his technical prowess and overall impact on the game. He may occasionally struggle against physically imposing opponents or in aerial duels, but his speed, skill, and shooting prowess more than make up for it..
For 265K coins, Reus brings a dynamic and potent attacking force to your team at what I would say is a very fair price, so for me, this is a SPEND!
---
SPEND OR SWERVE

---
FUNNY AND INTERESTING FACTS
A little bit of bonus content for you all here are some funny and interesting facts about Marco Reus …
Marco Reus is known for his love of video games, and he has mentioned in interviews that he enjoys playing FIFA and Call of Duty.

Reus has a hidden talent for playing the drums. In his free time, he enjoys playing the drums as a way to relax and unwind.

Despite being a professional footballer, Reus has admitted to being a terrible cook. He once mentioned in an interview that he can only prepare scrambled eggs.

Reus is a big fan of tattoos and has quite a few inked on his body. One of his most notable tattoos is a large eagle on his back, representing his nickname "The Gladiator."

Reus has a pet turtle named "Madonna." He has shared pictures of his pet on social media and has mentioned that he enjoys spending time with her.

Reus has a close friendship with fellow footballer Mario Götze. The two have played together at both Borussia Dortmund and the German national team, and they often showcase their strong bond off the field.

Reus has a strong sense of style and is known for his fashionable outfits. He has been featured in various fashion magazines and is considered a style icon among footballers.

Reus is a music enthusiast and enjoys listening to hip-hop and rap. He has been spotted attending music concerts and festivals, showcasing his passion for music beyond the football pitch.

Reus has a good sense of humour and has been known to pull pranks on his teammates. He enjoys keeping the atmosphere light-hearted and fun in the dressing room.