News
The latest FUT FM Podcast news
FUT FM 108
The FUT Birthday celebrations are in full effect, so let's find out how the new cards fare!

26/03/2019 08:00pm by futfm | FUT FM Podcast
---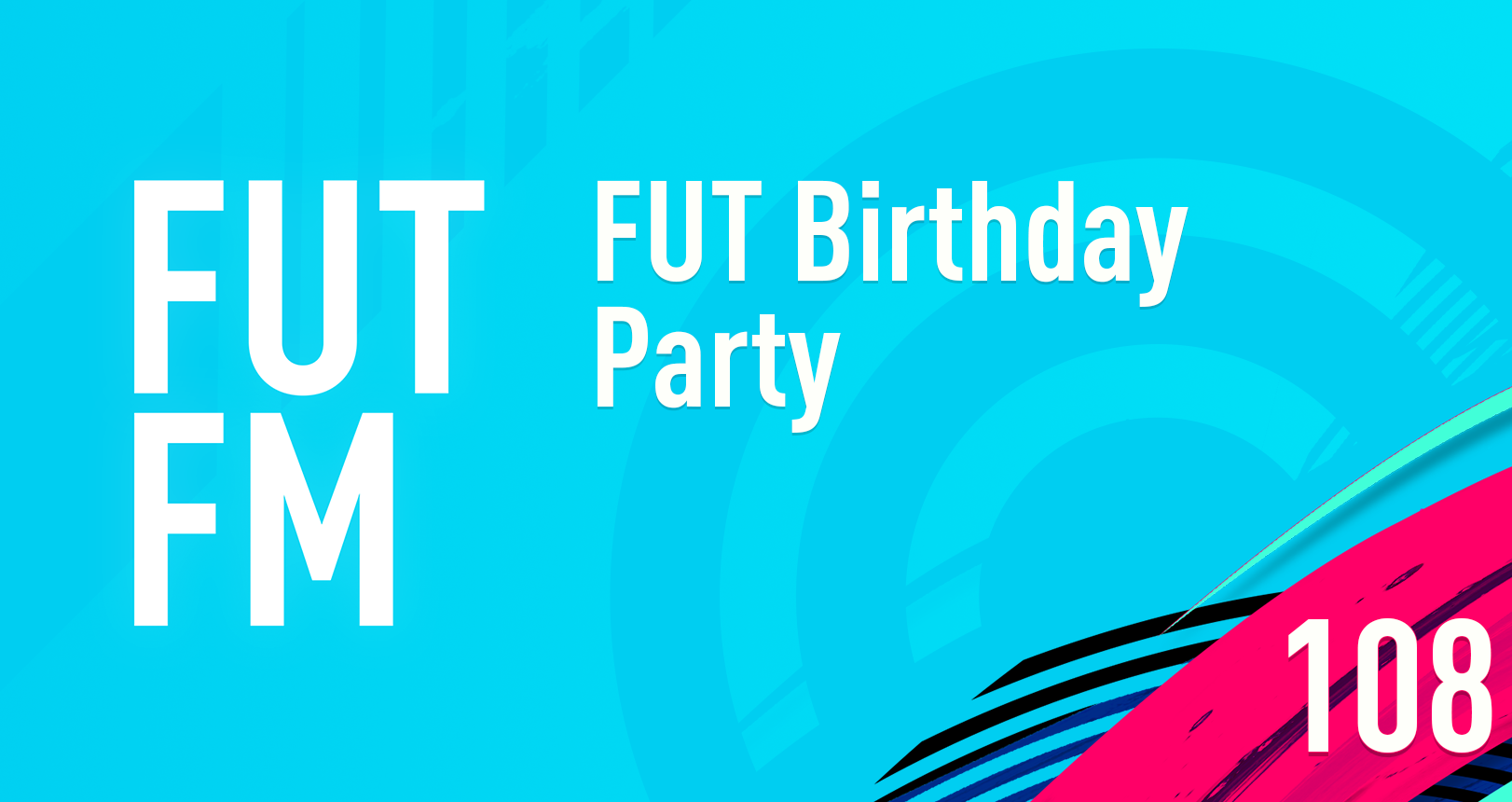 Hey everybody, this week we're going to focus on player reviews in this article. If you want to hear more of our general thoughts on the FUT Birthday promo (and a whole lot more) be sure to tune in below.
So let's get started!
FUT Birthday Coutinho
This 91 version of Coutinho is pretty awesome! You'll want to boost his speed a little bit due to his 77 sprint speed, but apart from that he has no major flaws.
Well, you could talk about his size being an issue if you're a fan if big midfielders, but I think most people know what they're getting into with a smaller player.
Coutinho puts on a technical masterclass every match. His touches are excellent even when you think he's knocked the ball too far. His skill moves come out with precision and tight control. I use him as a left CM when I play with a diamond, and I use him on the left when I do 442. He excels at both roles.
He's also fantastic on short corners, try doing a heel to heel into the box or even a rainbow flick. If you want an offensive technical midfielder, get this guy, you won't regret it. I recommend engine chemistry.
FUT Birthday Bale
Wow, what a card! This version of Bale is 90+ in almost every relevant attribute.
Of course, his balance leaves a lot to be desired so you'll want to boost that for sure. But despite that, Bale is useful pretty much everything in front of the CDM. You can play him in any offensive position and he'll be good.
He still has a 3 star weak foot, but with almost maxed out stats, that's not a huge issue. His long shots are even more powerful than before, and he's able to shrug off pressure with his 89 strength. I recommend Bale if you don't mind having a 3 star weak foot player in your squad.
88 Kondogbia As A Replacement For 88 Vieira?
Nope!!
I experimented with 88 Kondogbia but he's just not worth it if you can afford 88 Vieira.
Kondogbia joins the attack far too often, causing massive holes in your midfield. He has a 2 star weak foot which really screws up how you build your attacks. Most people don't realize how much the ball goes through a CDM in any given match. Especially in narrow formations.
Defensively, he's pretty solid when he is in position. He's strong and puts in good tackles. But don't expect him to act as an anchor in his CDM role.
Prime Icon Socrates
91 Socrates is a B O S S. I play him as the right sided central midfielder and he puts in a fantastic shift every game.
His skill moves come out quickly, his passing is on point, and he's a big strong lad. For some reason, tall players in FIFA seem to generate a lot more power on their shots. Maybe it's a placebo, but I don't think so.
I've got engine on Socrates (balance boost needed) and when he shoots from outside the box, the earth trembles. His long frame is also great for winning an unexpected amount of balls back. I hiiiiiiiighly recommend Socrates. He's not quite Prime Gullit levels of OP, but he's close. Great card that you can use in an central attacking position!
94 Ronaldo Suuuuuucks!
When I say sucks, I mean sucks for a player that costs over 3 million. He's obviously a solid card.
But for that many coins, you can do way better.
94 Ronaldo is one of the biggest crimes FIFA has ever committed. He has a great shot, but he never uses his 5 star weak foot, meaning he wastes his great shot depending on the angle…
His first touch is a let down, the lack of precise left stick dribbling in 19 means that Ronaldo can't be the agile beast that he was. Plus, his skill moves seem to take a long time to come out for some reason, and he falls down really easily when challenged.
I was genuinely shocked at how horrible he was, especially since I've always been a huge fan of his style and real life performances over the years. You can get 300k strikers that are just as good as a 94 R9…
:(
Carniball Neymar Is Legitimately Overpowered
I have never used a card that made as much of a difference as 96 Carniball Neymar.
I play him as a striker on finisher chemistry, and it's truly incredible what he does. In over 30 matches, he's had literally 3 bad shots. The rest were goals, and a few of them got saved.
Think about that…
He's seriously something else. This Neymar doesn't fall down, his skill moves and dribbling are top tier, and you can just blast non timed shots into the corner of the net. The only time he gets less useful is at the 25 - 30 yard range. But if you're at the edge of the box or inside of it, it doesn't matter what angle you shoot from. He'll score it.
Neymar actually uses his 5 star weak foot as well.
In my first 27 matches with him (mostly Division 2), he's scored 38 goals and gotten 11 assists. Insane stuff. Get him at any cost!!
That's it for this week folks! Don't forget to subscribe to FUT FM on Apple Podcasts/Google/Spotify so you don't miss the latest episode. Cheers!