News
The latest General news
FUT 24 Information
---
Along with the rest of the FC 24 news today, we got a small taster of what we can expect to see in FUT 24.
Women's Football
Big news! Women's football is coming to FUT! This has brought us six new competitions to the FUT player pool. The UEFA Women's Champions League, Barclays Women's Super League, National Women's Soccer League, the D1 Arkema, plus the debut of the Google Pixel Frauen-Bundesliga and Liga F.
This is the biggest addition to the FUT player pool we've ever had, unlocking even more squad building opportunities and more ways to make your Ultimate Team totally unique. There will also be women's icons and heroes.
How will Women's and Men's players work in FUT? You can create a squad featuring both men and women players. Chemistry will work exactly the same as FIFA 23 works, with nations and clubs all giving points towards chemistry, however with women's players being in different leagues to men's, you can gain chemistry via their club, ex all chelsea men and women players will link to each other.
How can we get women's players? The same way you can currently obtain the men's players! Through packs, the transfer market, objectives, rewards, sbcs and draft!
What about women's ratings? All players in FUT are rated relative to players they play against in real life, and ratings will be consistent with other FC 24 game modes. For example, if a player is 85 rated in kick of, their base FUT card will also be 85 rated.
Ultimate Team Evolutions
For the first time ever, you can improve players in your club via Ultimate Team Evolutions. Choose players that fit the Evolutions criteria, and complete objectives to improve their stats, PlayStyles and rating, to keep the player competitive through the year. You'll even be able to level up how the item looks with new designs and animated backgrounds.
PlayStyles
PlayStyles brings another new dynamic to FUT that goes beyond just ratings, allowing you to build your squad based on your knowledge of the players, and how they play. PlayStyles+ takes it to the next level, giving players abilities on the pitch that few other have. PlayStyles+ are visible right on the Player Item, so it's easy to see what they are known for.
FUT 24 Card Design
The FUT 24 card has changed shape, from the old shield to a new shield! Here is how it looks.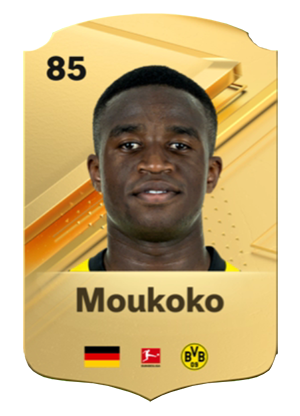 That's all the news we have for FUT 24 for now. Don't forget that FC 24 is released worldwide on September 29th!