News
The latest TOTW news
FUT 19: Team of the Week Predictions: Week 8
Hey guys, it's Tillian here and it's already TOTW 8
---
Hey guys, it's Tillian here and it's already TOTW 8.

Predictions became really tough lately due to random picks in TOTW, but let's try to do our best, shall we?

Overall TOTW looks decent, maybe I've chosen too many strikers, but we'll see.

Because no one apart from attackers really performed. Sterling, Mertens should be locked.

Romagnioli is also a lock. Joao Mario is a nice card. Others are debatable. We might see 2 OTWs in this TOTW and it'll be both PL wingers. Both scored 2 goals and have like no competition in their spots.


Good luck and have fun with your player picks.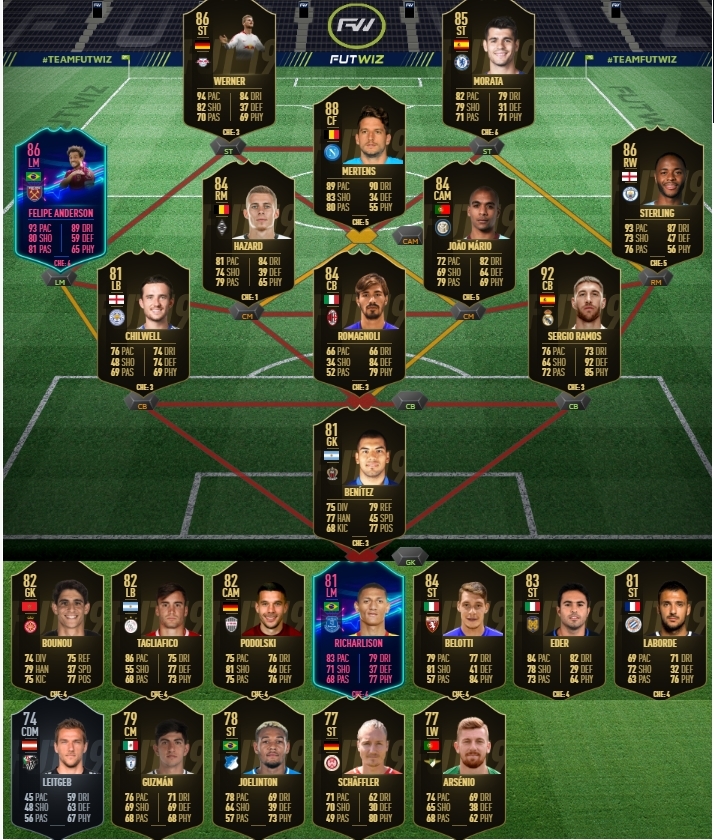 Starting 11:

GK:Walter Benitez (OGC Nice) – 76>81– 7 saves in 1-0 win (SAT)
LB:Nicolas Tagliafico (Ajax)– 79>82– 1 assist and cs in 2-0 win(SAT)
CB:Alessio Romagnoli (Milan) – 82>84 – 1 goal and cs in 1-0 win(SUN)
CB: Sergio Ramos (Real Madrid)- 91>92- 1 goal and cs in 2-0 win (SAT)
LW: Felipe Anderson (West Ham) – 81>84>86- 2 goals in 4-2 win (SAT)
CAM:Joao Mario (Inter) – 81>84 - 1 goal and 3 assist in 5-0 win(SAT)
RM:Raheem Sterling (Man City) – 85>86–2 goals and 2 assists in 6-1 win (SUN)
RW: Thorgan Hazard (Borussia M'gladbah)- 81>84- 2 goals in 3-0 win (SUN)
ST: Morata (Chelsea) – 83>85– 2 goals in 3-1 win (SUN)
ST: Dries Mertens (Napoli) – 87>88– 3 goals and 1 assist in 5-1 win (FRI)
ST: Timo Werner (RB Leipzig) – 83>85>86- 2 goals in 3-0 win(SAT)
Subs:

GK:Yassine Bounou (Girona) – 77>82– 9 saves in 1-0 win (SAT)
RB: Daniel Brosinski (Mainz)- 76>81- 2 assists in 2-1 win (SUN)
CAM: Lukas Podolski(Vissel)- 78>82 –2 goals in 2-1 win(SAT)
ST: Andrea Belotti (Torino) – 82>84- 2 goals and 1 assist in 4-1 win(SAT)
ST: Gaetan Laborde (Montpellier) – 75>81– 2 goals in 3-0 win (SUN)
ST: Eder (Jiangsu Suning) – 79>83- 2 goals and 1 assist in 3-1 win (SAT)
ST: Richarlison (Everton) – 77>81 - 2 goals in 3-1 win (SAT)

Reserves:
CM: Mario Leitgeb (Wolfsberger AC)– 63>74–3 goals in 3-2 win(SAT)
CAM: Victor Guzman (Pachuca) – 72>79 - 4 goals in 6-2 win (SAT)
ST: Joelinton (Hoffenheim) – 69>78 - 2 goals in 4-1 win (SAT)
ST: Manuel Schaffler (SV Wehen) – 70>77 - 4 goal and 1 assist in 7-0 win (SAT)
LW: Arsenio (Moreirense) – 69>78 - 3 assists in 3-1 win (SAT)