News
The latest TOTW news
FIFA 23: Team of The Season Predictions - Serie A
---
Hello and welcome to Serie A Team of The Season Predictions. A lot of exciting players ahead and we should congratulate Napoli for finally winning league title since Maradona days. You can expect a lot players from Napoli.
Overall season been very exciting apart from title race. Napoli comfortably won it, they deserve it and they haven't had proper competition this season. Juve was struggling with issues outside of the game, Lazio were good but then dropped off. Inter was bad but then started a good run, but of course it wasn't enough. Milan – kinda weird season, not even sure if they'll be in UCL next season. Roma focused probably more on EL, that's why they dropped off in Spring. Atalanta changed their system to be more defensive one, because it wasn't working old way. So yeah – top teams in Serie A struggled this season.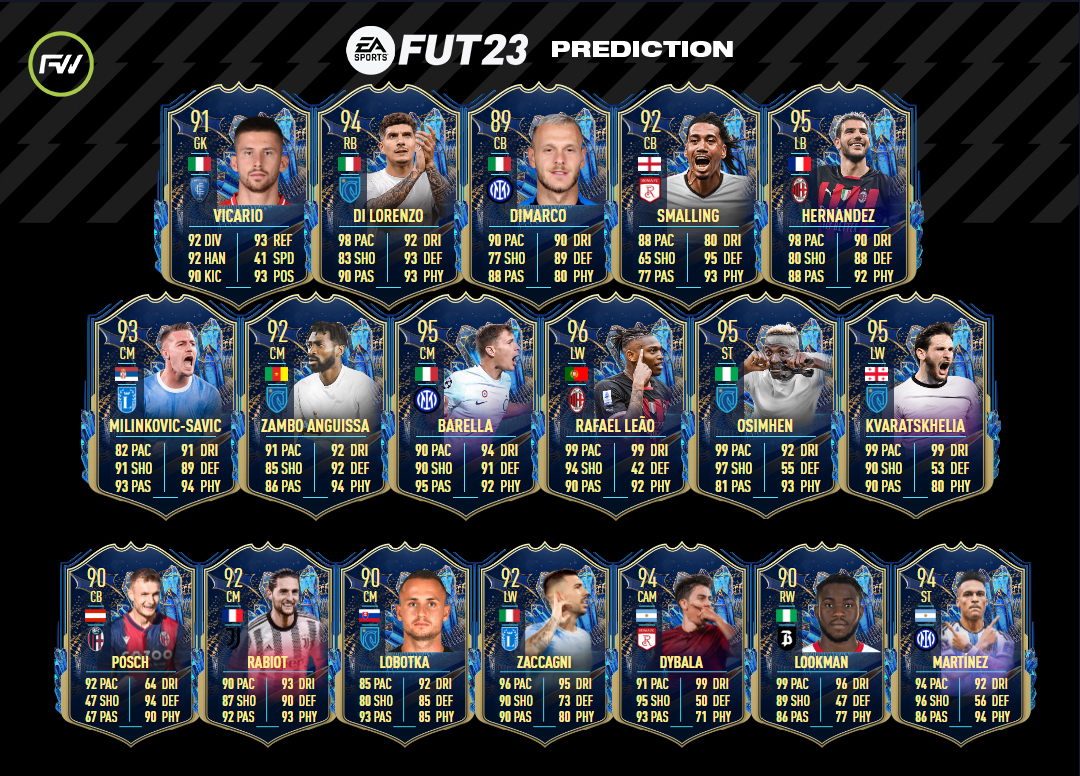 We'll start off with goalkeepers as per usual.
Very hard to choose one player. Mike Maignan, when he played – was fantastic for Milan, but he was injured for a long time and that probably won't be enough even for nominee. Meret was alright for Napoli, but defenders did a lot more. I'd go with Vicario, just because he was very impressive for Empoli and was nominated for both Community and Serie A TOTS. Problem that people probably wouldn't vote for him, that's why we might see Patricio or Wojczeh. I'd still go for Vicario, because he's the main reason Empoli has a chance to survive this season and actually finish midtable. He kept 7 CS this season and it's impressive for this Empoli side.
As for defenders – it should be easier to choose.
Right-back is Napoli's captain – Gianluca Di Lorenzo, who had very impressive season offensively and defensively. He also played every game this season and got 2 goals and 4 assists. Probably a lock.
Same goes for Theo Hernandez at LB. Fan favorite, already got TOTY and should get another TOTS. He's been one of the main characters in Milan's side and overall his season was good. 4 goals, 3 assists, some magic and few injuries. Overall he's a lock for TOTS and will be one expensive card.
Surprise to some people, but one of the Centre-Backs that I'm putting in this team is Stefan Posch. He was average at best in Bundesliga, but this season in Bologna was impressive. He also managed 5 goals and 2 assists and was one of the better CBs this season in Serie A. Also, Bologna currently sitting in very respectable 11th spot and Posch deserves some recognition.
Other nominees for defenders are very hard to choose. I'd probably go with DiMarco as other CB and we should see someone from Bremer or Smalling, as they are very popular players in FUT too. Dimarco was good for Inter, he replaced Skriniar and played fantastically. He managed to get 4 goals and 2 assists. Inter didn't keep a lot of CS, but that's just due to their play style. Dimarco might be one very good card and probably will feature in some teams. Chris Smalling would be my other choice and we'll have strong 3 CBs that might get into people's teams. Roma has very good defensive record, Smalling scored 3 important goals and he's their most important CB too.
Midfield will be hard to choose too, but not because of lack of choices, but because of a lot of good choices. Napoli duo of Lobotka and Anguissa should get in. Both were very impressive this season. Lobotka finally get recognition that he deserves, played very good, controlled matches and was very important. Same goes for Zambo Anguissa, who was, apparently, missing point from league winning team. He surprised a lot of people and impressed even more. Without him – Napoli struggled in UCL and didn't play as well, when he didn't play. 2 goals and 4 assists to his name.
Then, we're moving to Inter. We have Nico Barella, who had another crazy season and even better performances in UCL, but he should get TOTS because he's popular, he's good and he might be one of the best CMs in game if he gets TOTS. 5 goals and 6 assists this season, so far best numbers from all players we have and overall he'll be fantastic card. I'd probably choose Hakan Calhanoglu too, but feels like Barella is enough to represent Inter and we wouldn't have space for players like Milinkovic-Savic, who had another great season, as per usual, and will get fantastic TOTS. 7 goals, 8 assists, fantastic performances, leader for Lazio and probably main reason for their charge for UCL spot.
And, surprisingly to many, we have Adrien Rabiot, who had a mad season for Juve after he nearly left club in last summer. 8 goals and 3 assists from low scoring Juve side should be enough for his TOTS and it should be one very good TOTS card, especially when a lot of people loved his FUT Birthday card.
Well, I dunno where to place Paulo Dybala – but let's place him in midfield. He had somewhat good season for Roma, but he didn't play as much. Very popular player, should get fantastic TOTS card and people would vote for him. 11 goals and 6 assists to his name, which should be enough for TOTS.
Now, with Dybala we can transit to attackers.
I feel like 4 players are quite obvious: Osimhen for sure will get fantastic card for his heroics in Napoli shirt. 23 goals in less than 30 games is even better.
Same goes to Khvicha. Man came to Italy and took over. Fans love him, he has double digits in goals and assists, good TOTS, hopefully some upgrade on WF and everyone happy. Will have enough Napoli TOTS to link him, so everyone happy.
Another player who is a lock – probably Lautaro Martinez. Lautaro wasn't at his best in 2022, but as soon as he came back from World Cup – he started blasting. 20 goals and 5 assists, very good numbers, actually not far away from Osimhen. Lautaro will get fantastic TOTS too.
And the last locked player is Rafael Leao. Fan favorite, multiple POTMs, 12 goals and 7 assists. Will get a lot of votes, will get fantastic card, we should move on.
First player that I have some doubts is Mattia Zaccagni. We need more Lazio players as SMS didn't do it all alone – and Zaccagni is a perfect candidate for that, as Immoble was out for a long time this season. 10 goals, 6 assists, good numbers, good performances, another LW, but it is what it is – a lot of good LWs play in Serie A, even after Insgine left.
And the last player most likely will be Ademola Lookman. I mentioned that Atalanta had a good season, especially 2nd half, but Ademola played very well in Winter and had some good performances after that too. 13 goals and 4 assists, great numbers, maybe deserves a moments card for his insane month of January.
That's probably it. Was kinda hard to choose defenders because there weren't load of choices and it was hard to choose midfielders, as there were loads of choices. But I still hope to hit loads of right guesses.
We might see someone like Bremer, Di Maria and Dia due to them having good seasons and overall their seasons were alright, so I wouldn't be surprised to see one of them being Moments.