News
The latest TOTW news
FIFA 23: Player of the Month Predictions - La Liga November POTM
---
Hello and Welcome to Player of The Month Predictions. This article will be about La Liga and their nominees for November.
This is one of the toughest months to predict POTM winner\nominees. Just because there were only 2 games in this month and it was hard to choose nominees. I've only found 5 players, not even 6 usuals. I might mention more than 5 players, but nonetheless it was hard.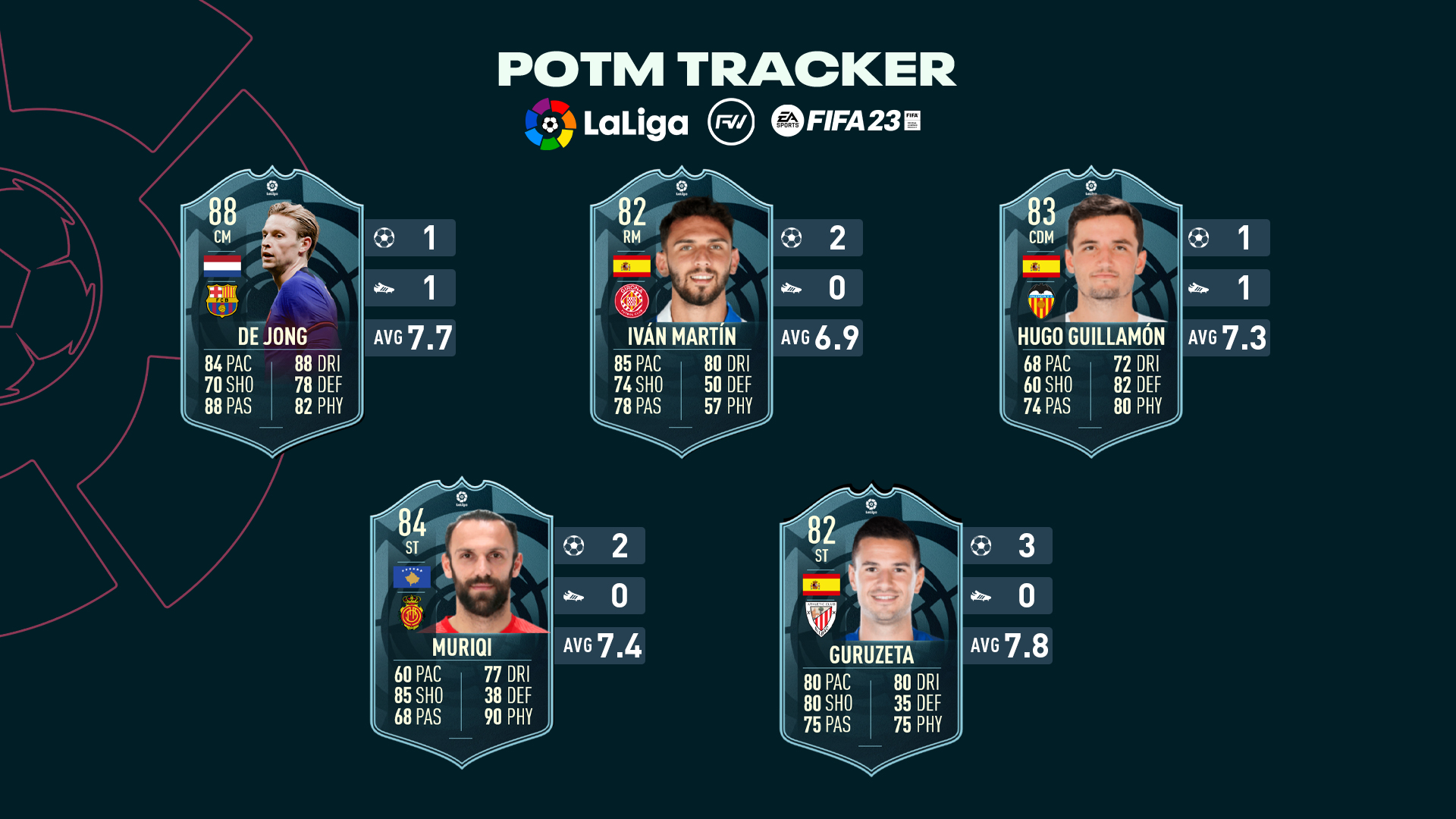 It was decent month and leader in La Liga changed – now Barcelona leads La Liga with 2 points over Real Madrid, because they won both games, while Real dropped points recently. And my first option will be from Barcelona. It's actually the only 1 high rated player that I found this month. Frenkie De Jong had a very nice month with 1 goal and 1 assist in 2 games. 1 goal in 2-0 win vs Almeria and important assist vs Osasuna in 2-1 win. Frenkie just got PTG card, so his POTM would be nearly useless, but still – if he wins, I'd expect him to be 88 rated, with only +1 over his normal card, as they usually do for most higher rated POTMs.
Next up – Mallorca and their successful month with 6 points out of 6. Both wins were vs top teams: 2-0 vs Villarreal and 1-0 vs Atletico Madrid and surely their main goal scorer Vedat Muriqi, who scored in both games – should get nominated. I'm sure many of you forgot that Muriqi got POTM last season in similar month to this and got an 86 rated card. This time I doubt it'll be THAT high, but 84 rated POTM would be deserved for him. He'd cost around 30k at max, imo and shouldn't be very popular, because links are very tough for him and his nation and club.
Hugo Guillamon from Valencia is my 3rd option. Despite scoring an own goal in 1-1 draw vs Sociedad, he managed to redeem himself with assist in that game and managed to score a goal vs Real Betis in 3-0 win. Valencia is turbulent this year, but I'd expect exactly that under Gattuso, but still, they are getting some nice results here and there and maybe after WC they'll perform better. Hugo is 74 rated silver, he should get 83 or a bit higher POTM, that wouldn't make him relevant. I expect him to be even cheaper, around 10-15k and wouldn't recommend completing him, unless you're Valencia fan.
I went from higher rated to lower rated cards, so you just know that it's not looking good. Last 2 options will be even lower rated and probably would need more than 2 upgrades to make them desirable.
Gorka Guruzeta from Athletic Bilbao managed to perform the best this month: 3 goals in 2 games, despite Bilbao losing 1 out of 2 games should make him at least nominee. 2 goals were scored vs Valladolid in 3-0 win and overall Athletic playing very well this season and currently stand at 4th place. Guruzeta would be 82 rated card, as his NIF is only 70 rating and he'd be meh, unless they'd make him 3-4 upgrades instead of 2. I think his price would be around 15k.
And the last: Ivan Martin from Girona. Spaniard scored 2 goals in 2 wins that finished 2-1 and should get some recognition, as Granada won 2 games out of 2 and went from relegation zone to midtable. Ivan would be 82 rated card and would be really cheap, so yeah, nothing special here.
It's very hard to write POTM based on 2 games, especially in a month where Real Madrid lost and Atletico Madrid still bad. I think Kroos could get nominee, but he got sent off for a first time in his career. Kroos would be the best option, but I doubt that he can win.

So yeah, I think FDJ is our best option, but I doubt that he'll win, compared to other stats. We'll see.