News
The latest TOTW news
FIFA 22: Player of the Month Predictions - La Liga November POTM
---
Hello and welcome to November Predictions of La Liga POTM. As per usual La Liga throws out a curveball and posts their nominees before last game day, so I'm trying to do the same this month.

Overall this month was dominated by league leaders and not a lot of surprises happened, that's why we should get a pretty good POTM. I've nominated 6 players and only 2 of them are barely usable, while 4 really nice picks.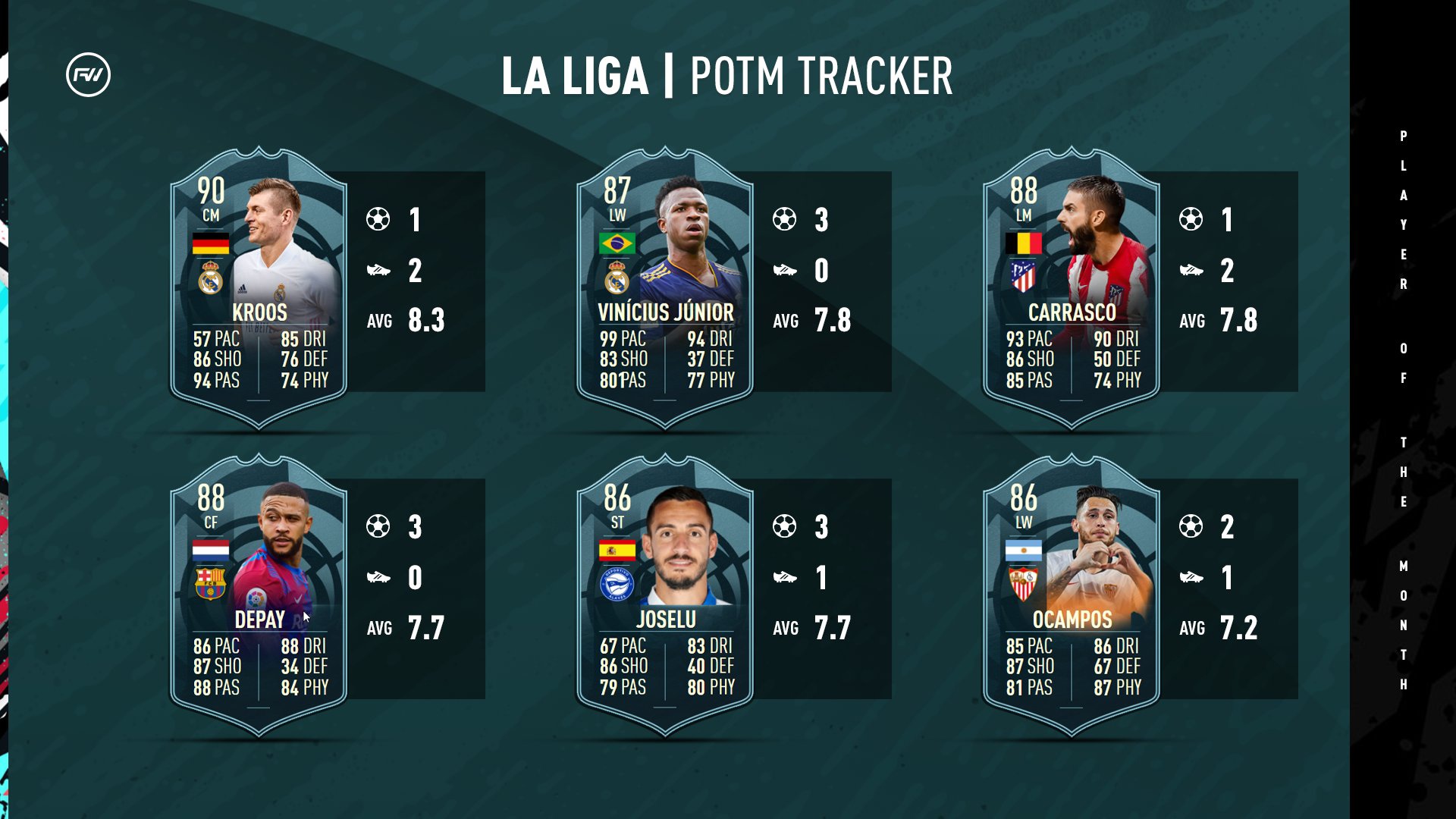 So, apart from 4 top teams - only Alaves had unbeaten section of games, they are on a run of 5 unbeaten games and crawled from the bottom of the league to 14th place and overall looking decent, especially considering they drew vs Barca. I have nominated from them Joselu. Joselu scored 3 goals and got 1 assist in 3 games over the past month. He got an assist vs Barcelona, scored 2 goals to get a win vs Levante and scored a penalty to get a draw away to Sevilla (which is surprising, considering Sevilla one of the better teams in the league). Joselu already had one IF, so if he wins he'll get 86 rated card, but sadly it'll be unusable. He's really slow and doesn't have any standout stat to his name, so he'll be a fodder. I guess he won't be worth more than 20k, and even that it's a bit too much for a card like that. But hey, at least we all know that Joselu is a legend for a TOTY Nomination by EA (was it FIFA 20, right?).

Next up is Sevilla player. I went with Lucas Ocampos and overall I'm not sure about this pick. Overall he didn't get a lot of good marks, but he got 2 goals and 1 assist and Sevilla won 2 out of 3 games. Drew to Alaves, as I've mentioned before, so not really a perfect month, but a good result vs Betis in a derby is a brightside. Overall, Ocampos was good, but if he won't get nominated - Acuna can get nominated. Acuna got a goal vs Betis and got 2 clean sheets with Sevilla in those 2 games. Ocampos would be 86 rated card with some alright stats, but there are better wingers in the league for in game purposes. I doubt that he'd be worth more than 40k and even that it's too much.

Memphis Depay, despite Barca playing bad or average, he managed to score in every single game of this month and somewhat carried Barca to not losing most of the games. Yes, he could've scored a lot more, but 3 in 3 should be enough for nomination at least. 1 goal in a win over Espanyol in derby, 1 goal in 3-3 draw against Celta, 1 goal in a draw against Alaves. Already 3rd time Alaves gets mentioned this article. Depay would be a very nice and popular POTM, he'd be 88 rated card with some sick stats. Note: OTW won't be upgraded if he wins POTM. Depay is always popular in FUT and it'd be a cool card. It would be a rather expensive card too. His IF is only 50k, so his 88 card would be around 200k probably. 3* WF is a bit of a let down, but still fun card.

Next one is Yannick Carrasco. This is 2nd winger in our article and still not the last one. Carrasco had a good month with Atletico: 1 goal and 1 assist vs Real Betis, then he was quiet vs Valencia in mad 3-3 game and then he got a game-winning assist vs Osasuna. Carrasco is very usable this year in FUT (similar to last year) and if he'll get an 88 rated card - it would be great. Some really nice stats, fast and very usable, 4* 4* and not that expensive. His first IF is only 25k, so POTM would cost around 150k in my opinion. Yeah, it's a bit unfair, because his tradable version is so cheap, but what can you even do - it's SBC prices this year. Carrasco has a good links of Lodi and Suarez and Llorente, so it won't be too big of a problem trying to fit him in a team, if he wins.

Now, even more expensive winger. Vinicius Jr. from Real Madrid. He's having an amazing season and he performed well in another month. He scored 2 goals vs Elche and managed to get 1 goal vs Granada. Yes, that's only 3 goals and maybe it's not as impressive this month, but overall Vini deserves at least nomination if not an award itself. This year Vini became really popular in FUT too, due to him getting SIF very fast, and this card would be another level. 99 pace already in December, before TOTY? It's fun. Maybe shooting is still not the best, but why you need to shoot when you just can run into a net with a ball. Vini's 2nd IF is around 215 to 300k depending on console, so his POTM would be around 500k I guess? Maybe even more, maybe less (but I don't expect less at all). He'd be so good in game and would be probably completed by a lot of people too. Links are there aswell: Lodi, Mendy, Casemiro, Benzema - a lot of choices. Will be annoying to play against.

And the last candidate, also from Real Madrid - Toni Kroos. 2 very good games for Tony, 1 goal and 2 assists. Goal against Rayo that lead to Real Madrid victory (he also managed to do last man's clearance) and 2 assists vs Granada in 4-1 win. Also he had a good performance vs Elche and overall Toni having a really good season in La Liga. Sadly we can't say that his FUT card is usable, due to pace, so we need some sort of promo card of him to make him usable (like Flashback last year). This time I think, if he'll win, he'll get 90 rated card and would be a nice fodder for a lot of people, if it'll be priced correctly (still don't expect it to be more than 50k).

So yeah, these were POTM Predictions for La Liga November POTM and to be fair it's hard to decide who's a favorite. No one really stood out in all 3 games and it's hard. That's why I think concept of announcing nominees before month is finished is flawed. Overall I think it should be one of VInicius or Carrasco for FUT purposes, but if we choose who really deserved it, it's probably Kroos. Consistent and good in all 3 games. After last month's POTM I honestly don't expect anything, because least likeliest candidate won it.