News
The latest TOTW news
FIFA 22: Marquee Matchup Predictions 25th of November
---
Hello and welcome to Marquee Matchups predictions for another week.

As there's club football – there're a lot of options, but at least I can sense some logic in picks, that's probably why I got 34 last week. Still don't know why EA choose Fiorentina vs Milan over Inter vs Napoli, but it was a good game too. Fiorentina won 4-3 in exciting game.

This week we can expect a lot of good games, again, Serie A leads the way in my predictions, I'm trying to hit 44 and maybe it'll finally happen this week.

Good games in Premier League, La Liga and Bundesliga are included too. Let's do this.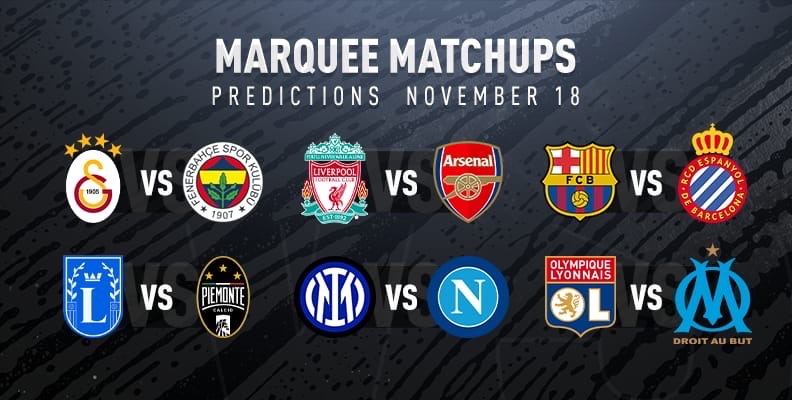 Chelsea vs Manchester United
Main highlight of the weekend in Premier League. United changed the manager, but didn't appoint anyone yet, so this can be a very rough game for them. Chelsea are looking fantastic, even their away kit looks good. Wondering how long until teams will start figuring them out, but they're looking unstoppable right now. But overall, it's probably the last hard game for United for few months, they have adequate schedule and It's good news for United fans. Still fully expect to Chelsea win easily.

Most likely requirements:
-1 player per team
-Team overall 77-79+
-Overall Chemistry 80+
-At least 3 rares
-Max players per league: 4
Real Madrid vs Sevilla
Great game in La Liga between 2 teams up top of the table. Real Madrid comfortably sitting at 1st with game in hand, Sevilla 3rd with 2 points behind Real Madrid with same number of games. Sevilla conceded only 9 goals this season in 13 games (only Athletic from Bilbao conceded less goals), while Real Madrid scored most goals in the league (and by far. They are on 32 and Sevilla on 2nd place with 23). Overall, it seems like 2 best teams in the league are meeting and I expect a very close game. But yeah, La Liga is very close this year up top, literally 5 good teams and it's interesting to watch. Excited for this clash.

Most likely requirements:
-1 player per teamleague
-Team overall 76-78+
-Overall Chemistry 80+
-Max players per nation: 3
Wolfsburg vs BVB RB Leipzig vs Bayer
2 great games in Bundesliga. Firstly, I've chosen a fixture between Wolfsburg and BVB, 2 teams that were battling for Champions League last season and managed to get in, this year is a bit different. BVB still playing well, even with Haland being injured, they sit only 1 point behind Bayern. Wolfsburg already changed the manager, but they sit decent 6th position, only 1 point behind Champions League place, so their season isn't completely doomed. Game should be exciting, even tho Wolfsburg don't score a lot of goals. 2nd game is a clash between 4th and 7th teams. Both are very exciting and young squads. Leverkusen and RB scored 3rd and 4th number of goals in the league, straight after BVB and Bayern. Maybe we'll see a lot of goals again!

Most likely requirements:
-1 player per teamleague
-Team overall 75-77+
-Overall Chemistry 80+
-Max players per nation: 3
Napoli vs Lazio Juventus vs Atalanta
Another 2 good games in Serie A. Every week I include Serie A games, because there just a lot of good games in the league. First, we have Napoli vs Lazio. 2 fun and good teams. Napoli been a bit struggling recently and Lazio been a bit turbulent so far. I still think Lazio will become better as the season goes on, because that's how Sarri works. It's going to be good. Napoli still leading the league with 4 points ahead of 3rd place Inter, but recent games been a bit unlucky for them. Still race for Scudetto is on and it's very interesting.
Juventus vs Atalanta recently became a rivalry. Teams are selling and buying players from each other teams and on the pitch games between those 2 teams are always exciting. Juve still enigma this season to me, their results sometimes good sometimes bad. Atalanta already sit at 4th spot and I'm sure they are looking to get into Champions league by the end of the season. Can't wait for this game too.

Most likely requirements:
-1 player per clubleague
-Team overall 76-78+
-Overall Chemistry 80+
-Max players per nation: 3
Wild card game of the week: Genk vs Club Brugge. It's Belgium League, so you'll never know, but these are 2 most successful clubs in the league recently and it's going to be a nice watch. Teams are separated by 6 points, Club Brugge sit at 3rd place, Genk sit at 8th with some bad results in their last 5 games. Still, the league is close and it's going to be a nice game for sure. Last week I guessed right game in Turkish league, so maybe I'll get lucky once again.

What to invest in: As per usual – get 1-2 player from each team or just league and you'll be safe. Requirements are quite easy so far, so I don't expect anything exceptional.