News
The latest TOTW news
FIFA 22 Team of The Week Predictions: Week 17
---
Hello and welcome to week 17 of our TOTW Predictions. Okaaaaaaay, let's gooooo.
We continuing our quest for good scores every week and we need to get 15+ guesses right and we'll do it live. This week was hard. Due to FA Cup games – there won't be PL players in this TOTW. But there will be a lot of Serie A players.

Sadly, for TOTW enjoyers – Bayern lost, so there will be one less good pick. But there will be Lainer from Borussia Monchengladbach, who was named MOTM in their 2-1 win over Bayern. There still should be nice players in Bundesliga that should get TOTW: Bellingham was named MOTM and got nice Kicker rating for their comeback over Eintracht Frankfurt. Bebou scored 2 goals for Hoffenheim and we should get a nice striker option. Apart from them – there is Nkunku. Yes, another one. He came as a sub. He saw, he came, he conquered. Got 1 goal and 2 assists and was named POTW and should get a nice card that would boost his Headliner too.

Speaking about Headliners – I think I'm doing a mistake, but I'm not including Vinicius. His HL is currently in packs and I dunno if EA will give him another IF. But we'll see, it's possible. But I'm including Luis Diaz from Porto, who scored and assisted in mad comeback from 0-2 to 3-2. He was robbed multiple times of his SIF, and I think this time it'll happen. I was going to include Jonathan Clauss, but here is my thought process: They can include him and boost his SBC card and that way more people would get him… or otherway: don't include it and make SBC still good but not that amazing. I think 2nd option is more likely with how they are doing content this year.
Let's move to Serie A. Bastoni scored and assisted in a good game against Lazio. This should be his TIF. Where's his HL, EA? Amazing season for young Italian CB. Theo Hernandez also having good season. He scored 2 goals vs Venezia and Milan won 3-0. They are only 1 point behind Inter and title race going to be exciting this season until the end (or the next Milan Derby). Milinkovic Savic had a great game midweek, Berardi on the weekend. I decided to include Morata for a game vs Roma. I know, he didn't have a very good stats and only 1 assist, but I haven't had any other real option.
Speaking about Real – Luka Modric from Real deserved TOTW ages ago. Maybe this time he finally gets it. He was very good vs Valencia, despite not having goals or assists.
That's probably it for highlights on the weekend or last week. Yeah, TOTW isn't that great, but knowing EA – they'll include someone like Kante to make it better.
Good luck with your packs.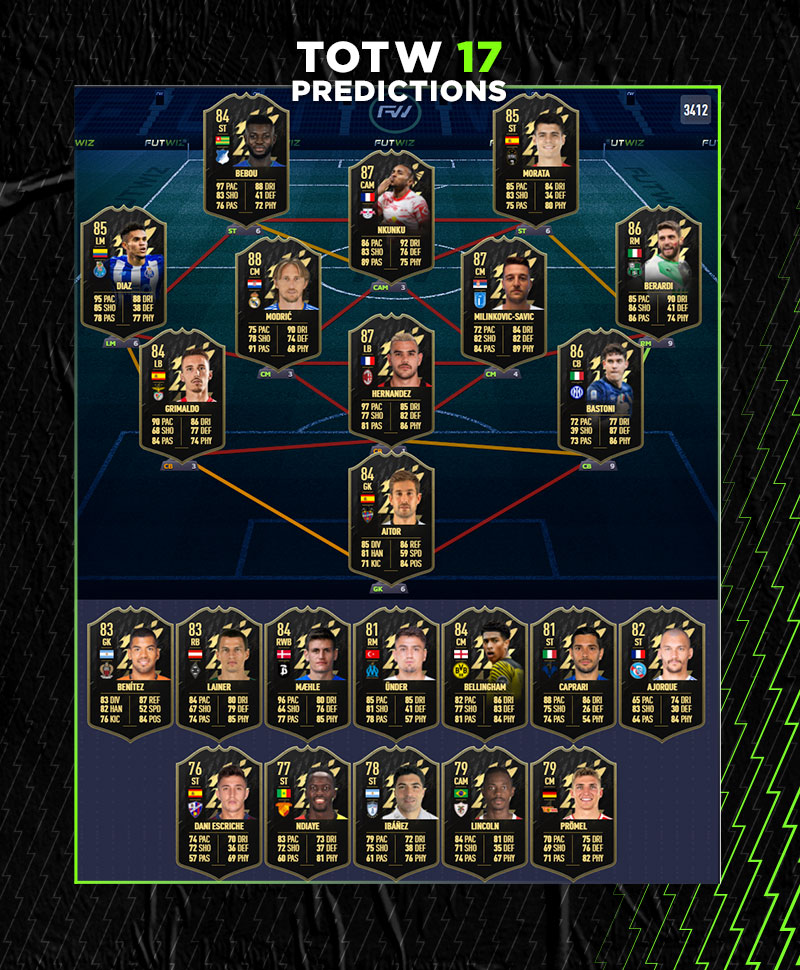 Starting 11:
GK: Aitor (Levante) –81>84 – 9 saves in 2-0 win (SUN)
LB: Grimaldo (Benfica) – 82>84 – 1 goal in 2-0 win (SUN)
LB: Theo Hernandez (Milan) – 84>>87 – 2 goals and CS in 3-0 win (SUN)
CB: Alessandro Bastoni (Inter) – 80>>87 – 1 goal and 1 assist in 2-1 win (SUN)
RM: Domenico Berardi (Sassuolo) – 81>>86 – 1 goal and 2 assists in 5-1 win (SUN)
CM: Luka Modrid (Real) – 87>88 – Good performance in 4-1 win (SAT)
CM: Sergej Milinkovic-Savic (Lazio) – 85>>87 - 2 goals and 1 assist in 3-3 draw (WED)
LM: Luis Diaz (Porto) – 80>>85 – 1 goal and 1 assist in 3-2 win (SAT)
CAM: Christopher Nkunku (RB Leipzig) – 81>>87 - 1 goal and 2 assists in 4-1 win (SAT)
ST: Ihlas Bebou (Hoffenheim) – 77>>84 - 2 goals in 3-1 win (SAT)
ST: Alvaro Morata (Juventus) – 83>85 – 1 assist in 4-3 win (SUN)
Subs:
CB: Walter Benitez (Nice) – 80>83 – 9 saves and cs in 3-0 win (SUN)
RB: Stefan Lainer (Borussia Monchengladbach) - 80>83 – 1 goal in 2-1 win (FRI)
RWB: Joahkim Maehle (Atalanta) – 77>84 – 1 goal and 1 assist in 6-2 win (SUN)
CM: Jude Bellingham (BVB) – 79>>84 – 1 goal in 3-2 win (SAT)
LM: Cengiz Under (Marseille) – 77>81 – 1 goal in 1-0 win (FRI)
CF: Gianluca Caprari (Hellas) – 75>81 - 2 goals in 2-1 win (THU)
ST: Ludovic Ajorque (Strasbourg) – 78>82 - 1 goal and 1 assist in 2-0 win (SUN)
Reserves:
CAM: Lincoln (Santa Clara) – 72>79 – 1 goal and 1 assist in 3-2 win (FRI)
ST: Cherif Ndiaye (Goztepe) – 68>77 – 3 goals in 4-0 win (SUN)
ST: Nicolas Ibanez (Pachuca) – 71>78 – 2 goals in 2-0 win (FRI)
RM: Dani Escriche (Huesca) – 66>75 – 2 goals and 1 assist in 3-0 win (SAT)
CM: Grisha Promel (Union Berlin) – 72>79– 2 goals in 2-2 draw (SAT)