News
The latest TOTW news
FIFA 22 Team of The Week Predictions: Week 10
---
Hello and welcome to week 10 of our TOTW Predictions. Okaaaaaaay, let's gooooo.
Well, last week was average in terms of results, but that's international break for you. What I didn't expect is TOTW to be worse than I expected. But it was bad, apart from 1 main man Mbappe.
This week, I'm trying to get a good result once again, and this week is a good opportunity for that. Yes, there're few 50\50 as per usual, but overall list of players is short so let's do this.
Main highlight to me is Kante. He scored a nice goal for Chelsea in 3-0 win over Leicester. Ruidger can make it, but everyone I think would prefer Kante, especially after Rulebreakers Rudiger. Same goes to Liverpool. SIF Mane is possible, but I went with long-awaiting IF TAA. He got 2 asssists vs Arsenal and was amazing and feels like his IF is overdue (even tho he was in RB promo too).
Apart from that... it's hard to highlight many players: I went with Lautaro from Inter's win over Napoli, as he scored deciding goal (Handanovic or Perisic are possibilities). Same goes to Ajax game: Haller and Berghuis are possible and I'm picking Steven as I have his OTW and want an upgrade (yeah, that's my logic). Bonucci scored 2 goals vs Lazio from penalties, Felipe scored a winner for Atletico, Benteke scored another 2 goals, Stindl got 3 assists, Iago got an assist vs Bayern. Phew, that's the most people got covered.
Overall TOTW is bad. Only reason to play WL - pray for Kante and get TOTW Pack for possible Black Friday.
Good luck with your packs.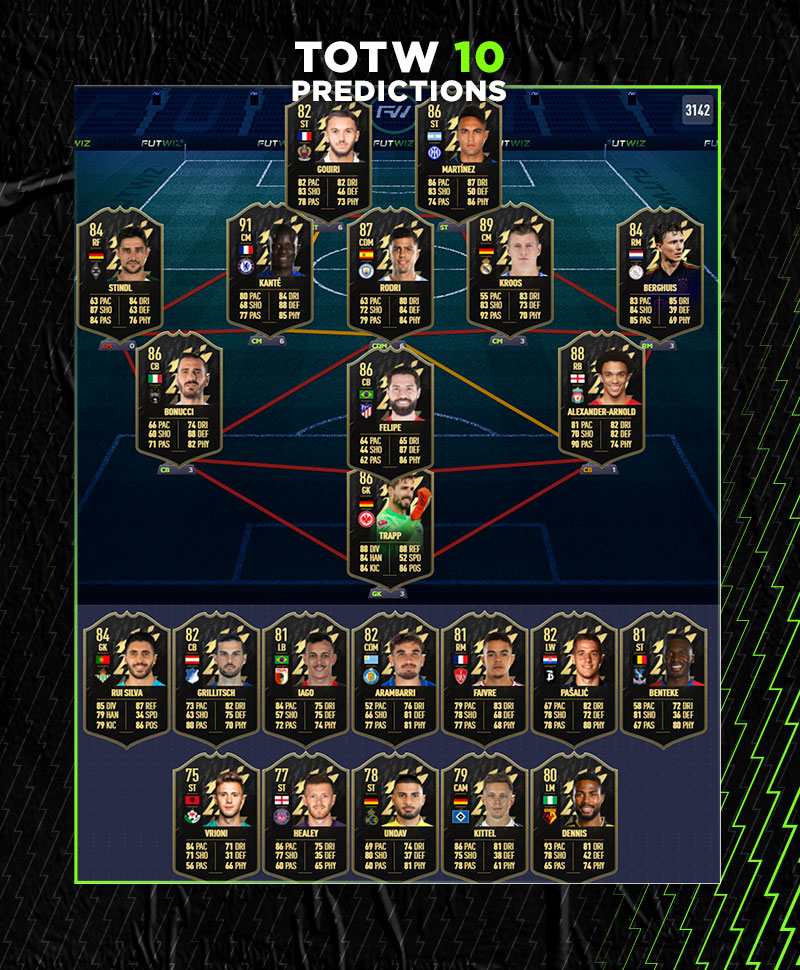 Starting 11:
GK: Kevin Trapp (Eintracht) – 82>>86 – 6 saves in 2-0 win (SUN)
CB: Leonardo Bonucci (Juventus) – 85>86 – CS and 2 goals in 2-0 win (SAT)
CB: Felipe (Atletico Madrid) – 84>86 – CS and 1 goal in 1-0 win (SUN)
RB: Trent Alexander-Arnold (Liverpool) – 87>88–2 assist and cs in 4-0 win (SAT)
RM: Steven Berghuis (Ajax) – 81>84 – 2 goals in 5-0 win (SUN)
RF: Lars Stindl (Borussia Monchengladbach) – 82>84 - 3 assists in 4-0 win (SAT)
CM: Tony Kroos (Real Madrid) – 88>89 - 2 assists and MOTM in 4-1 win (SUN)
CM: Ngolo Kante (Chelsea) – 90>91 – 1 goal and cs in 3-0 win (SAT)
CDM: Rodri (Man City) – 86>87 - 1 goal and cs in 3-0 win (SUN)
ST: Lautaro Martinez (Inter) – 85>86– 1 goals in 3-2 win (SUN)
ST: Amine Gouri (Nice) – 78>82 - 2 goals in 2-1 win (SUN)
Subs:
GK: Rui Silva (Betis) – 81>84 – 4 saves in 3-0 win (SUN)
LB: Iago (Augsburg) - 76>81 - 1 assist and cs in 2-1 win (FRI)
CB: Florian Grillitsch (Hoffenheim) - 79>82 – cs and MOTM and 2-0 win (SAT)
CDM: Mauro Arambarri (Getafe) – 79>82 – 2 assists in 4-0 win (SUN)
RM: Romain Faivre (Brest) – 75>81 – 1 goal and 1 assist in 4-0 win (SUN)
ST: Christian Benteke (Crystal Palace) – 75>81 - 2 goals in 3-3 draw (SAT)
LW: Mauro Pasalic (Atalanta) – 78>82 - 2 goals and 1 assist in 5-1 win (SAT)
Reserves:
ST: Giacomo Vrioni (Tirol) – 65>75 – 2 goals and 1 assist in 5-1 win (SUN)
ST: Rhys Healey (Toulouse) – 66>76 – 4 goals in 4-1 win (SAT)
ST: Deniz Undav (RUSG) –69>78 - 4 goals and 1 assist in 7-1 win (SUN)
CAM: Sonny Kittel (HSV) – 73>79 – 1 goal and 2 assists in 4-1 win (SAT)
LM: Emmanuel Dennis (Watford) – 74>80– 1 goal and 2 assists in 4-1 win (SUN)