News
The latest TOTW news
FIFA 22 Team of the Week Prediction: Week 4
---
Hello and welcome to week 4 of our TOTW Predictions
Week 4 already? I hoped that you saved your WL IF packs for this week, because it might be the best week yet in FUT.

A lot of players performed well on international duty, for example Mbappe managed to score 2 goals and get 2 assists in 2 games of Nations League. Ferran Torres scored 2 vs Italy and should get a spot too.

Mane as a CAM in 4-2-3-1 Senegal team scored 1 goal and got 2 assists in their win, Mahrez scored a free kick and penalty, Andrew Robertson got 2 assists in 3-2 exciting win. Sancho got 2 assists vs Andorra and it should be enough.

People are excited by a prospect of potential Josko Gvardiol IF who can get Featured TOTW and be 84 rated and will be extremely fast.

Marquinhos has a slight chance of IF, it's between him and Raphinha to be fair, but I went with Marquinhos who helped me to choose more defenders.

Goalkeepers were hard to choose, but I went with Ospina who had 2 quality games and got 2 CS, and Keylor Navas who saved Costa Rica in a game vs Honduras.

Some lower rated players can get IF, like Yaremchuk, Valencia, Choupo-Moting – they all had at least 2 contributions in their wins, so yeah they should be in. InForm choice for Argentina was hard. They won 3-0, Lo Celso got 2 assists, but Emi Martinez and De Paul played well too. I went with Gio, but any of the trio can get it.

So yeah, these are my picks, but few things can change if we'll have some nice performances on Monday.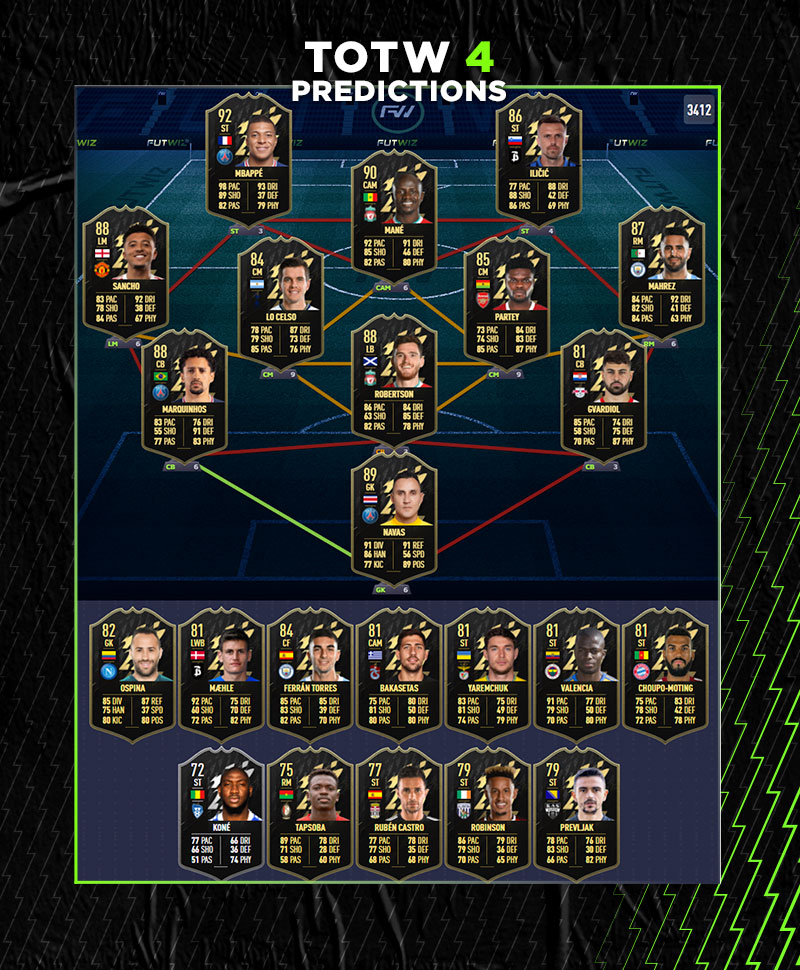 Starting 11:

GK: Keylor Navas (PSG) – 88>89 – 6 saves in 0-0 draw (THU)
LB: Andrew Robertson (Liverpool) – 87>88– 2 assists in 3-2 win (SAT)
CB: Marquinhos (PSG) – 87>88 – 1 goal and CS in 3-0 win (THU)
CB: Josko Gvardiol (RB Leipzig) – 75>81– 1 goal and cs in 3-0 win (SAT)
LM: Jaydon Sancho (Man Utd) – 87>88 – 2 assists in 5-0 win (FRI)
CM: Gio Lo Celso (Spurs) – 81>84 - 2 assists in 3-0 win (MON)
CM: Thomas Partey (Arsenal) – 83>85 - 1 goal in 3-1 win (FRI)
RM: Ryiad Mahrez (Man City) – 86>87– 2 goals in 5-0 win (FRI)
CAM: Sadio Mane (Liverpool) – 89>90– 1 goal and 2 assists in 4-1 win (SAT)
ST: Josip Ilicic (Atalanta) – 84>86 - 2 goals in 4-0 win (FRI)
ST: Kylian Mbappe (PSG) – 91>92 - 2 goals and 2 assists in 2 wins

Subs:

GK: David Ospina (Napoli) – 79>82 – 6 saves in 0-0 draw (MON)
LWB: Joakim Maehle (Atalanta) - 77>81- 1 goal and cs in 4-0 win (SAT)
CF: Ferran Torres (Man City) - 82>84 – 2 goals in 2-1 win (WED)
CAM: Anastasios Bakasetas (Trabzonspor) – 77>81 - 1 goal in 2-0 win (SAT)
ST: Roman Yaremchuk (Benfica) – 77>81 – 1 goal and 1 assist in 2-1 win (SAT)
ST: Enner Valencia (Fenerbahche) – 77>81 - 3 goals in 2 games
ST: Eric Maxim Choupo-Moting (Bayern) – 75>81 - 2 goals in 3-1 win (FRI)

Reserves:
ST: Ibrahima Kone (Sarpsborg) – 62>72 – 4 goals and 1 assist in 2 wins
RM: Abdoul Tapsoba (Standart) – 66>75 – 2 goals in 4-0 win (THU)
ST: Ruben Castro (Cartagena) - 67>77- 2 goals and 1 assist in 5-1 win (FRI)
ST: Callum Robinson (West Bromwich) – 72>79 – 2 goals in 3-0 win (SAT)
ST: Smail Prevljak (Eupen) – 73>79– 2 goals in 2-0 win (SAT)