News
The latest TOTW news
FIFA 21 Team of The Week Predictions: Week 32
Hello and welcome to week 31 of our TOTW Predictions
---
Lately results been decent, even tho some picks in TOTWs are hard to understand, but that's what you get during TOTS. Always feel like I'm on a bomb, when I'm choosing players, because this one should be in TOTS soon, this one was in TOTS and this one might get SBC. Let's see what happens this week.
First of all - I haven't included Messi or any Barca player because La Liga TOTS is coming and i doubt that anyone makes it in TOTW over TOTS (surely not Messi). CR7 - I don't think it's enough for his IF. He'll get TOTS soon too, but he has a chance - if I miss him - no regrets, it's my own fault.
Now, other players. Picking this TOTW was hard because there was no Bundesliga match day and no biggest game in England, so I tried to find players from other leagues\games that were played and some of those choices aren't as good as I wanted them to be.
Included Aubameyang with 1 goal and 1 assist over Newcastle, while I wouldn't include him any other week. Havertz should finally get an IF, anyone still owns his OTW? Bale scored hat trick right after he got SBC. Don't know what will happen, but hard to exclude him.
Depay had an amazing game for Lyon vs Monaco and got 8 on L'equipe, he should be in. Nantes players were included in TOTW for L'equipe for their good game, but I've chosen Simon for 1G and 1A. Celik scored a goal for Lille and kept a clean sheet. Marquinhos played a good game too.
Luis Alberto vs Immobile was my main debate. I went with Alberto, as I really needed midfielders, both players got 1 goal and 1 assists, so maybe both will be excluded.
Militao scored a goal for Real Madrid, it was a nice game from Brazilian overall and he deserves a special card for his good run of form last month or so.
Cyle Larin scored 4 goals, Kike scored 3, Palacio scored 3. Both GKs in my line up - saved pens. Audero did it vs Roma, Consigli did it vs Atalanta. Both didn't lose - that's why I included them.
Who else... Harry Wilson scored hat-trick with some amazing goals, but that's all for highlights - as I've said - finding players for this TOTW was really hard, as selection was really limited.
Also German Pokal games don't count for TOTW, that's why there's no BVB player.
Good luck with your TOTS reds and packs!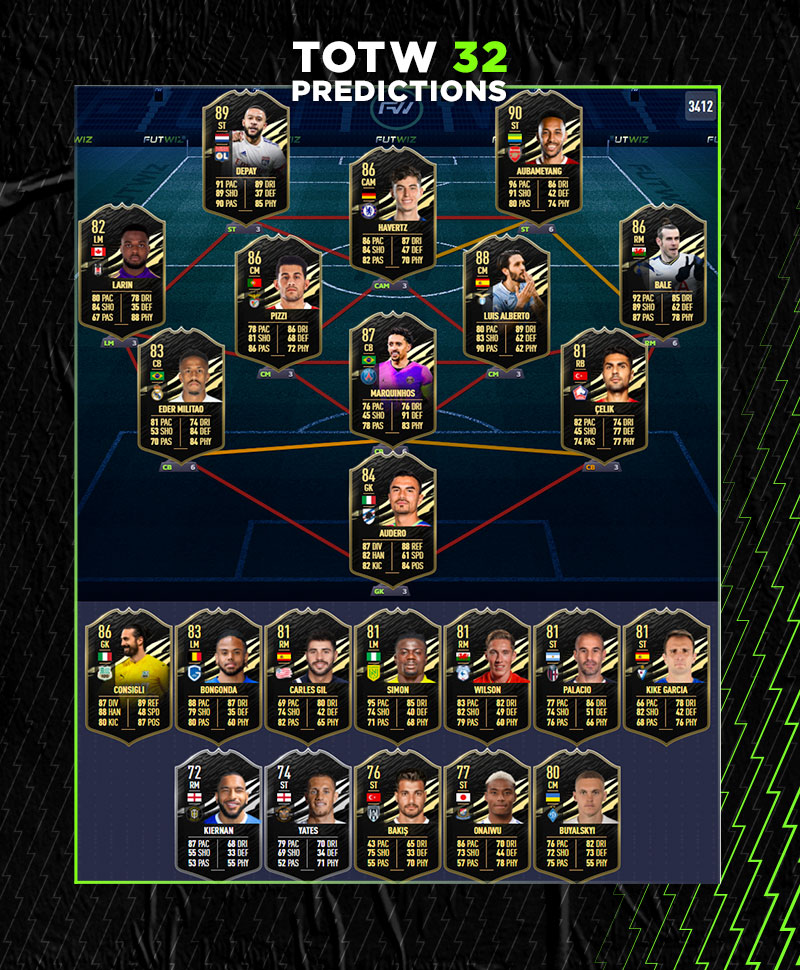 Starting 11:
GK: Andrea Consigli (Sassuolo) – 81>>86 – 7 saves and pen save in 1-1 draw (SUN)
CB: Eder Militao (Real Madrid) – 80>83 - 1 goal and CS in 2-0 win (SAT)
RB: Zeki Celik (Lille) – 77>81 – 1 goal and CS in 2-0 win (SAT)
CB: Marquinhos (PSG) – 85>>87 – 1 goal in 2-1 win (SAT)
LM: Cyle Larin (Besiktas) – 71>>82 – 4 goals in 7-0 win (SAT)
CM: Luis Alberto (Lazio) – 85>>88 – 1 goal and 1 asssist in 4-3 win (SUN)
CM: Pizzi (Benfica) – 84>>86 – 1 goal and 1 assist in 2-0 win (THU)
RM: Gareth Bale (Spurs) – 83>>86– 3 goals in 4-0 win (SUN)
CAM: Kai Havertz (Chelsea) – 85>86 – 2 goals in 2-0 win (SUN)
ST: Pierre-Emeric Aubameyang (Arsenal)– 87>>90 – 1 goal and 1 assist in 2-0 win (SUN)
ST: Memphis Depay (Lyon) – 85>>89 - 1 goal and 1 assist in 3-2 win (SUN)
Subs:
GK: Emil Audero (Sampdoria) – 77>>84 - 6 saves and pen save and cs in 2-0 win (SUN)
LW: Theo Bongonda (Gent) - 74>>83- 2 goals and 1 assist in 3-2 win (SAT)
RM: Carles Gil (New England Revolution) - 76>>81 – 1 goal and 1 assist in 2-1 win (SUN)
LM: Moses Simon (Nantes) – 77>81 - 1 goal and 1 assist in 4-1 win (SUN)
RW: Harry Wilson (Cardiff) – 76>81 - 3 goals in 4-0 win (SAT)
ST: Rodrigo Palacio (Bologna) - 75>81 - 3 goals in 3-3 draw (SUN)
ST: Kike (Eibar) – 77>81 – 3 goals in 4-0 win (FRI)
Reserves:
RM: Brendan Kiernan (Harrogate Town)– 62>72 – 3 goals in 5-4 win (FRI)
ST: Jerry Yates (Blackpool) – 64>74 –2 goals and 1 assist in 3-0 win (SAT)
ST: Sinan Bakis (Heracles) – 67>76- 3 goals in 4-0 win (SAT)
ST: Ado Onaiwu (Yokohama F-Marinos) – 69>77 – 3 goals in 3-0 win (SAT)
CM: Vitaliy Buyalski (Dynamo Kiev) – 74>80 – 3 goals in 5-1 win (SAT)