News
The latest TOTW news
FIFA 21 Team of the Week Prediction: Week 8
A lot of heroes and OTWs in this TOTW Prediction!
---
Hello and welcome to week 8 of our TOTW Predictions powered by Score More With Xbox!
Somehow managed 19 right picks last week, it was surprising and at the same time it was kinda easy to predict last week's TOTW.

This week was an international break, so it's never going to be easy. A lot of choices, a lot of performances, some heroes here and there and a lot of quality players.

International week delivered. A lot of good players, a lot of OTWs.

Let's go with OTWs first: I included only 3 OTWs, but it can easily be 4. Osimhen is a most doubtful one – he scored 1 goal and got 2 assists, but it was in 4-4 draw, Nigeria chocked 4-0 lead, yeah, happens. Vidal should be a lock with 2 goals to his name in 2-0 win, Hakimi over Ziyech due to 2 week rule. I think there's a very low chance of Ziyech to be included.

There might be Timo Werner too, but I went for Goretzka, as Leon was named MOTM by most of outlets, so I picked him. Maybe Werner will happen, but I doubt. It's just my opinion.

2 Liverpool players performed well too. Mane scored 2 goals and got 1 assist in 2 games, Wijnaldum scored 2 goals in first win of new Netherlands manager. Both should be in.

Kante or Varane is another choice: Kante scored a goal and got a nice mark, but Varane got the same mark by L'equipe, so I'm still undecided. I included Kante, but Varane might happen. Other choices seems pretty understandable by my typical explanations. There're might be few players that I missed, especially in defense, but it was really hard to choose defenders.

Good luck with your reds, they should be really good.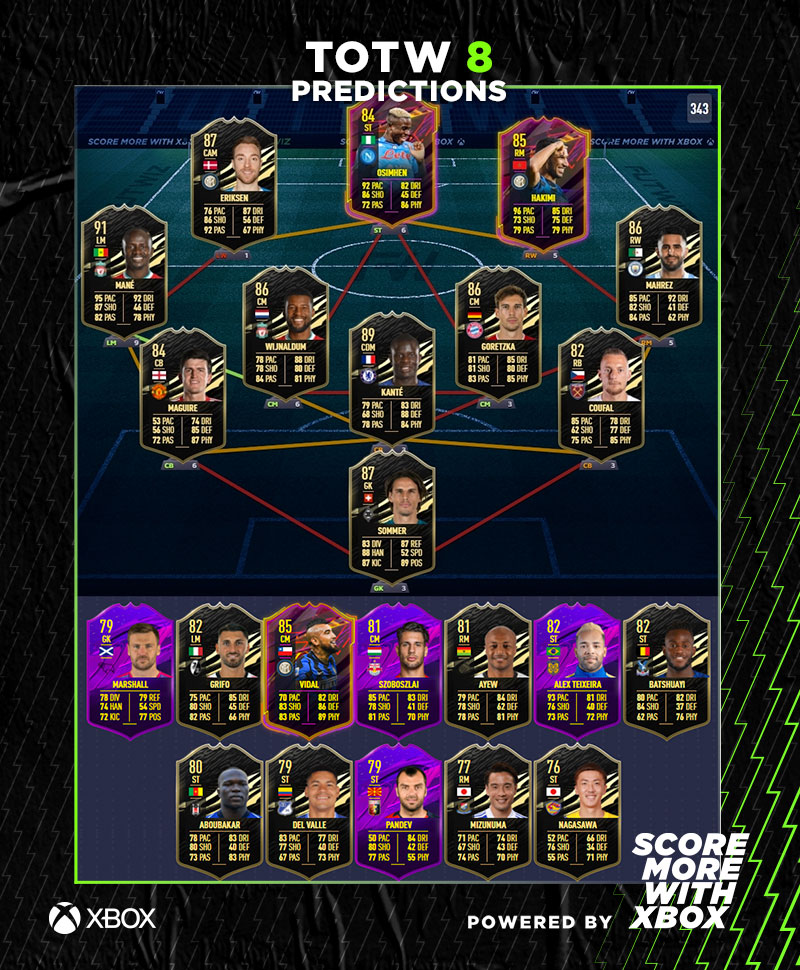 Starting 11:

GK: Yann Sommer (Borussia M'gladbach) – 86>87– 4 saves and 2 pen saves in 1-1 draw (SAT)
CB: Harry Maguire (Man Utd)– 82>84–1 goal and CS in 3-0 win (THU)
CDM: Ngolo Kante (Chelsea) – 88>89 – 1 goal in 1-0 win (SAT)
RB: Vladimir Coufal (West Ham) – 78>82– 1 assist and cs in 1-0 win (SUN)
CAM: Georginio Wijnaldum (Liverpool) – 85>86– 2 goals in 3-1 win (SUN)
LM: Sadio Mane (Liverpool) – 90>91– 2 goals and 1 assist in 2 wins
CM: Leon Goretzka (Bayern) – 84>86 - 2 assists in 3-1 win (SAT)
RW: Ryad Mahrez (Man City) – 85>86- 1 goal and 1 assist in 3-1 win (THU)
RM: Achraf Hakimi (Inter) – 83>85– 1 goal and 1 assist in 4-1 win (FRI)
CAM: Christian Eriksen (Inter) – 85>>87 - 2 goals in 2-0 win (SUN)
ST: Victor Osimhen (Napoli) – 79>>84 - 1 goal and 2 assists in 4-4 draw (THU)

Subs:

GK: David Marshall (Derby) – 72>78 – 3 saves and pen save in 1-1 pen win (THU)
LM: Vincenzo Grifo (Freiburg) - 78>82- 2 goals in 4-0 win (FRI)
CM: Athuro Vidal (Inter)- 83>85 – 2 goals in 2-0 win (FRI)
CAM: Dominic Szoboslai (RB Sazlburg) – 75>81- 1 goal in 2-1 win (THU)
RM: Andre Ayew (Swansea) – 76>81- 2 goals in 2-0 win (FRI)
ST: Alex Teixeira (Jiangsu) – 80>83- 1 goals in 2-1 win (FRI)
ST: Michy Batshuayi (Crystal Palace) – 79>82 – 2 goals in 2-1 win (WED)

Reserves:
RB: Vincent Aboubakar (Besiktas)– 74>80– 2 goals in 4-1 win (FRI)
ST: Ayron Del Valle (Millonarios) – 72>78 – 3 goals in 6-1 win (SUN)
ST: Goran Pandev (Genoa) – 72>78- 1 goal in 1-0 win (FRI)
RM: Kota Mizunuma (Yokohama F. Marinos) – 69>77 – 1 goal and 3 assists in 6-2 win (SAT)
ST: Shun Nagasawa (Vegalta Sendai) – 67>76 – 3 goals in 4-0 win (SAT)