News
The latest TOTW news
FIFA 21 Team of the Week Prediction: Week 3
Week 3 of our FIFA 21 TOTW Predictions powered by Score More With Xbox!
---
Time has flown - we're already into week 3 of our FIFA 21 TOTW Predictions powered by Score More With Xbox!
Compared to the last 2 TOTWs I wouldn't be so excited about TOTW 3. Although the International TOTW usually produces some nice cards it might be a little dry this week, as most of the games were fairly tame and low scoring.

It was honestly a struggle to find 23 players who put in TOTW worthy performances, but here we are. Let's see what team we can put together and I'll talk about the reasoning behind each decision!

Let's do it.

Probably the main highlight of the week is going to be Firmino scoring 2 goals for Brazil in 5-0 victory, he's quite popular player in FUT this year and he might become even better. Neymar had a good game too, but he wasn't included last week with 2 goals and 1 assist, so I didn't include him this week for two assists.

I included a bit of a wild-card pick in Sergio Ramos. He might not get an IF but he had an awesome game against Switzerland and was MOTM so I think he deserves an IF.

We should get the first OTW upgrade already, Martin Odegard assisted 2 goals for Norway which should be enough to get him into the TOTW. Although his team mate Haaland scored 3, he can't be included as he was in TOTW last week.

Apart from that there are some decent IFs, like Muriel who scored 2 goals or SMS with 2 goals against Norway too.

As per many international TOTW weeks hopefully we'll get a surprise or two who improve the team that I've put together!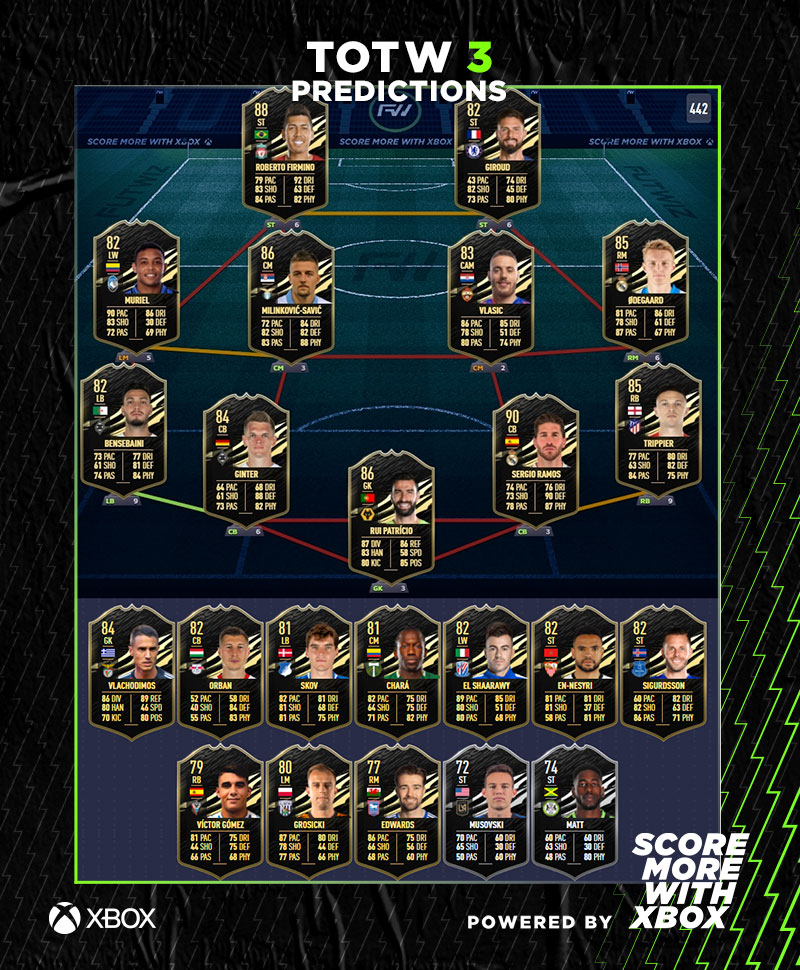 Starting 11:
GK:
Rui Patricio
(Wolves) – 84>>
86
– 4 saves in 0-0 draw (SUN)
LB:
Ramy Bensebaini
(M'gladbach
)
– 79>
82
– 1 goal and cs in 1-0 win (FRI)
CB:
Christian Ginter
(M'gladbach) – 82>>
84
–1 goal in 2-1 win (SAT)
CB:
Sergio Ramos
(Real Madrid) – 89>
90
– cs and MOTM in 1-0 win (SAT)
RB:
Kieran Trippier
(Atletico Madrid) – 83>
85
– 2 assists and 1 CS in 2 games
LM:
Luis Muriel
(Atalanta) – 79>
82
– 2 goals in 3-0 win (FRI)
CM:
Sergej Milinkovic-Savic
(Lazio) – 85>
86
- 2 goals in 2-1 win (THU)
CM:
Nikola Vlasic
(CSKA) – 80>
83
- 1 goal in 2-1 win (SUN)

RM:
Martin Odegaard
(Real Madrid) – 83>
85
– 2 assists in 4-0 win (SAT)

ST:
Roberto Firmino
(Liverpool) – 87>
88
- 2 goals in 5-0 win (THU)

ST:
Oliver Giroud
(Chelsea) – 79>
82
- 2 goals in 7-1 win (THU)

Subs:
GK: Odysseas Vlachodimos (Benfica) – 81>84 – 5 saves in 2-0 win (SAT)
CB: Willy Orban (RB Leipzig) - 79>82- 1 goal and 1 cs in 2 wins
LB: Robert Skov (Hoffenheim)- 77>81 – 1 goal and 1 cs in 3-0 win (SUN)
LW: Stephan El Shaarawy (Greenland Shenhua) – 79>82- 2 goals in 6-0 win (THU)
CDM: Diego Chara (Portland) – 76>81- 2 assists in 3-0 win (SUN)
ST: Youssef En-Nesyri (Sevilla) – 78>82- 1 goal in 3-1 win (FRI)
ST: Gylfi Sigurdsson (Everton) – 79>82 – 2 goals in 2-1 win (FRI)

Reserves:
RB: Victor Gomez (Mirandes)– 72>78– 2 goals in 2-0 win (SAT)
LM: Kamil Grosicki (West Brom) – 74>80 – 3 goals in 5-1 win (THU)
RM: Gwion Edwards (Ipswich) – 67>77- 2 goals and 1 assist in 4-1 win (SAT)
ST: Daniel Musovski (LA FC) – 57>72 – 3 goals in 2-1 win (SUN)
ST: Jamille Matt (Forest Green Rovers) – 60>74– 3 goals in 4-1 win (SAT)