News
The latest TOTW news
FIFA 21 Team of the Week Prediction: Week 27
Hello and welcome to week 27 of our TOTW Predictions
---
Hello and welcome to week 27 of our TOTW Predictions.
It's international week and honestly I hate how my predictions went. It's only the start of the article and I'm already sad. Let me explain myself: range of player is too big, amazing performances – not so much, also few nations played more than 1 game (like every nation in Europe), but including 2 players from 1 nation feels a bit too much. I still did it, but I'll explain more later. Overall I don't expect a high score this week, so in advance – sorry. I hate international weeks and sometimes I get lucky with them.

Let's start with Attack: I included Auba with 1 goal and 1 assist for Gabon and Lewa for 3 goals in 2 games. Yes, 2 goals were versus Andorra and 1 goal was in draw, but still hard to exclude him. I didn't include Lewa last week in TOTW and was right in the end, so let's include him this week and be right, yeah?

In midfield I have Tadic for 3 assists for Serbia versus Ireland and overall great performance, Kimmich for 2 good games (even tho no assists). Havertz is possible instead of Kimmich, but Havertz had lower ratings\marks, that's why I went with Joshua. Soucek scored 3 goals for Czech versus Estonia – he's a lock.

Thorgan Hazard had a great game with 1 goal and 1 assist at LM\LWB spot, it's up for EA to decide his position. Dani Olmo had 1 goal for Spain versus Georgia in deciding minutes. Alba isn't possible yet because of his recent IF, so I went with Olmo. On the bench I have Shaqiri for 1 goal and 1 assist in 2 games for Swiss and him being leader of the nation that lead his team to 2 victories seems like a lock too.

Debate between Larin and Davies is fair, but I went with Larin, as 3 goals felt more important (and I already had overload of LMs in team, so including Davies was tough).

In defense I have Serge Aurier for 1 goal and 2 assists in 1 game, which is impressive. Included Mario Fernandes from Russia with 1 goal against Malta and decent performance in 2-1 win over Slovenia.

I also included players from Australian league games and English lower leagues, that were played during internationals, I don't think they'll be excluded and it was a must to mention Noone and Clarke-Harris performances.

GKs are hard, but I've went with Dubravka and Riesgo from Leganes. First had a good game for nation, with few saves and CS, while Leganes keeper saved 11 shots in a draw.

So yeah, this explains my choices, as per usual full list will be below. Hopefully I explained more of my thoughts, so you'll understand.

Good luck in you reds too!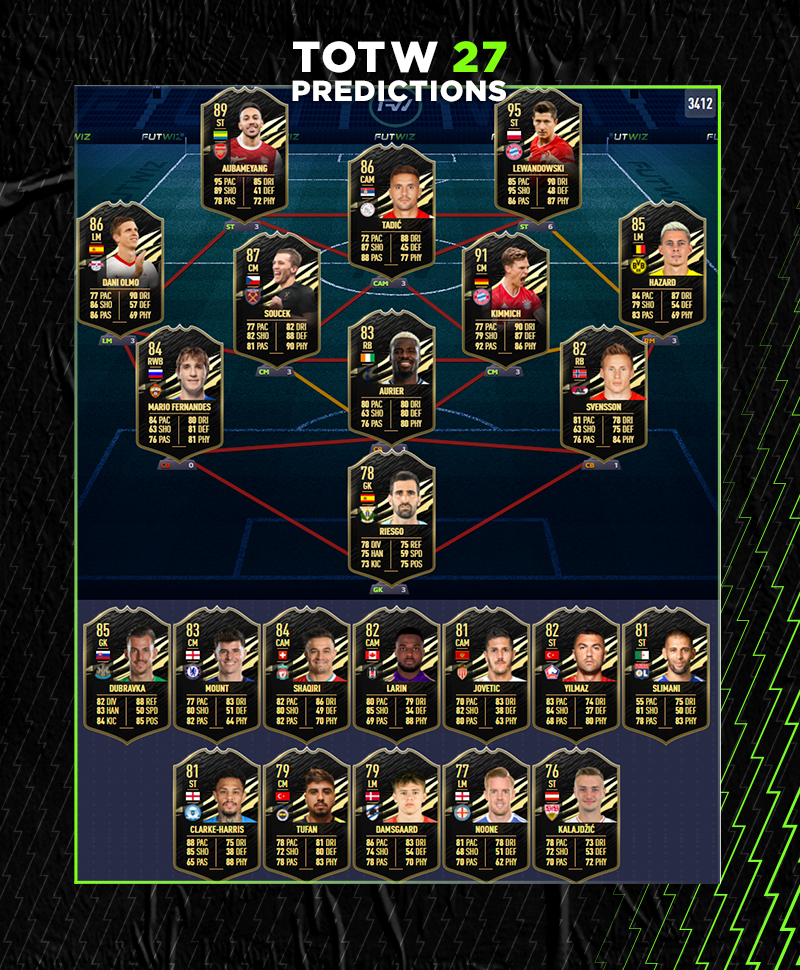 Starting 11:

GK: Martin Dubravka (Newcastle) – 83>85– CS and 4 saves in 0-0 draw (THU)
RWB: Mario Fernandes (CSKA) – 82>>84– 1 goal in 3-1 win (WED)
RB: Jonas Svensson (AZ) – 78>82 –1 goal in 3-0 win (THU)
RB: Serge Aurier (Ivory Coast) – 80>83 – 1 goal and 2 assists in 3-0 win (FRI)
LM: Dani Olmo (RB Leipzig) – 78>>86 – 1 goal in 2-1 win (SUN)
CM: Tomas Soucek (West Ham) – 81>>87 – 3 goals in 6-1 win (THU)
CM: Joshua Kimmich (Bayern) – 88>>91 – MOTM in 3-0 win (THU)
CAM: Dusan Tadic (Ajax) – 83>>86 – 3 assists in 3-2 win (THU)
LM: Thorgan Hazard (BVB) – 83>85– 1 goal and 1 assist in 3-1 win (WED)
ST: Robert Lewandowski (Bayern) – 91>>95 – 3 goals in 2 games
ST: Pierre-Emerick Aubameyang (Arsenal) – 87>>89 - 1 goal and 1 assist in 3-0 win (FRI)

Subs:

GK: Asier Riesgo (Leganes) – 71>78 – 11 saves in 1-1 draw (SAT)
CM: Mason Mount (Chelsea) – 80>83- 1 goal and 1 assist in 2 wins
CAM: Xherdan Shaqiri (Liverpool) - 81>84 – 1 goal and 1 assist 2 wins
CAM: Cyle Larin (Besiktas) – 72>>82 - 3 goals in 5-1 win (FRI)
CAM: Stevan Jovetic (Monaco) – 77>81 - 3 goals in 2 wins
ST: Islam Slimani (Lyon) – 77>81 - 2 goals and 1 assist in 3-3 draw (FRI)
ST: Burak Yilmaz (Lille) – 78>82 – 3 goals in 4-2 win (THU)

Reserves:
ST: Jonson Clarke-Harris (Peterborough) – 67>>81 – 3 goals in 7-0 win (SAT)
LW: Mikkel Damsgaard (Sampdoria) – 71>78 – 2 goals and 2 assists in 8-0 win (SUN)
CM: Ozan Tufan (Fenerbahce) – 72>78- 2 goals in 3-0 win (SAT)
LM: Craig Noone (Melbourne City) – 67>76 – 2 goals and 1 assist in 4-1 win (FRI)
ST: Sasa Kalajdzic (Stuttgart) – 67>77 – 3 goals in 2 games