News
The latest TOTW news
FIFA 21 Team of the Week Prediction: Week 21
Are we going to see a SIF Messi?
---
Hello and welcome to week 21 of our TOTW Predictions powered by Score More With Xbox!
Last week I got 13, the result that made me ultrasad, just because I felt really sure in many players I've chosen, but even some 50\50 went against me.

We move. And let's recover this week. Because we have a very good opportunity for that. TOTW is looking decent and there're going to be few highlights from each league (apart from Bundesliga).

Let's start with Messi, he scored 2 goals and got 1 assist. He should be in TOTW. If he won't be in TOTW – then Trincao will be (unless he's destined to get Future Stars card). Both are nice picks.

Auba scored his first hat-trick in Premier League. I was nearly sure that he had those before, but apparently no. Get into TOTW then. 3 goals should be always enough.

Lukaku scored 2 goals and got 1 assist in a big game vs Lazio. Should also be enough. That's our frontline sorted. Better then usual, so let's hope it'll be somewhat close.

Midfielders are kinda hard to choose too. Not because not too many options, but because there are tooo many options. I excluded Ruben Neves, because I didn't have space for Kroos, but he also can get in. Main question of the week: Will Gundogan be robbed again, or he'll get first IF after 10 goals scored. We'll see. Marcos Llorente got 1 goal and 1 assist from RM spot, so he should be in. Ndidi got MOTM vs Liverpool, so he should be in too.

Defenders are hard to choose, but main option was Pavard for a winning goal in Club World Cup, he should get Hero card. Coates got 2 goals midweek, so he should be in.

Martinez produced amazing performance for Aston Villa, got deserved MOTM and will get SIF card for that.

Apart from that – not much to Highlight. There are some good performances on the bench, but not many players would get into people's team.

Good luck in you reds too!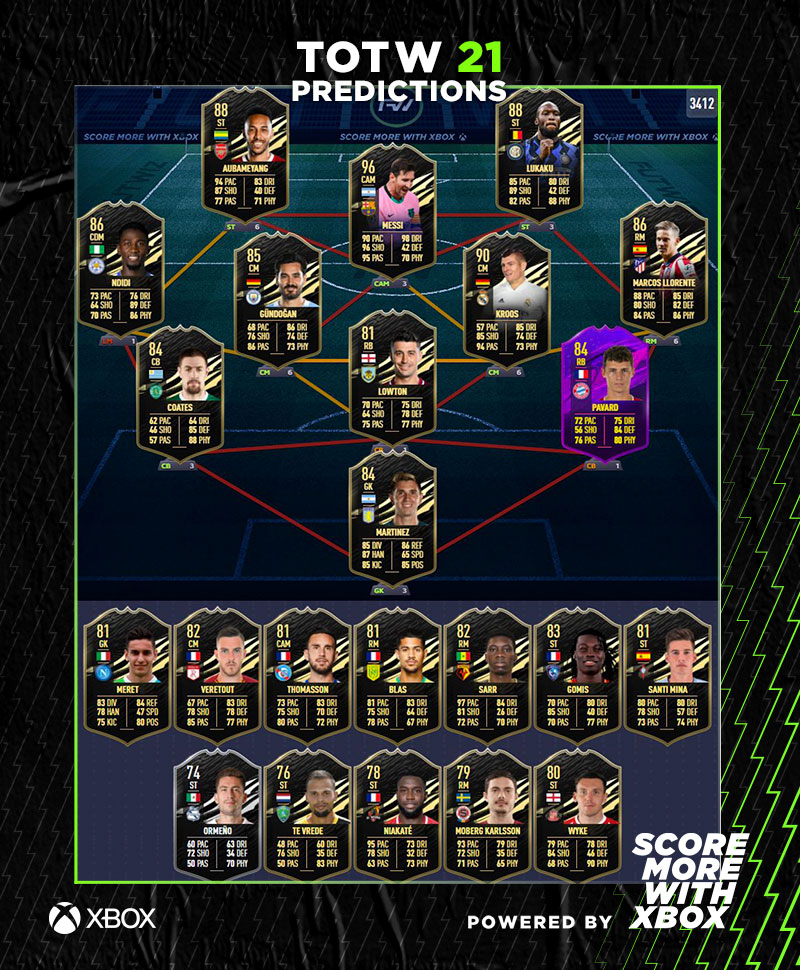 Starting 11:

GK: Emi Martinez (Aston Villa) – 78>>84– 9 saves in 0-0 draw (SAT)
CB: Sebastian Coates (Sporting) – 81>84–2 goals in 2-1 win (WED)
CB: Matt Lowton (Burnley) – 75>81 – 1 goal, CS and MOTM in 3-0 win (SAT)
RB: Benjamin Pavard (Bayern) – 81>84 – 1 goal in 1-0 win (THU)
CM: Toni Kroos (Real Madrid) – 88>>90 – 1 goal and 1 assist in 2-0 win (SUN)
CM: Wilfred Ndidi (Leicester) – 84>86 – 1 assist and MOTM in 3-1 win (SAT)
CM: Ilkay Gundogan (Man City) – 83>85 – 2 goals in 3-0 win (SUN)
RM: Marcos Llorente (Atletico Madrid) – 82>>86– 1 goal and 1 assists in 2-1win (SAT)
CF: Lionel Messi (Barcelona) – 93>>96 – 2 goals and 1 assist in 5-1 win (SAT)
ST: Pierre-Emerick Aubameyang (Arsenal) – 87>>88 – 3 goals in 4-2 win (SUN)
ST: Romelu Lukaku (Inter) – 85>>88 - 2 goals and 1 assist in 3-1 win (SUN)

Subs:

GK: Alex Meret (Napoli) – 77>81 – 5 saves in 1-0 win (SAT)
CDM: Jordan Veretout (Roma) - 79>82- 2 goals in 3-0 win (SUN)
CAM: Adrien Thomasson (Strasbourg) - 76>81 – 2 goals in 2-1 win (SUN)
RM: Ismaila Sarr (Watford) – 78>82 - 2 goals and 2 assists in 6-0 win (SAT)
RM: Ludovic Blas (Nantes) – 75>81 - 2 assists in 3-1 win (SUN)
ST: Bafetimbi Gomis (Al Hilal) – 80>83 - 4 goals in 5-0 win (WED)
ST: Santi Mina (Celta) – 76>81 – 2 goals in 3-1 win (FRI)

Reserves:
ST: Charlie Wyke (Sunderland)– 64>>80 – 4 goals in 4-1 win (SAT)
RM: David Karlsson (Sparta) – 73>79 – 3 goals in 4-3 win (SUN)
ST: Youssouf Niakate (Al Wehda) – 70>78- 3 goals in 4-2 win (FRI)
ST: Mitchell Te Vrede (Al Fateh) – 66>76 – 3 goals and in 3-2 win (SAT)
ST: Santiago Ormeno (Puebla) – 62>74 – 3 goals in 4-0 win (SAT)