News
The latest TOTW news
FIFA 21 Team of the Week Prediction: Week 17
Oh no.. Ben Yedder is in this weeks TOTW predictions
---
Hello and welcome to week 17 of our TOTW Predictions powered by Score More With Xbox!

Another decent result of 17 last week, so let's make it good this week too.

Even harder to predict than last few weeks, there should be some 50\50 candidates and some 100% choices, so let's see what we have today:

Highlight of the week probably Ben Yedder, 2 goals in 3-2 win, very good card, very expensive and also there's Headliner version of him. Win-win.

Next one: Alisson, I went with him for a strong performance in 2nd half against Manchester United. He made crucial saves vs them to keep Liverpool in game and not to lose at home.

Other than that: Lorenzo Insigne had awesome game vs Fiorentina: 2 goals and 1 assist in 6-0 demolishing. Overall Serie A are headliners of the week: Barella scored and assisted vs Juve, Lazzari did the same vs Roma.

Luka Jovic came back to Eintracht with a bang: 2 goals to give Frankfurt a win over Schalke and 1 on Kicker. Muller saved Bayern with a goal and he provided an assist to Lewa, so I decided to include him.

That's all from good players, but your OTW Ndombele will be finally upgraded!

I hope TOTW will be better than I predict.

Good luck in you reds too!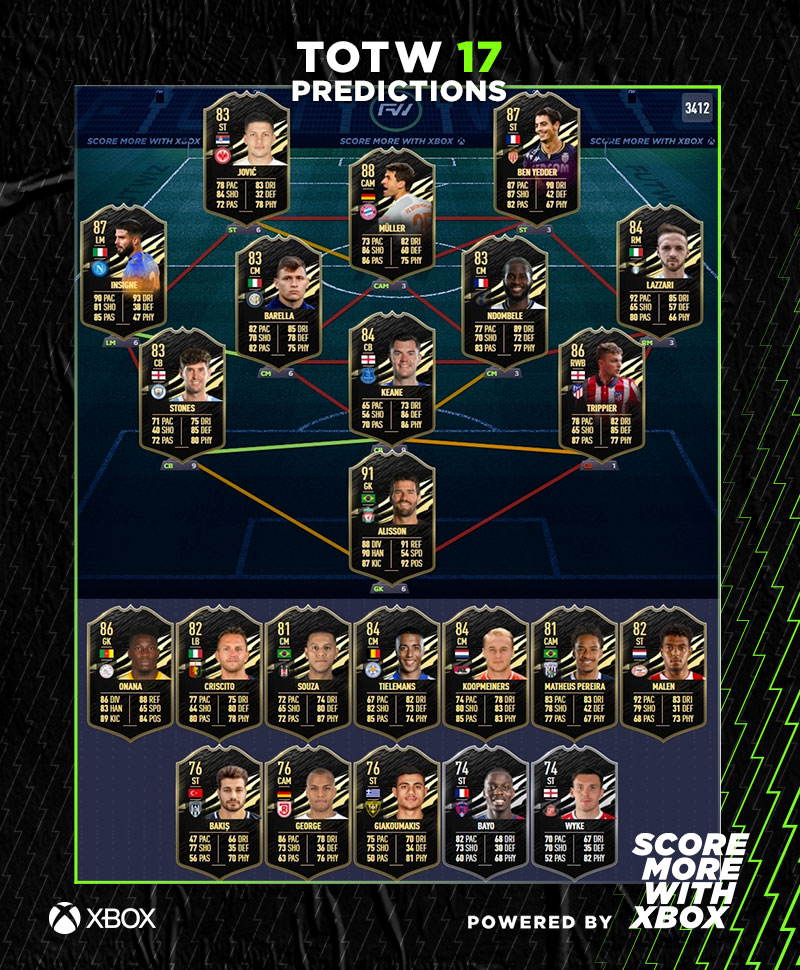 Starting 11:

GK: Alisson (Liverpool) – 90>91– 4 saves in 0-0 draw (SUN)
CB: Michael Keane (Everton) – 79>>84–1 goal in 2-1 win (WED)
CB: John Stones (Man City) – 80>83 – 2 goals and cs in 4-0 win (SUN)
RWB: Kieran Trippier (Atletico Madrid) – 83>>86 – 1 assist and cs in 2-0 win (TUE)
LM: Lorenzo Insigne (Napoli) – 85>>87 – 2 goals and 1 assist in 6-0 win (SUN)
CM: Nicolo Barella (Inter) – 80>83– 1 goal and 1 assist in 2-0 win (SUN)
CM: Tanguy Ndombele (Spurs) – 80>83 – 1 goal and 1 assist in 3-1 win (SUN)
RM: Manuel Lazzari (Lazio) – 81>84– 1 goal and 1 assist in 3-0 win (SAT)
CAM: Thomas Muller (Bayern) – 86>>88 – 1 goal and 1 assist in 2-1 win (SUN)
ST: Wyssam Ben Yedder (Monaco) – 84>>87 – 2 goals in 3-2 win (SAT)
ST: Luka Jovic (Eintracht) – 80>83 - 2 goals in 3-1 win (SUN)

Subs:

GK: Andre Onana (Ajax) – 84>86 – 5 saves in 1-0 win (SUN)
LB: Domenico Criscito (Genoa) - 78>82- CS in 0-0 draw (SUN)
CDM: Josef Souza (Besiktas)- 77>81 – 1 goal and CS in 2-0 win (SUN)
CM: Yuri Tielemans (Leicester) – 81>84 - 2 assists in 2-0 win (SAT)
CM: Teun Koopmeiners (AZ) – 78>>84- 2 goals and 1 assist in 3-1 win (WED)
ST: Matheus Pereira (West Brom) – 76>81- 2 goals in 3-2 win (SUN)
ST: Doneyll Malen (PSV) – 76>81 – 2 goals and 1 assist in 5-3 win (SAT)

Reserves:
ST: Giorgos Giakoumakis (VVV-Venlo)– 67>76 - 4 goals in 4-1 win (WED)
ST: Sinan Bakis (Heracles) – 66>76 – 3 goals in 4-0 win (WED)
CAM: Jann George (Regensburg) – 67>76- 2 goals and 1 assist in 3-1 win (SUN)
ST: Charlie Wyke (Sunderland) – 64>74 – 3 goals in 3-0 win (SAT)
ST: Mohammed Bayo (Clermont Foot 63) – 63>74 – 3 goals in 5-0 win (SAT)