News
The latest TOTW news
FIFA 21 La Liga TOTS Predictions
Hello and Welcome to TOTS La Liga Predictions
---
As per usual in La Liga we have an exciting title race. But it's not between 2 clubs this time, but it's between 3 clubs.

Atletico, Real and Barca all pretending on the title. At one point everyone already gave out a title to Atletico, but then they crumbled and Barca found insane form. Barca in 2021 having an amazing run, where they drew once or twice only. Real Madrid having mixed season because of injuries, but they are still pretending on title. End of the season is going to be exciting.

4th place belongs to Sevilla, they are behind big trio, and they are far ahead of 5\6 placed Real Sociedad and Betis. Real Sociedad had a good start of the season, but then fell off, so for them it'd be nice to get UEL spot, but competition between them, Betis and Villarreal is big. I think Spain gets 3 UEL spots, but it depends on who wins a final of the cup (and they didn't even play final of 2020 Cup, because both Basque clubs – Bilbao and Sociedad – decided that they want to play a final with fans), so yeah… I think all those 3 clubs will get UEL spots, because 8th placed Granada is too far behind them.

Overall mid table of the league is tight and some teams still have to drop to Segunda. Some teams from mid table going to get TOTS players\SBCs\Objectives, but it's mostly because they have 1 standout player who performs way better than the rest (for example Aspas and Celta, even tho Celta have some more nice players). Valencia still struggling with an owner and overall club in a mess, but may get 1-2 TOTS this season. Yeah, I know, it's kinda surprising, even to me.

I think La Liga TOTS is going to be fun, some players in TOTS got some Flashback or other Special cards so boosts to them should be very good. I hope they'll do TOTS like last year, where they boosted players from their highest rated cards, like Kroos was boosted from his Scream, that way his TOTS was more than usable.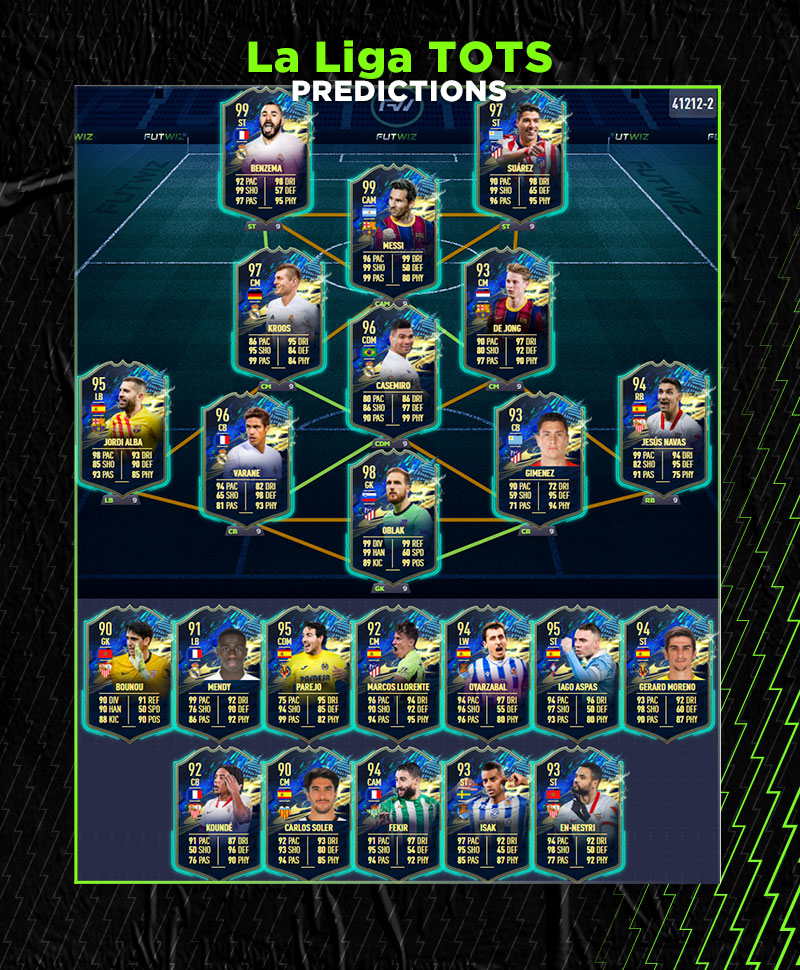 So let's start, as per usual, with goalkeepers.
Goalkeepers:

For me 2 choices were easy, but as per usual there could be some curve-balls.

Main choice is Jan Oblak from Atletico Madrid. As per usual Oblak performed at amazing level this year. He even saved a penalty, finally, first time in 3 years. Atletico as per usual conceded a lot less goals in La Liga than most of the teams, Oblak conceded 0.6 goals per game and that's very good record, better than the most TOTS goalkeeper in any TOTS Prediction that I've wrote so far.

2nd goalkeeper is Yassine Bono from Sevilla. One out of 2 goalkeepers that scored a goal this season in La Liga. Dmitrovich from Eibar scored a penalty against Atletico Madrid, it was a fun situation. But Bono actually saved points for Sevilla. Bono had 12 clean sheets in 24 games, so in half of the games Sevilla didn't concede a goal. He has a good defense in front of him, but overall he's been very impressive this season. I think he should get TOTS anyway.

Other notable goalkeepers this season: Courtois for Real Madrid. He is consistent, but not as good as last year I think. He might have a chance, but I doubt that he'll get TOTS. Ter Stegen hasn't been THAT good as last 2 years. Other than them… I dunno who to mention. Other clubs conceded way more goals than top 4 clubs. So yeah, I think it'll be Oblak-Bono in the team.

Defenders:

Left Back: Compared to other leagues – we at least have some choices here in La Liga. I've went with more hyped options. But first of all – Jordi Alba. Jordi having a great season, he had 3 goals and 4 assists this season, overall he became good again, after tough last year and it's remarkable. I think his TOTS will be really good. I'm 99% sure that he'll be in TOTS.

2nd option is harder. I went with Ferland Mendy. Not only because of the hype, but because he's been solid. He covered few positions, he played CB some games, and at LB spot he played confidently. He got only 1 goal, but it doesn't matter in big picture. Real Madrid didn't concede a lot of goals, considering troubles with injuries of Sergio Ramos and Carvajal and others and Mendy played in 24 games this season. He should be in, but there are other options.

Yuri Berchiche from Atletic Bilbao having strong season. Jose Gaya from Valencia too. Yeah, maybe Gaya had more highlightable season for Valencia, but again, it's hard to include defender from a team who conceded that many goals. Yuri got 1 goal and 3 assists this season, Gaya got 5 assists. We'll see. I think my main options fit TOTS better in also pack-selling aspect, but we can get Gaya as some sort of Objective\SBC.

So yeah, IMO: Main squad: Alba, Bench: Mendy, Objective: Gaya.

Right Backs: Bit different situation compared to Left-Back. No one really stands out, but a lot of consistent performers. God, even Lucas Vazquez at RB had a good season for Real Madrid. I've went with Jesus Navas from Sevilla. Captain of them had another solid season at right-back. Anyone remembers him playing at Manchester City right-wing? Since he transformed to right-back he became one of the better right backs in the league. And he's 35! 5 assists for him.

2nd option is Kieran Trippier. I want to include him in main team, but 1 thing went in my mind against him. He got a ban because of betting issue, where he told his mates that he's going to Atletico Madrid. Before that he had an awesome season. After he returned – he's still great. 6 assists for him, but again, only 18 games this season. It's possible that he'll get TOTS, but because of that issue that I've explained above I didn't include him.

Well, going back to Lucas Vazquez: what a story mark. Playing at Right back because Carvajal was injured and playing well. Overall he's been solid for Real Madrid, but I wanted to represent more clubs in the predictions, so I went with Navas. We'll see how it goes (yes, it's my favorite phrase during predictions).

Main squad: Jesus Navas, Bench\SBC: Trippier\Lucas Vazquez.
Central Backs: A lot of options for Center-Backs from top 4 teams. I'll start with Raphael Varane. This season by Varane is good. Honestly it's good. Last summer he became mistake prone in UCL and La Liga too, but then he got himself together and, especially, after Sergio Ramos injury, started playing great. He scored 2 goals in 1 game, he played overall at great level and he'll be a pain to deal with, as his TOTS going to be at crazy level in game.

Next up I have is Jose Gimenez. I know it's a bit weird, as he hasn't played enough of games (if we compare to others), but in most games he played – he's been fantastic. Atletico kept a lot of clean sheets with him in a team and he's been solid as ever. If he'll get TOTS card, I hope it'll be boosted from his Rulebreakers card and will be fast.

Next up I have 2 defenders from Sevilla. I think both Jules Kounde and Diego Carlos have a real chance at TOTS. I've went with Kounde in my predictions, but wouldn't be surprised if we'll get both. Kounde and Carlos been a consistent pairing for Sevilla and together became one of the best CB pairings in the world. Kounde scored 1 goal and got 1 assist this season, Diego Carlos scored 1 goal. Overall, I think we'll get both, but as I've said previously – I want to divide TOTS and that way I'm including Kounde, who, in my opinion, been more impressive. No wonder City wanted to sign him at one point.

I couldn't find more choices, from other La Liga clubs, as I think there aren't any choices. They might choose some average (in terms of FUT) player to fill the packs, but I'd be surprised if it'll be a center-back.

Main squad: Varane\Gimenez, Bench\SBC: Kounde\Diego Carlos.

Let's move to midfielders, shall we.

Midfielders:

Central Midfielders: Probably most stacked position, at least in terms of amount of players.

It's going to be hard to exclude 1 out of Modric-Casemiro-Kroos trio, but I excluded Modric. I've gone with Kroos and Casemiro from Real in my team. I think Kroos was one of the MVP of the season. 2 goals and 8 assists in 25 games for him, he's been amazing for Real Madrid and I'm so happy that he got Flashback card, so his TOTS will be hella juiced.

Next one: Casemiro. Casemiro been rock-solid for Real Madrid in midfield, mister consistent for them, also managed to score 5 goals and get 1 assist. I think he'll be the main CDM TOTS in this team and I can't see any arguments against his inclusion. For me it was hard to exclude Modric, but again, I wanted to include players from other teams and if I include all 3 from Real Madrid – it'd be a bit unfair. There's still a chance for his TOTS or overall his some sort of special card, like he got last year Flashback, but I don't think he'll be in TOTS.

One player from Barca in midfield spot that should be in TOTS is Frenkie De Jong. 3 goals and 4 assists for him. He started season pretty slowly, it was surprising to me, because Barcelona hired Koeman, under whom Frenkie played best football (at least in 2020), so his slow start to a season was surprising to me, but then he came fully online. His 2021 mostly been impressive and if he last year managed to get TOTS (somehow) – he should get it this year too.

He changed club in the summer – but he won't change the fact that he'll appear in another TOTS. Dani Parejo from Villarreal will get a TOTS in my opinion. 4 goals and 2 assists for him. Dani been great under Emery in Villarreal side and it's nice to see that he's still keeping his great level of play, that he had at Valencia.

Moving fast to Valencia – we have Carlos Soler. Better performer from poor Valencia. 7 goals and 5 assists. Played nearly everywhere in midfield, he's been a heart of this team and I think he deserves a TOTS for (nearly) securing spot in La Liga for Valencia.

Then we have Marcos Llorente. I placed him as CM, but he played everywhere on the pitch - he played CF, RM, defensive mid and just central midfielder. He scored 9 goals and got 8 assists and I think he's nailed on TOTS. It's going to be insane TOTS, but I just hope it won't be RM.

Last midfielder on the list is Nabil Fekir. This pick is a bit weird. I know. I was surprised him getting special cards last 2 years, so I'm playing EA game right now and including him - he got only 3 goals and 5 assists, so it's not the best stats, but his average rating and influence on Betis side is too big to ignore. But, here's a fun part. Sergio Canales can easily replace him in TOTS. I think he had a wonderful start to the season, but then dipped in form a bit. He got 7 goals and 6 assists, which is more than Fekir. I honestly dunno, for me it's 50\50 choice. But maybe we'll get both differently: Canales as TOTS, Fekir as SBC. We'll see!

As I've already mentioned that Modric\Canales can get a special card, so let's cover some more unsong heores: Renato Tapia from Celta Vigo. He's been really influential for Celta. Celta started this season very slow, but playing Tapia as defensive midfielder changed a lot of things. They started playing much better. Overall - he might get some sort of SBC\Moments or just get on the bench. He got only 1 goal, but he's defensive mid. So yeah. Apart from him... maybe Mikel Merino, as a wild-pick, but really not sure. 2 goals and 4 assists and very strong ratings across the season - so he has a chance to get some sort of card.

That's probably it for central-mids. Now let's move to wingers:

Well. I have only 1 winger in main team. I think overall wingers in La Liga were really meh. I think only 2 stand out: Mikel Oyarzabal is a must in TOTS. 10 goals and 6 assists to his name, leader of Sociedad squad, but as a whole Sociedad did fell off a bit in 2021. Still very good numbers, multiple IFs and Headliner in FUT. He should get a decent TOTS.

Other winger...Probably Antoine Griezmann. I'm overall against this pick as TOTS, but I can see a reasoning for his TOTS. Last year he got TOTS for way less. Let's compare his seasons. His 19\20: He got 4 assists and 9 goals.
His 20\21: He got 6 assists and 8 goals.
As you can see they've been pretty similar. If he got last year TOTS, he should get it this year. But I'm just not sure. Something speaks against his inclusion, but I won't be against him in TOTS. Numbers are decent, some really important goals and some nice performances.

I'll be honest with you: I didn't find any right winger in the league that deserve a TOTS. Honestly no one. Real? Let's not speak. Atletico? Correa\Llorente played there. Barca? Just no. Sevilla has Suso, but he was really inconsistent and got few contributions. Other clubs - just no one. If you'll find someone - mention him to me, I'll have a look!

And the last but not least:

Stikers.
I'm starting with Messi, he'll be CF card, so he'll be even better than TOTY. I think he deserves 99 card and he's not the only player that deserves 99 rated card from La Liga. Should I even explain why Messi in TOTS? 23 goals and 9 assists. Just unreal numbers man.

Next locked player is Karim Benzema - I made him 99 rated card and I think he deserves it. He's been a carry of Real Attack, overall a leader on the pitch. 17 goals and 6 assists. Some very consistent performers, he's playing even better than last year in my opinion (last year he had 21 goals after 37 games, so he can break it this season).

Next locked player in my team is Luis Suarez. He changed team, but he's still an insane striker and for me he's the reason why Atletico have hit different level this season. 19 goals and 2 assists this year. A lot of goals carried Atletico to narrow wins and overall he's been very good transfer for them (who would've thought that Simeone and Suarez would be a perfect pair? A lot of people, yes).

Next one is Iago Aspas from Celta. Man's been carrying Celta another year with 9 goals and 8 assists. Maybe it's not as much as last year (14 goals and 3 assists), but he still has a chance to get them and overall he's been influential of the pitch. I think he'll get it. It's hard to ignore Aspas's contribution to Celta's decent season.

Gerard Moreno's been leader of Villarreal. C'mon, he had 16 goals and 5 assists. He played at RW and ST. He getting contribution nearly every game and he's been in insane form. His TOTS should be a nice card. Of course this season is better than his last, even tho numbers are close: 18 goals and 5 assists last year, but he has 10 games to change that.

Youssef En-Nesyri is my option from Sevilla. 15 goals this season and he had some very high highs, even tho his February was kinda bad (0 goals that month). Youssef been sensational for Sevilla and overall his transfer to Sevilla been a massive success. He got 1 time POTM and also few POTM nominees. So let's see how good his TOTS will be!

Last choice was Alexander Isak from Sociedad. I mean, he had 12 goals and 2 assists this season, he had very good February, but after that he's been average. I dunno if he'll get it, honestly. I think he should, but maybe as a Moments for 3 goals against Alaves. Maybe SBC. But he'd be a perfect pack filler, as not many people would enjoy getting him in a pack (same as most of La Liga Strikers, to be honest).

Who I forgot to mention... Maybe Roger from Levante or Morales from Levante. Both got 11 goals this season, but I'm not sure if anyone deserve a spot over mentioned players. In all honesty - they can make Moments any player that scored 2 goals in 1 game, it's easy to give reasoning, but here I'm trying to give most deserving TOTS to everyone.

So yeah, that's wrap. I hope you enjoyed this article. It was hard to write Predictions for La Liga, as I don't enjoy La Liga too much this season, but I tried to watch a lot of it to give closest to reality TOTS and asked followers on Twitter for them to give opinion who actually deserves TOTS, so shouts like Tapia coming from them.

If you'll disagree with me – it's fine. I'll hear everyone out. We'll discuss everything too, as per usual!

I tried to be as unbiased as possible and tried to include players from different teams to make fans happier.

Hopefully this year TOTS will be good!