News
The latest TOTW news
FIFA 20: Team Of The Week Predictions 43
5 players 90+ rated in this weeks TOTW Predictions!
---
Week 43 of our TOTW Predictions are here powered by Score More With Xbox!

This could well be the last "good" TOTW for few weeks unless EA do a madness, leagues are finishing and Serie A only has 2 matchdays left.

Premier League finished with an exciting race for both the top 4 and survival spots, we saw some interesting results and a lot of players performed well.

The main highlights will obviously be from Serie A and Premier League, but then also Fellaini's hattrick also ensures that he features in this week's predictions.

There will also be a few players from the Turkish league and as usual mix of silvers from ROW leagues.

Good luck with your packs!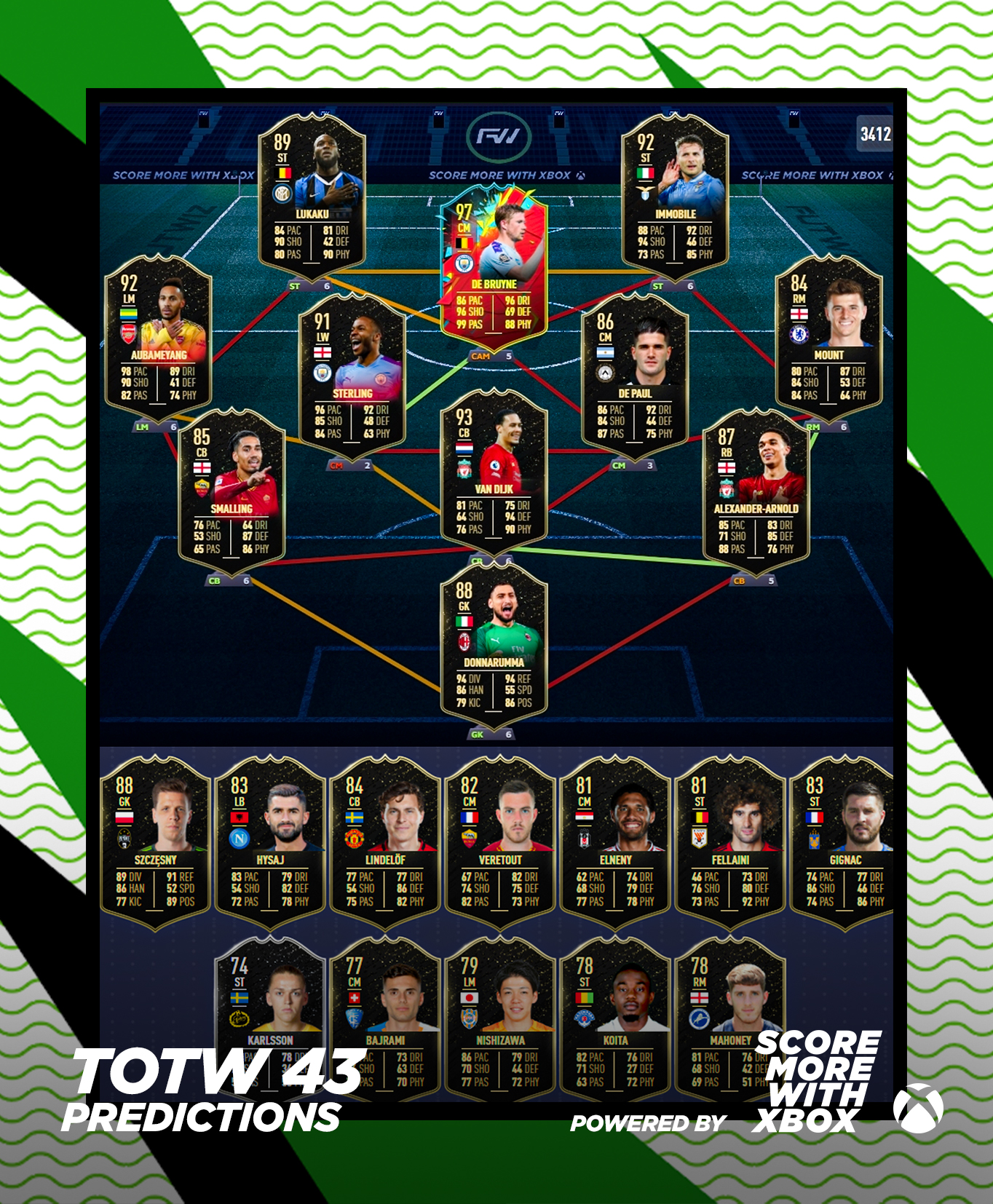 Starting 11:
GK: Gianluigi Donnarumma(Milan) – 85>88 – 7 saves and pen save in 1-1 draw (FRI)
CB: Chris Smalling (Roma)– 80>85 – 1 assist and clearance in 6-1 win (WED)
CB: Virgil Van Dijk (Liverpool) – 90>93 – 1 goal in 3-1 win (SUN)
RB: Trent Alexander-Arnold (Liverpool) – 83>87 – 1 goal and 1 assist in 5-3 win (WED)
LM: Raheem Sterling (Man City) – 88>91 – 2 goals in 4-0 win (WED)
LW: Pierre-Emerick Aubameyang (Arsenal) – 87>92 - 2 goals and assist in 3-2 win (SUN)
CM:Rodrigo De Paul (Udinese) – 78>86 - 1 assist in 2-1 win (THU)
RM: Mason Mount (Chelsea) – 78>84 - 1 goal and 1 assist in 2-0 win (SUN)
CAM: Kevin De Bruyne (Man City) – 91>97 – 2 goals and 2 assists in 5-0 win (SUN)
ST: Ciro Immobile (Lazio) – 86>92 - 3 goals in 5-2 win (SUN)
ST: Romelu Lukaku (Inter) – 85>88 - 2 goals in 3-0 win (SAT)

Subs:
GK: Wojczeh Szcesny (Juventus) – 86>88 – CS and 5 saves in 2-0 win (SUN)
CB: Victor Lindelof (Manchester United)- 81>84 - CS in 2-0 win (SAT)
LB: Elseid Hysaj (Napoli)- 80>83 – 1 goal and CS in 2-0 win (SAT)
CDM: Mo Elneny (Besiktas) – 77>81 - 1 goals in 3-0 win (SAT)
CM: Jordan Veretout (Roma) – 78>82 - 2 goals in 2-0 win(SUN)
ST: Andre-Pierre Gignac (Tigres) – 80>85 - 2 goals in 3-2 win (SAT)
ST: Marouane Fellaini (Shandong) – 77>81 - 3 goals in 3-2 win (SAT)

Reserves:
ST: Bangaly-Fode Keita (Kasimpasa)– 71>78 – 2 goals and 1 assist in 3-2 win (SUN)
ST: Jesper Karlsson (IF Elfsborg) – 62>74– 3 goals and 3 assists in 2 games
LM: Kenta Nishizawa (Shimizu) – 61>78 - 3 goals in 4-2 win (SUN)
RM: Connor Mahoney (Millwall) – 72>78 – 1 goal and 2 assists in 4-1 win (WED)
CM: Nedim Bajrami (Empoli) – 72>78 – 2 goals and 1 assist 4-2 win (FRI)