News
The latest TOTW news
FIFA 20: Team Of The Week Predictions 4
Team of the Week 4 predictions, could one of the cover stars be in for his first in-form of the season?
---
We're back with Team of the Week 4 predictions, powered by our friends at Xbox and the "Score More With Xbox" campaign!

Unfortunately it looks like we might be in for another mediocre looking TOTW. I don't know what's happening in the world but a lot of top players just aren't performing, let's see who might save us from what could be quite a weak TOTW

Eden Hazard scored one and picked up an assist to an amazing Modric goal, this might be enough to earn him a spot in the TOTW. Plus he's a cover star and has OTW so it feels like a win-win situation.

Another superstar who's not the best this year in FUT in terms of pace: Luis Suarez. He's in form right now, he performed well in UCL and scored an amazing goal against Sevilla. This should earn him spot in TOTW.

David Luiz scored and kept a clean sheet in Arsenal's 1-0 win, this is usually good enough for defender. His card isn't the best to begin with but with few upgrades he should be very usable in the game.

Patrick Herrman was player of the week in Bundesliga, after having led M'gladbah's 5-1 demolition of Augsburg with 2 goals and 1 assist to his name. Allesaine Plea might get into TOTW too with 1 goal and 2 assists, but I rarely include players from the same team for one good game.

Steven Bergwijn scored once and got 2 assists in PSV's 4-1 win. At first I hoped for Denzel Dumfries with 1 goal and 1 assist, but then Bergwijn played really well so he also should get a central card, meaning a nice position change for FUT.

Good luck and have fun!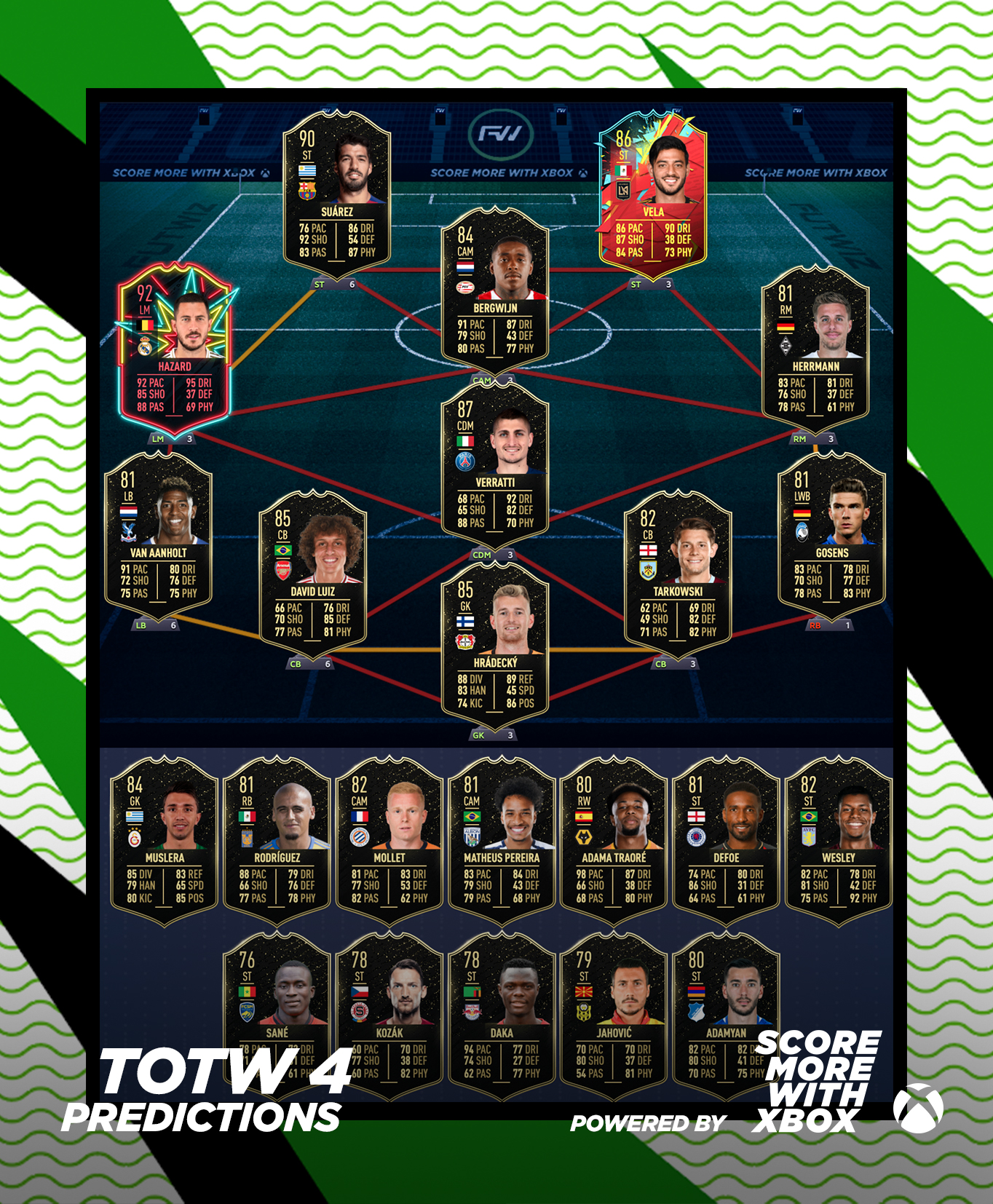 Starting 11:

GK:Lukas Hradecky (Inter) – 83>85– 5 saves and MOTM in 1-1 draw(SAT)
CB:James Tarkowski (Burnley)– 78>82– cs and MOTM in 1-0 win(SAT)
CB:David Luiz (Arsenal) – 83>85 – 1 goal and cs in 1-0 win (SUN)
LB: Patrick Van Aanholt (Crystal Palace)-76>81- 1 goal in 2-1 win (SUN)
LWB: Robin Gosens(Atalanta) – 76>81- 1 goal and 1 assist in 3-1 win (SUN)
CDM: Marco Verratti (PSG) – 86>87- MOTM in 4-0 win(SAT)
LM:Eden Hazard (Real Madrid) – 92>93-1 goal and 1 assist in 3-0 win(SAT)
RM:Patrick Herrman (Borussia M'gladbah) – 77>81–2 goals and 1 assist in 5-1 win (SUN)
CAM: Steven Bergwijn (PSV)- 82>84 - 1 goal and 2 assists in 4-1 win (SUN)
ST: Luis Suarez (Barcelona) – 89>90 - 1 goal in 4-0 win (SUN)
ST: Carlos Vela (LAFC) – 83>>86 (Record Breaker)- 3 goals in 3-1 win (SUN)

Subs:
GK:Fernando Muslera (Galatasaray) – 81>84– 8 saves in 0-0 draw (SAT)
RB: Luis Rodriguez (UANL)- 75>81- 2 assists and cs in 4-0 win (SAT)
CDM: Erik Pulgar (Fiorentina)- 78>82 –1 assist in 1-0 win (SUN)
CAM: Matheus Pereira (WBA) – 76>81– 1 goal and 2 assists in 3-1 win (SAT)
RW: Adama Traore (Wolves) – 74>80– 2 goals in 2-0 win(SUN)
ST:Jermain Defoe (Rangers) – 76>81- 3 goals in 5-0 win (SUN)
ST: Wesley (Aston Villa) – 78>82- 2 goals and 1 assist in 5-1 win (SAT)

Reserves:
ST: Patson Daka (RB Salzburg)– 71>78–3 goals in 6-0 win (SAT)
ST: Sargis Adamyan (Hoffenheim) – 74>80 - 2 goals in 2-1 win (SAT)
ST: Adis Jahovic (Yeni) – 73>79- 4 goals in 5-1 win (FRI)
ST: Libor Kozak (Sparta Prague)–72>78– 3 goals in 4-0 win (SAT)
GK: Abdoulaye Sane (Sochaux) – 66>76- 3 goals and 1 assist in 4-0 win (SAT)