News
The latest TOTW news
FIFA 20: Premier League POTM Predictions - October
Is it time for a Vardy Party?
---
Let's discuss POTM for October in Premier League.

There're gonna be some interesting options. Feels like no one performed to usual standard, so let's see who should get nominated.

Leicester won their last game 9-0 and that boosted a lot of players stats. For example Vardy wouldn't get even mentioned in this article before today's game, but he scored 3 and now he's leading candidate.

Other choice is from Vardy's club – Yuri Tielemans. Belgium playing amazingly for Leicester. He had 2 goals and 1 assist across the month and should be nominated.

Other team that performed well – Aston Villa. Jack Grealish is another good choice for this month. Jack got a lot of praise from pundits and maybe that should boost his chances of winning

And there are few more choices, like Trent AA or Marcus Rashford, who were the best performers of their clubs IMO and some choices like Marcus Alonso from Chelsea or someone from Sheffield United.


Let's start.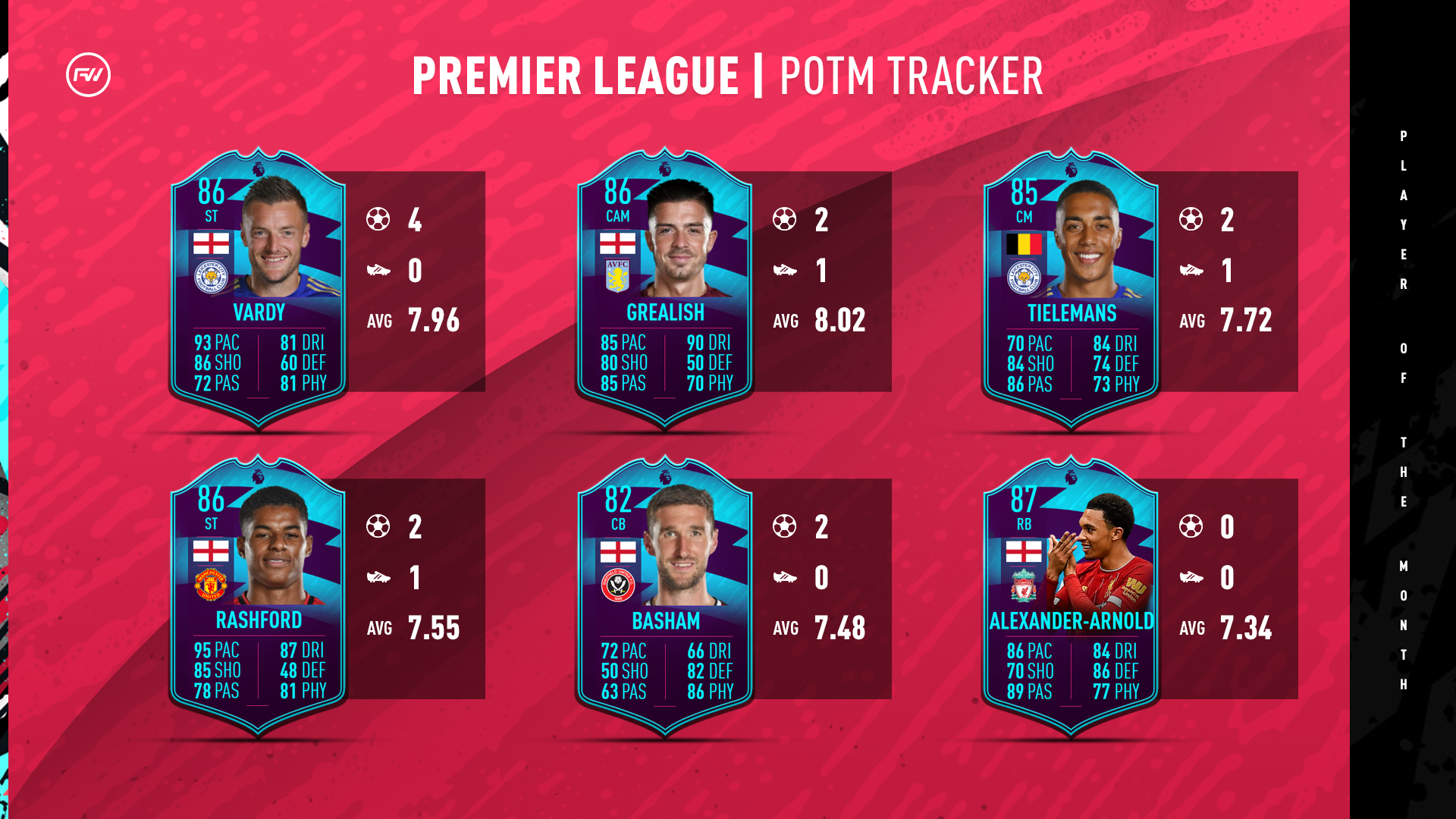 Jamey Vardy. Apart from Southampton game had only 1 goal in 2 games and mediocre game vs Liverpool, but then he scored 3 goals and now he's leading the race. Would be exciting card in terms of FUT, with high pace and shooting.

Last year he got decent POTM but it was a bit too late in game. In October he can be much better.

Chances of POTM: 36%

Tips for investing:
I expect it to be 3x85 rated squads with few IFs. His POTM card will be good, but not more than that.
You can invest in any 84-87 rated players from PL, maybe they'll require some IFs, but nothing interesting. He's English, not many things you can create with him. So basically any SBC fodder, like Handanovic, etc. should rise. People often use Serie A players for SBC solutions, because their cards mostly fodders. So cards like Bonucci, Szscesny should rise too.


Worth investing? I'd say just buy some fodder cards

Estimated cost: 250-300k. PL tax and being fast may raise his card even more in value, but anything more than 250k is too much for him I think.


Jack Grealish
My 2nd candidate for POTM. Guy had an amazing month for Aston Villa, as all Aston Villa probably a bit overpeformed. 2 goals and 1 assist. I don't know if he'd be CAM or LW, but being CAM would make him a bit more expensive and just better I think. Overall really cheap SBC, not much more than 100k.


Chances of POTM: 30%

Tips for investing:

Really don't know what to suggest. His SBC wouldn't be more than 100k, so I doubt that any cards would rise because of him.

Worth investing? No, as I explained above

Estimated Cost: 100k. Can't see it being more expensive. Maybe few PL fans would be happy with this SBC, but overall it's meh card.


Yuri Tielemans is my last real candidate for this POTM. Another option from Leicester. 2 goals, 1 assist and overall solid performances in every game. Yuri been an amazing transfer for Leicester after his rough spell in Monaco, so everyone should be happy.


Chances of POTM: 20%

Tips for investing:
No tips here, he's gonna be even cheaper than Grealish. Maybe some Belgium fodder, like Kompany, who fits perfectly, because he's even from Previous Tielemans club (Anderlecht)

Estimated cost: 35k-60k. Would be decent CM, but not much more. He'd provide nice links for Belgium players, but people won't use him a lot, just because he's slow and no stats stand-out or just not meta enough


Marcus Rashford is also the candidate, but doubt that he should win it. He scored 2 goals, got 1 assist and had quiet game vs Newcastle. Also missed a penalty vs Norwich

Investments for SBC, like fodders can rise a lot because he's really meta and he's really popular in game.

Chances of winning: 10%

Overall I think it's gonna be Vardy or Grealish. Both have good chances of winning and won't be surprised if any of them wins it. Depends on who pundits value more