News
The latest TOTW news
FIFA 20: Premier League POTM Predictions - July
Let's discuss Premier League POTM for July.
---
Let's discuss Premier League POTM for July.

Last month of this long seasons and it's been flooded with games. A lot of top tier performances from players from different clubs: on top and on bottom.

Main candidates will be probably usual faces, but we saw surprise package in a face of Michael Antonio with 8 goals in 6 games carrying West Ham to safety. This man deserves at least a nomination, if not an award itself.

There're a lot of players who performed well over the month, so I excluded few choices like Danny Ings, Mason Greenwood, Ederson and Bruno Fernandes.

Let's start this thing.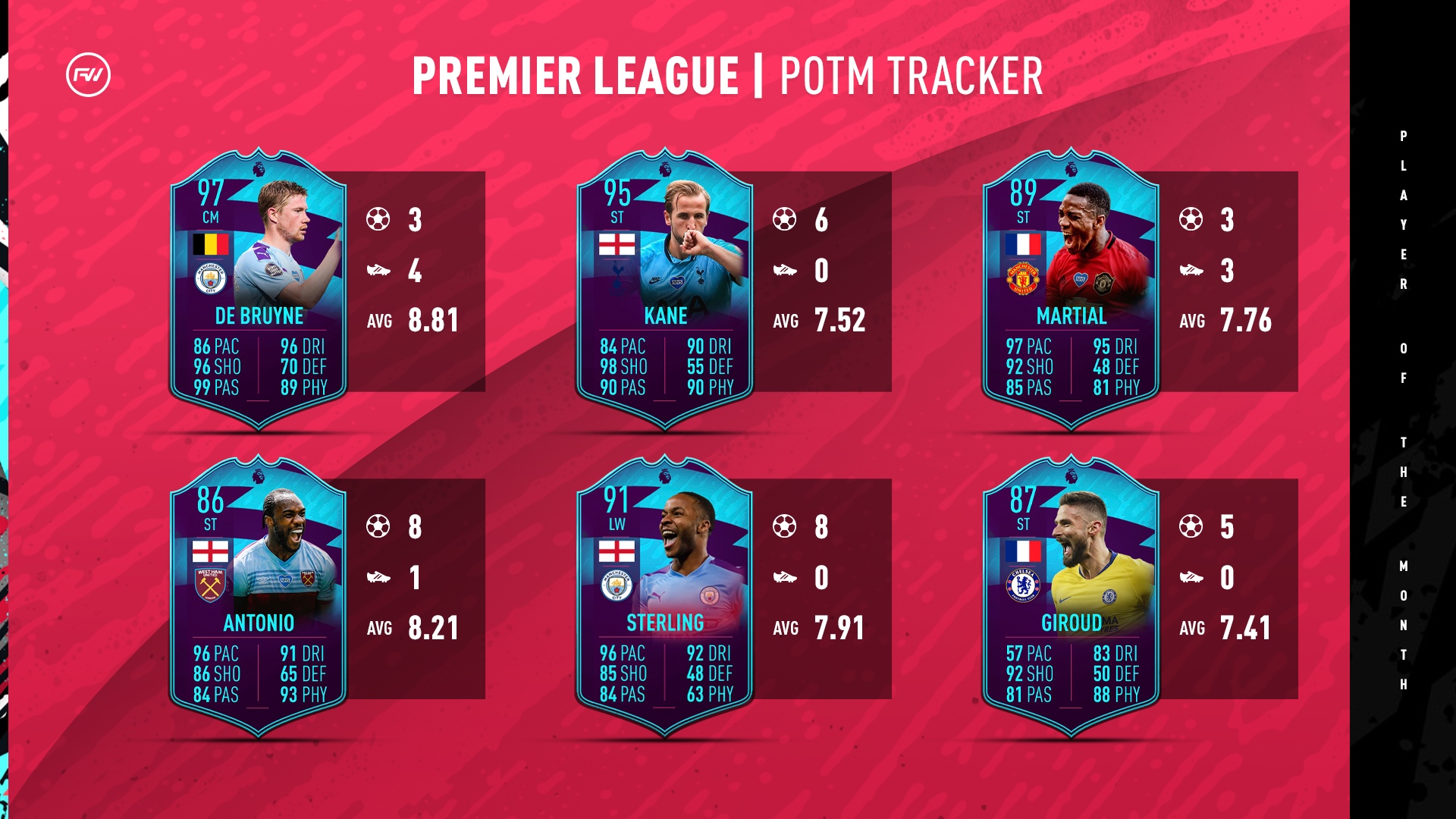 My main candidate for this month is Kevin De Bruyne. Even tho 1 assist this month didn't count towards his record he still produced insane numbers: 3 goals and 4 assists, very impressive final month for KDB and he should win POTY award too. POTM would be a cherry on top of the cake, just to recognize how good he is.

Estimated cost: He would be around 350k, I guess. If he gets an IF on Wednesday for his performance - his potential POTM is 98 rated card, basically equals to his TOTY, apart from Defending, so it might be a little bit more expensive.

Investing tips: Really can't recommend anything apart from Fodders.

My 2nd candidate is Michael Antonio. Man carried West Ham to safety by scoring 8 goals and recording 1 assist in 6 games. Very impressive numbers for a man who plays in West Ham. His stats are a bit boosted due to 4 goals in 1 game, but it doesn't matter too much. It's impressive achievement anyway.

Estimated cost: around 60k, right? He would be 86 rated card and won't make any teams at this stage of the game. Yes, he's fast, strong and probably will fit meta, but it's August and no one uses teams with players under 90 rating (I think at least).

My 3rd candidate will probably be Raheem Sterling, just due to the fact that he scored 8 goals. There're quite few choices for 3rd position, so if not Sterling - it's Kane with nice finish to his difficult season with 6 goals in 6 games or Oliver Giroud, who's goals carried Chelsea to UCL spot (5 goals to his name).

I feel like this season Sterling isn't appreciated as much, but he scored 20 goals this season and 8 in the past month - so he should get at least nomination to recognize his effort.

Estimated cost: 100k or so. His POTM would equal his HL card, so it won't be desirable at all at this stage of the game.

There're few more choices that possible to get nomination:

Anthony Martial is one of those players. 3 goals and 3 assists to his name, feels like he found his form after the break and played well for United. I guess there's a chance for him to be excluded, but I can see at least 1 United player to be included in this POTM Nominations.

So,to sum up: Kane would be 95 rated card (anyone else kinda missed when Kane got 91-92-93-94 rated cards? He was under the radar with injuries and still managed to get so many special cards) - so he'd be around 120k I guess? 85 rated squad, maybe 84. Not meta, not popular this year, mostly all of his cards were fodders.

Giroud would be 87 rated card, max price of which would be 30k, because he's useless (sorry, Giroud fans) with 50+ pace. So yeah, 82 rated squad for his card.

Martial would be 89 rated card, and it would've been great, if there wasn't a better card for Martial available right now. So he'd be around 100k too. He's quite popular, but far behind meta curve.

For me it's quite obvious 2 horse race between KDB and Antonio. I dunno who'd win out of them. I guess fans will vote for Antonio, to recognize his effort.