News
The latest TOTW news
FIFA 20: Ligue 1 POTM Predictions - November
Ligue 1 POTM for October. We'll have just 3 candidates.
---
Ligue 1 POTM for October. We'll have just 3 candidates.

Very hard month to predict, as every team kinda struggled. Only Marseille and PSG had a very good month, while other teams just went on a bit of a rollercoaster.

So we'll have 1 player from Marseille and PSG and then I chose Montpellier as 3rd team, because they had the strongest months after those 2 teams.

Of course, I might be completely wrong, because there were really no stand-outs. But I hope I'll at least get 1 choice right.


There are a lot more choices than 3 that I suggested, but we'll see how it goes.


Let's start.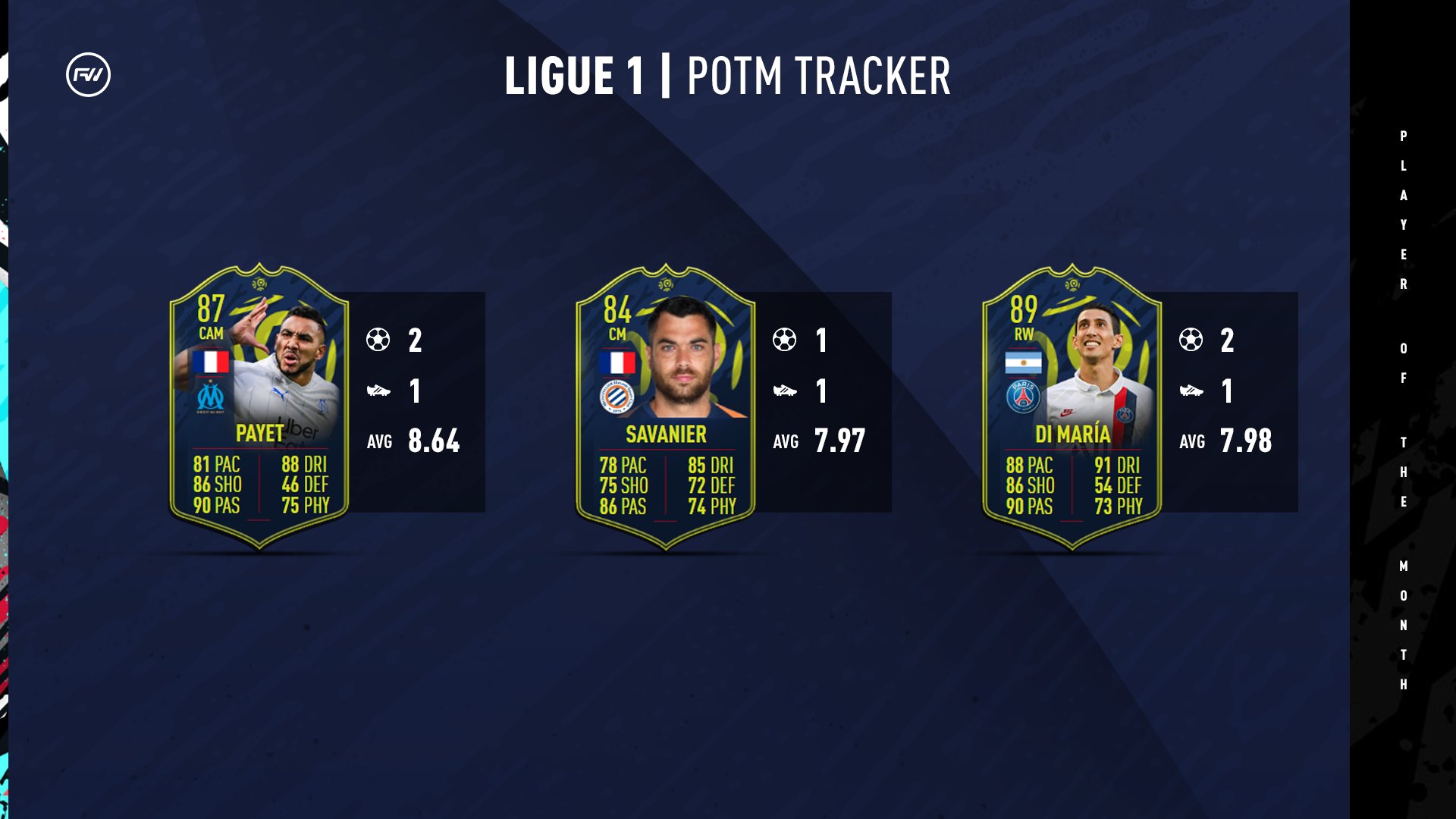 Dimitri Payet. Amazing month for French player. 2 goals vs Lyon, 1 assist vs Toulouse and good game vs Brest. Had a quiet game vs Lille, but Marseille still won the game. Overall he's really fun card in FUT and if he'll be cheaper than 100k – I'd complete him.


Chances of POTM: 50%

Tips for investing:

I expect it to be 2x84 rated squads with one IF.
Decent card, not too expensive and fun to use. Not a lot of people will complete it, but still he's a favorite in my eyes


Worth investing? Nah, as we seen before – not very popular cards tend to be really cheap and fun to complete

Estimated cost: 50-100k. As I've said before. Not really expensive, fun and interesting card

Teji Savanier
My 2nd candidate for POTM. Maybe not really a standout. He hasn't had insane stats overall, but still Montpellier hasn't lost a game and Savanier got 1 goal and 1 assist too. Also was good in every game, bar one.

Chances of POTM: 20%

Tips for investing:

I don't think it's worth investing for Savanier. Realistically he has really low chance of winning and his card isn't desirable at all.

Worth investing? No, as I explained above

Estimated Cost: 20-30k.


Angel Di Maria is my third candidate and the only one from PSG. 1 goal and 2 assists in 3 games. Not really a stand-out, but he's the only one player from PSG who featured every game and got a goal contribution, even in a loss vs Dijon.


Chances of POTM: 20%

Tips for investing:
Best tips for Investments… Really just fodder cards. From PSG especially should be alright. Other than that – I don't expect something exceptional. Not really popular card, because of his WF, but he'll be a decent RW to link to Mbappe… or RTTF Gueye for example.

Estimated cost: 150k-200k. With few more upgrades (like POTM one) – he'd be really good card. Don't think he'd worth 200k, but overall we're getting overpriced cards, so 150k for ADM is decent price.

Overall I think it's destined to be Payet. Hard month, as we saw last month – anyone can win. Even in a race between Ben Yedder and Di Maria – Thiago Silva won it. So don't expect much.