News
The latest TOTW news
FIFA 20 TOTS Predictions: Super Lig
Super Lig TOTSSF predictions are here, powered by Score More with Xbox!
---
The Super Lig TOTSSF is about to arrive so here are out predictions, powered by Score More with Xbox!

This is one of the closest leagues in the world right now. 1st and 5th spots are separated by only 9 points and the top 4 are separated by just 4. A lot can be changed if and when the league is resumed so it'll be interesting to see.

Currently on top sit Trabzonspor, right behind them are Istanbul Basksehir, 3rd is Galatasaray and 4th is Sivasspor. Besiktas are 5th and Fenerbahce are 7th.

Most of the players will be from those clubs with a few exceptions so I hope everyone will be happy. I know Turkish fans are really passionate about their league and teams, so I tried to please everyone and talked with few people before making my mind up with these picks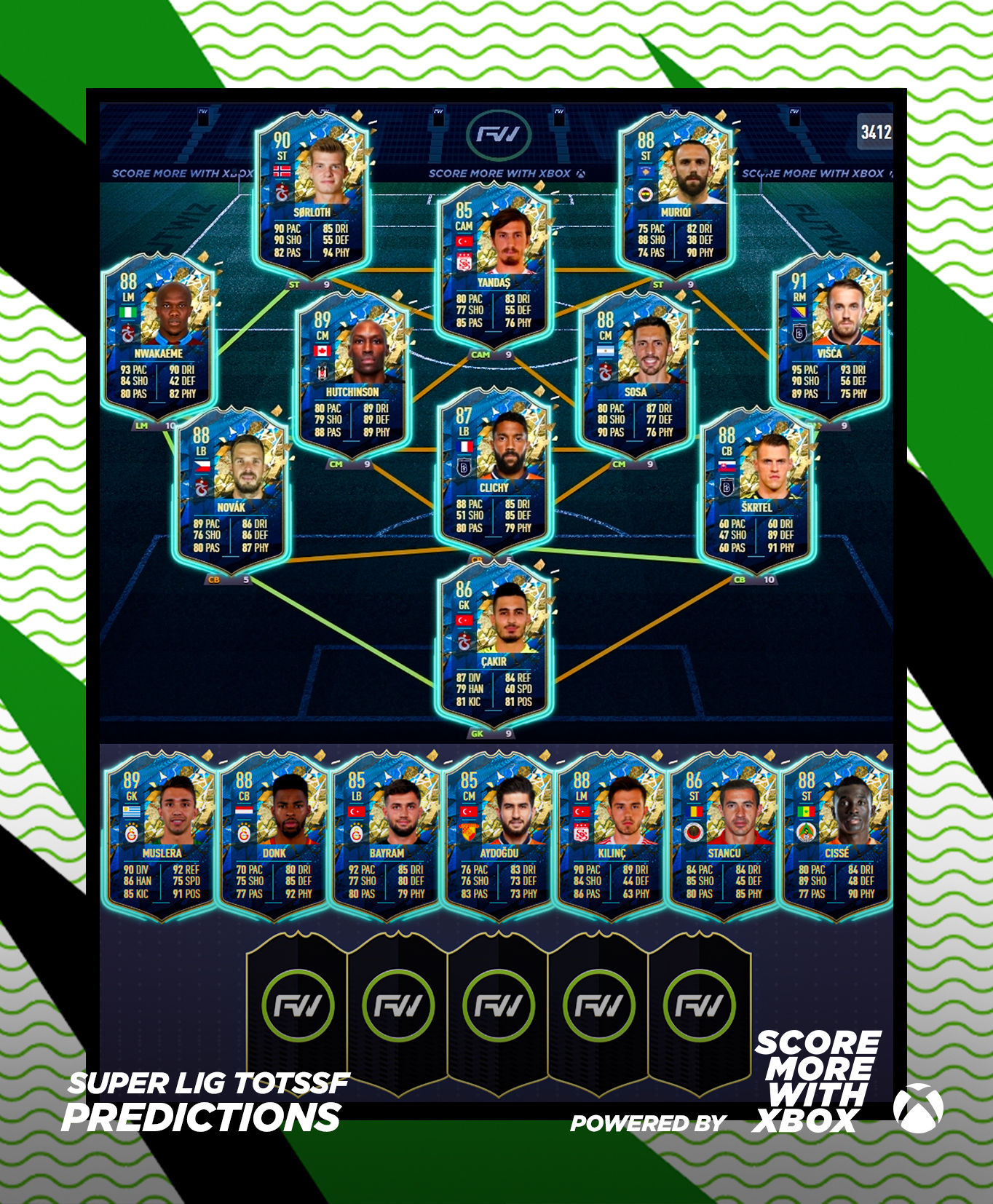 Starting with Goalkeepers, as I usually do:

Fernando Muslera from Galatasaray and Ugurcan Cakir from Trabzonspor are my choices for goalkeepers. Muslera statistically and overall was the best in the league. Cakir is one of the unusual picks, but from what I've seen and basing on the stats - he deserves to be in TOTSSF too.

Moving on to Defenders:

2 players from Istanbul that deserve TOTSSF in my eyes are our old friends from Premier League: Gael Clichy and Martin Skrtel. Both left a mark in Premier League and now they are playing well in Super Lig. Clichy has 2 goals and 3 assists to his name and Skrtel is on 3 goals. Both are highly rated and I think both will get some sort of TOTS.

Moving onto 2 picks from Galatasaray who conceded less goals then anyone in the league: 20. I included Omer Bayram, who is the highest rated player in Galatasaray and he got 10 assists from Left-back\Left Mid position. Should be a lock.

2nd pick is a bit more debatable as I included Ryan Donk. He played both CDM and CB, but more often as CB. He scored 3 goals and 1 assist and was solid overall. IMO he should get some sort of TOTSSF card (maybe Moments or Objectives card).

I included Filip Novak from Trabzonspor. He may not have the highest rating but he still, from what I've heard played well and got 3 goals to his name. Maybe he won't be included and if it's my mistake - then I'm sorry!

So, we're finished with defenders, now it's time for Midfielders:

Atiba Hutchinson is my first player from Besiktas in this predictions (and probably the last one, as they haven't been as impressive this season and performed under expectations). Atiba is one of the few players that still played well and got 4 goals and 4 assists over the course of the season.

Jose Sosa is another lock in my predictions: 6 goals and 6 assists, one of the best players in the league and deserves a nice TOTSSF card.

Mert Hakan Yandas is my first player from Sivasspor. He scored 6 goals and got 3 assists and he performed very well for them. Will be one of those Bronze to Gold TOTSSF with some weird stats, but still - he deserves it.

Last but not least - Soner Aydogdu from Goztepe. 3 goals and 7 assists, one of those players that plays very well in average side (no offense to Goztepe fans) He should get a nice and well rounded TOTSSF.

Now it's time to mention some Wingers!

Edin Visca is a leader of Istanbul. Always plays well for them over the years and this year is not an exception: 8 goals and 11 assists, should get highest rated TOTSSF in this team, as he's already highly rated in FUT.

Anthony Nwakaeme is my another choice from Trabzonspor, league leaders - 10 goals and 6 assists from Left wing shouldguarantee him TOTS and it'll be interesting to see and link him in a team with a lot of Nigerians that will get TOTSSF over the course of the promo.

Emre Kilinc is my 2nd player from Sivasspor. 7 goals and 5 assists and well deserved TOTSSF. It's possible that Mustapha Yatabare will be included also from Sivasspor, but I decided not to include him as he was more ST than a winger.

Last but not least: Strikers:

There are few locks in this TOTSSF Predictions and main one: Alexander Sorloth from Trabzonspor. 19 goals and 7 assists, insane numbers from player who was rejected from Premier League. He's provenhis worth and now a lot ofclubs want to sign him again. Hopefully he'll get a huge boost in his TOTSSF card, so he'll be usable!

Vedat Muriqi is my only player from Fenerbahce as they are playing under expectations also. 13 goals and 4 assists, and you cansay him and Max Kruse carrying club on their back. I don't think Kruse will get TOTSSF, maybe some Flashback, but Muriqi is a must.

Papiss Demba Cisse is another well known name. He played for Newcastle in their amazing season, when they finished 5th and now he's playing in Super Lig and scoring for fun. 16 goals and 1 assist for him.

Bogdan Stancu is my last player in TOTSSF Predictions. 12 goals and 3 assists. His club is 3 points above relegation spot and youcan say that it's because of Stancu, as he scored 33% of their goals.

So those are my Super Lig Predictions. I hope you'll enjoy them as I much as I enjoyed making them! And as always - any feedback welcomed in the comments section below.