News
The latest TOTW news
FIFA 20 TOTS Predictions: Eredivisie
Eredivisie TOTSSF comes to FIFA 20 tomorrow, here are our predictions!
---
Hello and welcome to Eredivisie TOTSSF Predictions powered by Score More with Xbox!

This season in Eredivisie was more competitive than usual, actually, before league was suspended (and apparently cancelled) - 2 clubs sat on the same points, only difference between them was goal difference.

So, this prediction will be heavily forced towards 3 clubs at the top, with few players from different clubs.

Main problem with this league - was finding strikers. I mean,there are few that scored a lot of goals, but their FUT stats aren't the best, so I tried to boost them as much as possible.

There will be (should be) few FUT Favorites in the TOTS, so let's start.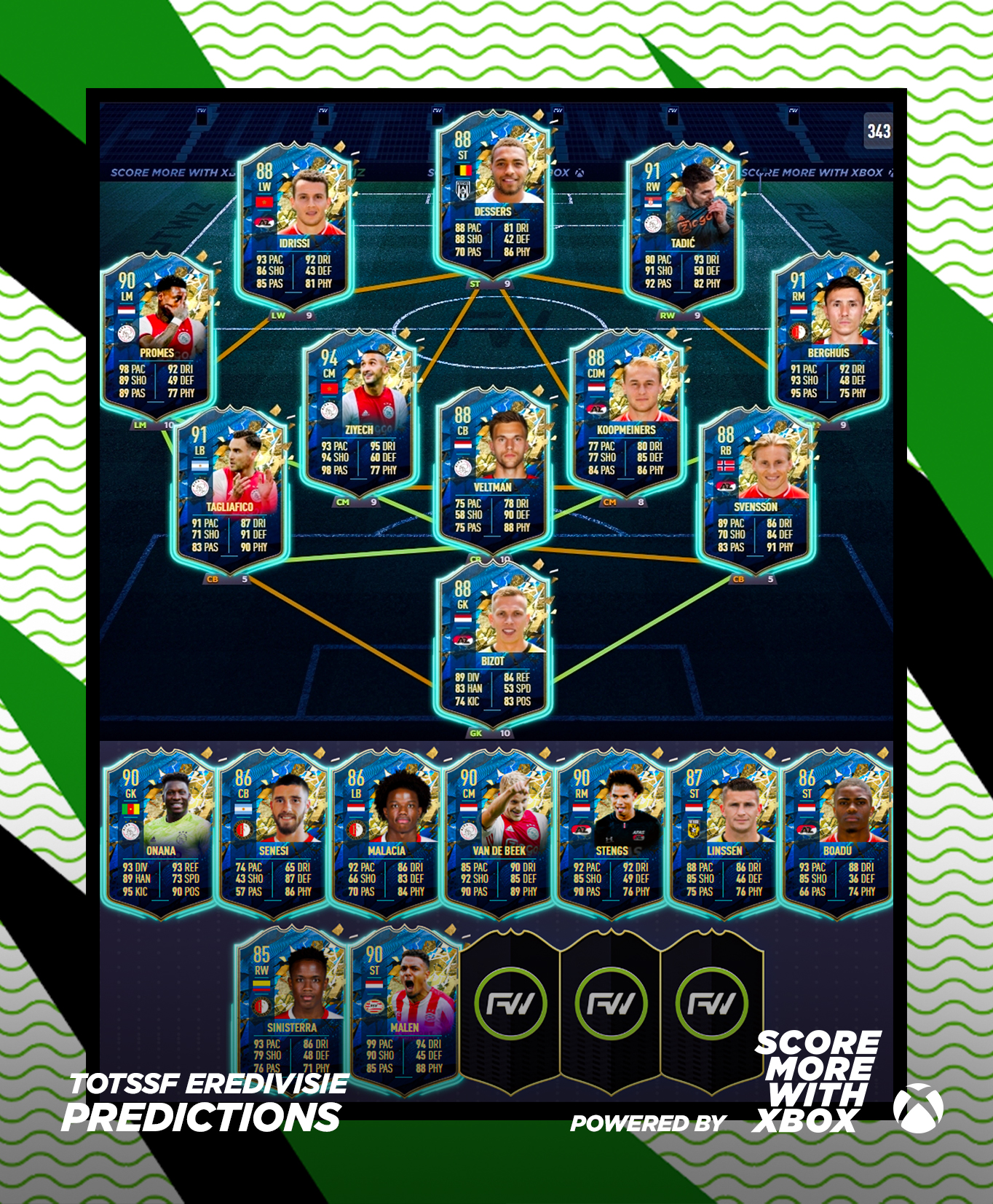 Goalkeepers:

2 Main choices: Bizot and Onana. Onana is one of the best goalkeepers in the world right now and for sure he'll get TOTS, Bizot is another locked choice if we'll see 2 goalkeepers in a team. It differs - if we'll get only 11 Players in TOTSSF for this league - then we'll see only 1 Goalkeeper and will miss on a lot of cool cards.

Defenders:

Let's start with Ajax duo: Veltman and Tagliafico should be in TOTS anyway. I talked with few people and they said that Veltman wasn't the best in TOTS, but nevertheless - there's not a much choice, so he'll be in it.

Tagliafico is a lock player. Consistent performer for Ajax, multiple goals and assists, also multiple cards in FUT play their part.

Svensson from AZ was in Community TOTSSF voting, but missed on a TOTSSF, but this time he has no competition and should be in TOTSSF no matter what. Good stats, very good rating, decent card in FUT.

Unpopular duo from Feyenoord: Senesi and Malacia - should be in TOTSSF too. What I meant as "unpopular" - a lot of people outside of Eredivisie haven't heard of them, but Senesi statistically the best CB in the league, while Malacia is a good performer over the course of the season. Also kinda reminds us of TOTS Haps from last year, because same club and same position.

Moving on to Midfielders:

Main choices are from Ajax: Donny Van De Beek and Hakim Ziyech should be getting TOTSSF, Ziyech had insane stats over the course of the season, double digits of assists,8 goals and one amazing card.

Donny played this season in more deeper role than last one, but still was one of the best midfielders in the league.

Teun Koopmeiners - very interesting player. Scored a lot of penalties. Played CB, CDM. He played more often at CM position, so TOTSSF should be in midfield. Of course he should be in TOTSSF.

Ergh, I think that's all for midfielders. Calvin Stengs can be placed at CAM or RM , but if he's CAM - he should be in this category. Stengs is a new rising star from AZ. His stats aren't insane, but he still got decentamount of assists\goals. Maybe he should get SBC or Objective.

Moving on to Wingers:

Quincy Promes returned back to Eredivisie and smashed it, even tho he was injured for some time, but scored a lot of goals for Ajax, and felt like he was robbed of few Informs over the course of the season, so his TOTSSF should be a guaranteed.

Another player from Ajax is Dusan Tadic. Tadic had a decent season, but not amazing. Even tho he had double digit of goalsand assists. Should be getting TOTSSF. It can be CAM, but should be RF\RW.

Another winger from AZ is Idrissi. Great season for player from Morocco, one of the better players this year. 11 goals from him should guarantee him TOTSSF.

Steven Berghuis and Sinisterra both are wingers from Feyenoord. Both played at different positions, both should be getting TOTSSF. Sinisterra may get SBC or Objective card, while Berghuis should be in main team, as the best goal scorer in the league.

Last but not least: Strikers.

Desses and Linssen are locked players in my predictions. Both scored a lot of goals, both are playing not in the top clubs.

Boadu is another player from AZ, another rising star from AZ, another player who should get TOTSSF.Another player for Objectives\SBC

Doneyll Malen would be a locked choice if he hasn't got injured. He scored 11 goals in 14 games, but then sadly got injured for the rest of the season. Possible Moments card for him for 5 goals in 1 game.

So, this is it. This is my Eredivisie TOTS Predictions. Should be getting something close. Maybe I missed on few obvious picks, so let me know in the comments, if I missed on someone!