News
The latest TOTW news
FIFA 20 Team of the Week Prediction: Week 22
2 Headliners & a OTW included in this weeks predictions!
---
Hello and welcome to week 22 of our TOTW Predictions powered by Score More With Xbox!

Last week we got 16 guesses right, a really solid score particularly with the punts that I included in the TOTW 21 predictions, let's try to keep up the momentum and get this one close to last week's in terms of accuracy.

It looks like this week will be a strange one, only 3 games in PL were played, we had half a match day in Eredivisie was postponed and on top of that the big guns didn't perform that well.

Having said that, there is a chance of a Messi InForm! I highly doubt it would happen but if it did it would save this pretty mediocre looking TOTW.

Highlights: Ramos for 1 goal, Frenkie De Jong for 1 goal and De Vrij for a goal in Inter's amazing comeback in the Milan derby.

Other than that... honestly I don't know what to highlight. I included 2 Headliners in this predictions but I won't be surprised if they are excluded. Saul was really good in Atletico's 1-0 win and Luiz Alberto was MOTM in 1-0 win for Lazio.

If you played Weekend League, best of luck with your red picks - probably not too much to hit this week but there are a few decent ones in there!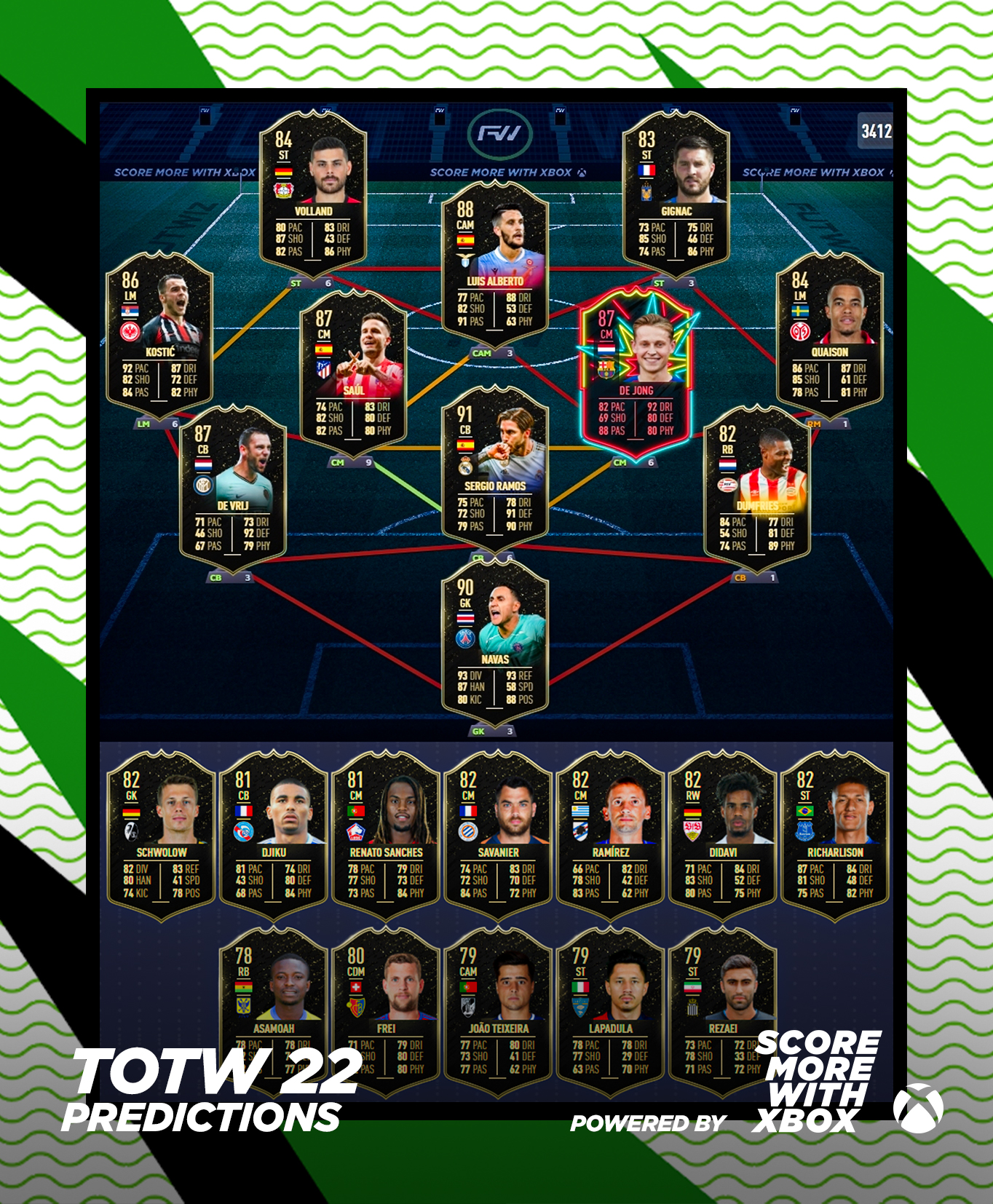 Starting 11:

GK: Keylor Navas (PSG) – 87>>90– 4 saves and high rating in 2-1 win (WED)
CB: Stefan De Vrij (Inter)– 84>>87–1 goal in 4-2 win (SUN)
CB:Sergio Ramos (Real Madrid) – 89>>91 –1 goal in 4-1 win (SUN)
LB:Alexander Djiku (Strasbourg) – 77>>81– 1 goal and cs in 3-0 win (SAT)
LM: Fillip Kostic (Eintracht Frankfurt) – 82>>84– 2 goals and 2 assists in 5-0 win (FRI)
CM: Saul (Atletico) – 85>>87- 1 clearance and MOTM in 1-0 win (SAT)
CM:Frenkie De Jong (Barcelona) – 85>87 - 1 goal in 3-2 win (SUN)
LM:Robin Quaison (Mainz) – 76>>84– 3 goals in 3-1 win (SAT)
CAM: Luis Alberto (Lazio) – 84>>88– MOTM in 1-0 win (SUN)
ST: Richarlison (Everton) – 79>>82– 1 goals in 3-1 win (SAT)
ST: Jaime Mata (Getafe) – 80>>83 - 2 goals in 3-0 win (SAT)
Subs:

GK: Alexander Schwolow (Freiburg) – 78>82 – 6 saves in 1-0 win (SAT)
RB: Denzel Dumfries (PSV)- 78>>82- 1 goal and CS in 3-0 win (SAT)
CM: Teji Savanier (Montpellier)- 79>82 – 1 goal in 1-1 win (WED)
CM: Gaston Ramirez (Sampdoria) – 76>81- 2 goals in 3-1 win (SAT)
CM: Renato Sanches (Lille) – 75>81- 1 goal and MOTM in 2-0 win (FRI)
RW: Daniel Didavi (Stuttgart) – 78>>82- 2 goals in 3-1 win (SAT)
ST: Andre-Pierre Gignac (Tigres) – 80>83- 2 goals in 3-0 win (SUN)

Reserves:
ST: Gianluca Lapadula (Lecce)– 73>79–2 goals in 3-2 win (SUN)
ST: Kaveh Rezaei (Sporting Charleroi) – 72>78 – 3 goals in 4-0 win (SAT)
CDM: Samuel Asamoah (St. Truiden) – 70>78- 3 goals in 5-2 win (SAT)
CDM: Fabian Frei (FC Bazel) – 74>80 – 3 goals in 4-0 win (SAT)
CM: Joao Teixeira (Victoria) – 72>78– 2 goals and 1 assist in 7-0 win (SAT)